Bomb 'targeting police' in Belfast exploded safely after Catholic priest receives warning
Police said that 'innocent people going about their daily lives' would have been killed if the device in Ardoyne was detonated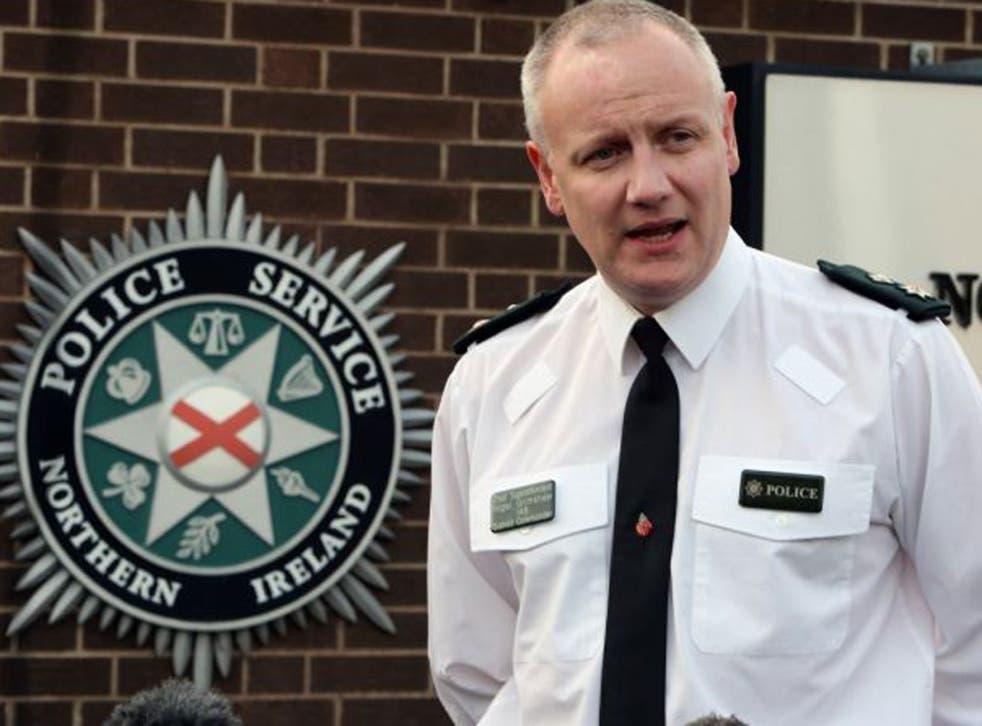 A bomb targeting police in Belfast has been safely exploded after a Catholic police was warned in an anonymous phone call.
The explosive was of a "substantial" size and would have killed and maimed officers and passers-by if it had been detonated, police said.
The alarm was raised shortly after midnight on Friday by Father Gary Donegan, who received a call from a man saying a device had been left in Ardoyne.
Police shut down the area and evacuated homes and businesses while they searched for the bomb, eventually finding it this evening so it could be destroyed in a controlled explosion by army officers.
It had been left close to the Holy Cross Church at the junction of the Crumlin Road and Brompton Park.
Chief Superintendent Nigel Grimshaw, commander of Belfast police, said he was "absolutely convinced" officers were the target but that would not have stopped the public becoming casualties.
"If it had exploded it would have killed or seriously injured them and innocent people going about their daily lives in this area," he added.
"It was a reckless and shameless attack that demonstrated no regard for the people living and working in this area.
"This is a residential area, a commercial area, we have Holy Cross chapel nearby where people want to go and worship. This was designed to disrupt this community at its heart."
Ch Supt Grimshaw accused those behind the plot of having a "reckless disregard for life" made worse by the vague location given in the warning.
George Hamilton, Chief Constable of the Police Service of Northern Ireland, described those responsible as "small minded people creating risk for communities as they attempt to kill police officers".
No one has claimed responsibility but the finger of blame is being pointed at dissident republicans, who are known to be active in the area.
Ardoyne saw another bomb discovered near the same church in October last year, as well as a pipe bomb thrown towards police and loyalist protesters in 2013 and another bomb left in 2012.
The area was the site of regular police raids, clashes and violence during the Troubles and Crumlin Road, near where the latest device was found, is an "interface area" between segregated nationalist and unionist streets.
Sinn Fein assembly member Gerry Kelly branded the act as "futile".
"Thankfully no one has been injured as a result of this reckless action of placing a bomb in a busy built-up area much used by local people for shopping," he said.
"This incident caused serious disruption all day to the lives of local people and closed off local roads. However, it could have been much worse.
"Those behind this incident have nothing to offer the people of this community other than trying to plunge us back to the past.
"The community is not prepared to let them do that.
"They need to stop these futile actions immediately and let people in the area get on with their lives in peace."
Alban Maginness, SDLP assembly member for the area, said placing a bomb in such a densely populated area could only have resulted in the "murder of innocents" and could never be deemed "patriotic".
"Once again those intent on mayhem and destruction have tried to hold the people of Ardoyne to ransom," he added.
"And once again the people of this community have stood strong and continue to stand resolutely against the type of violence that caused so much pain here."
Ulster Unionist representative Andy Allen "unreservedly condemned" those responsible and said the people of North Belfast just want a future in which they can "live peacefully with their neighbours and bring up their families".
Another explosive was discovered on Friday in East Belfast, where a pipe bomb was thrown into a garden from a motorbike.
Additional reporting by PA