CCTV captures horrific machete attack on shopkeeper in Manchester as police appeal for help
The shopkeeper unsuccessfully tried to fight the men off with a baseball bat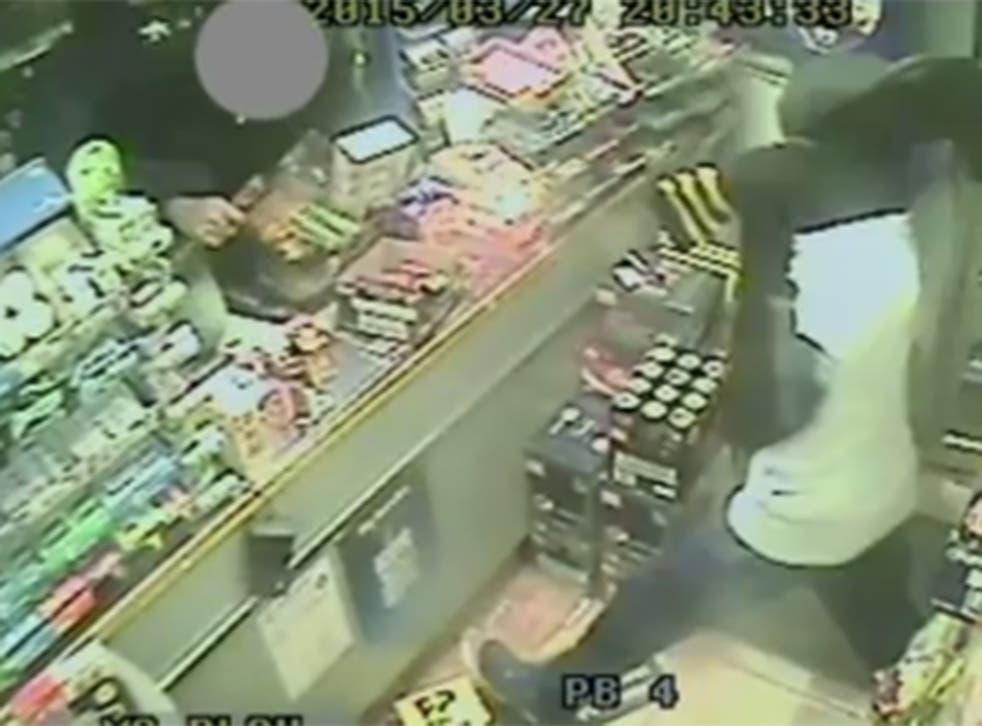 A man has been put in hospital and left requiring surgery after he was viciously attacked by a pair of robbers with a weapon believed to be a machete.
The victim was in his newsagent Top Shop convenience store in Salford, Manchester when he was confronted by the two men.
One of the robbers leapt over the counter to threaten the man while the other demanded him to open the till.
When the newsagent owner refused the men attacked him. Despite his attempts to defend himself with a baseball bat the two men overpowered him.
One of the robbers used what is believed to be machete concealed in a sport sock to hit the shop keeper over the head. The men then stole money from the till and cigarettes before running out of the store.
The victim had to have surgery for the large head wound he sustained in the attack.
The incident happened on Friday 27 March at 8.30pm and police are appealing for witnesses to come forward.
"I am appalled at the level of violence and intimidation used by the men on an innocent shop assistant who was just doing his job. The man was trying to protect the business but in doing so was brutally attacked," said Detective Constable Derek Nellany of Salford division.
"The offenders both wore very distinctive clothing and I ask people to have a good look at the footage and if you recognise the men in the images or the distinctive clothing, please contact police immediately."
Police are now looking for two men. The one carrying the alleged weapon is white and believed to be in his late teens or early twenties. On the day of the attack he was dressed in a facemask, black trousers and a black top with a thick light-coloured strip down both arms, he was wearing a white T-shirt on top of this.
The second man is described as a white male also in his late teens or early twenties, wearing a blue hoodie with California Pasadena written on the back and black trousers.
Anyone with information should phone police on 0161 856 5097 or the independent charity Crimestoppers, anonymously, on 0800 555 111.