Charles Mann stabbed his mother 11 times and sliced off his penis in naked drug-fuelled attack
Mann had "virtually no memory of what happened", the court heard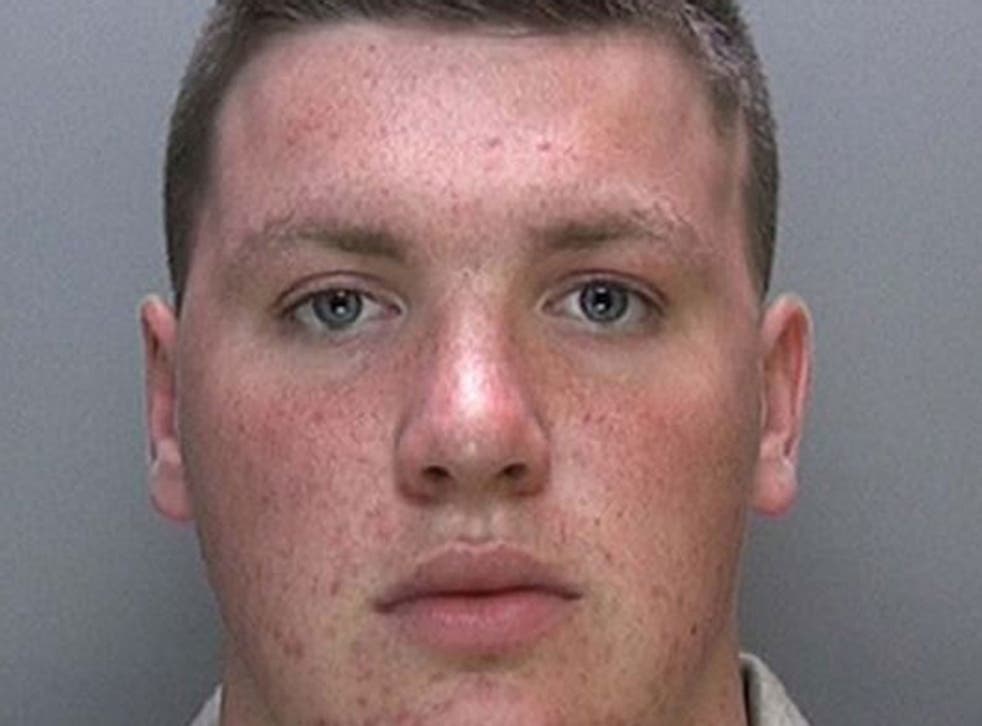 A man has been handed a prison sentence after he stabbed his mother 11 times and sliced off his penis in a naked, drug-fuelled attack.
Charles Mann was 19 when he attacked his mother, Emma Mann, in the kitchen of their home in Haywards Heath, West Sussex, after he binged on mephedrone – also known as meow meow – cannabis and alcohol.
He shouted: "This is the prophecy. I love you, but this is the prophecy," during the incident.
Mann, now 21, had a history of drug abuse but had never suffered a violent or psychotic episode before the violent incident on 29 December 2013, the court heard.
Recalling the incident to the police, his mother said that she was woken up by her son "trashing" his bedroom. When she checked on him, he followed her to the kitchen where he attacked her, the court was told.
At around 6:20am, she had managed to lock herself in the bathroom of their home, where she phoned 999 and told the operator that her son was "going mental downstairs with the knives", the prosecutor in the case told the court.
When officers arrived on the scene, the property was in darkness, and the defendant was naked and covered in blood. Officers said he appeared "manic and deranged" and attempted to climb out of a broken window, the hearing was told.
He told police that he had snorted "loads of lines" of meow and had drunk a lot of alcohol.
The court heard he told police: "I have stabbed her [Mrs Mann] multiple times, I have killed her. I have stabbed my mum and I need to be punished for what I have done.
"I am a paedophile, I do not want to live. Take me to the light, I can see the vampires."
During the attack, Mrs suffered injuries to her back, head, neck and arms and was taken to hospital where she required surgery for multiple punctures to one of her lungs and internal bleeding.
She remained in the high dependency unit at the hospital for 14 days, the prosecutor told the court.
Mann also required hospital treatment for serious injuries. He was sedated for much of his time in hospital, before he was transferred to a psychiatric unit, and eventually to Lewes Prison, the court heard.
It is believed the 21-year-old cut off his own penis in the attack, but it was re-attached by medics, The Western Daily Press reported.
He pleaded guilty to inflicting grievous bodily harm at a previous court hearing on 19 January this year.
Mann's defence barrister said the defendant started taking drugs after his GCSEs, and had attempted to overcome his problem at The Priory clinic, but had relapsed.
The court heard that his parents had sent him to work on a kibbutz in Israel, but his recovery suffered when he returned home and fell into the same crowd.
While Mann had hallucinated on drugs before, he had never had a reaction which caused him to be violent to another human being - particularly his mother, the defence barrister said, adding Mann had "virtually no coherent memory of what happened".
The court heard that although Mann had been "extremely mentally unwell at the time of the offence due to a drug induced psychosis" he had now recovered but remained "fragile and vulnerable".
Mrs Mann mouthed "I love you" to her son as he entered the dock at Hove Crown Court today for his sentencing.
Judge David Rennie jailed Mann for 16 months and told him that as he had already served seven months on remand.
He described Mann's case as "wholly exceptional" and said that the defendant would have been classified as "legally insane" as he stabbed his mother in a "drug-induced psychosis".
Additional reporting by PA