Chris Grayling is accused of 'murdering the probation service'
Friends say probation officer Sarah Kane, who ended her own life, was stressed by the reforms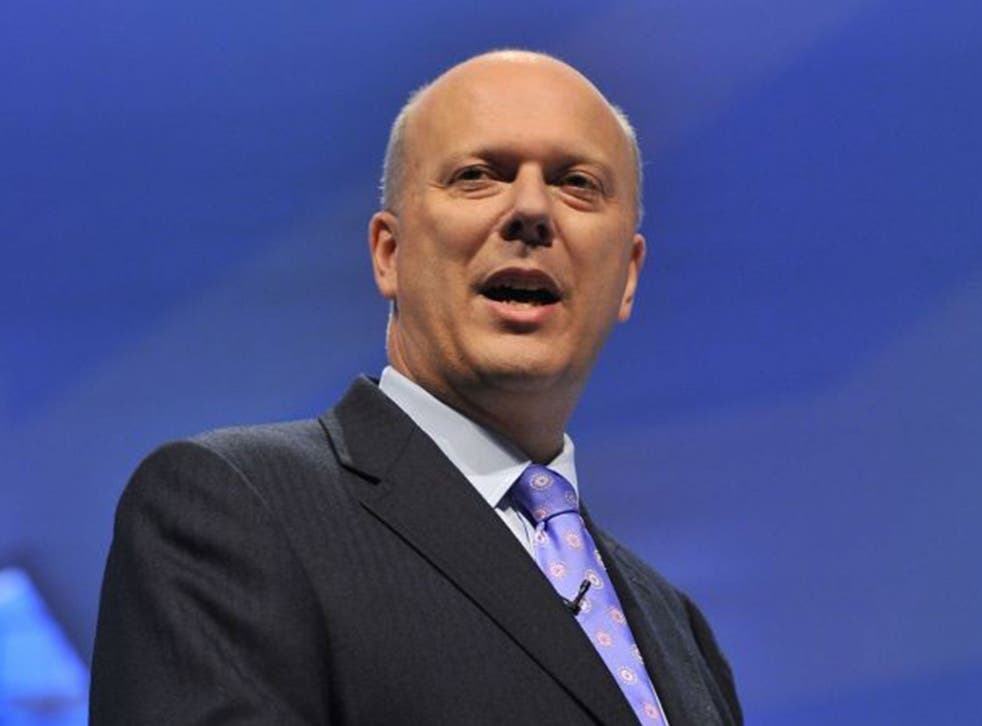 Colleagues and friends of a probation services officer who took her own life last month believe that government reforms to the service were a "contributing factor" to her death.
Sarah Kane, who became a probation services officer in 1999, died last month aged 49. Her self-written eulogy, read out at her funeral, accused the Justice Secretary, Chris Grayling, of having "murdered the probation service" through his much-criticised reforms.
In the eulogy, a copy of which has been seen by The Independent on Sunday, Ms Kane wrote: "A trouble-making Sarah would have delighted in calling Chris Grayling a murderer, he's certainly murdered the probation service. But hey, let's face it, Chrisso will continue safe and sound in his ivory tower breaking stuff that didn't need fixing beyond repair. Shame some of that stuff was the probation service now left reeling from his incompetent bumbling."
Close friends and former colleagues believe her words reflect the impact of the Grayling reforms on her professional and personal life and directly "contributed" to her death.
It is understood that police investigating the circumstances of her death have shown interest in the eulogy. A police report will be sent to the North East Kent coroner. An inquest to confirm the cause of death will be held once post-mortem examination and toxicology results are in. Kent Police described her death as "non-suspicious".
Under the reforms, the probation service has been split in two, with high-risk offenders overseen by the National Probation Service (NPS) and lower-risk criminals placed with 21 community rehabilitation companies (CRCs) across the country. The CRCs, which account for about 70 per cent of the service, will be handed over to the private sector later this year.
The split happened at the begining of June and critics say that the service has been hit by difficulties, including IT problems and administrative failings ever since. Case files have been lost, with some offenders assigned to incorrect supervision potentially posing a risk to the public. Probation officers have privately complained of increased levels of stress in what was already a difficult job.
Ms Kane, a relatively junior officer from Margate, was assigned to the NPS rather than the Kent, Surrey and Sussex CRC. Colleagues say this meant that she was dealing with potentially more dangerous offenders than she had previously been used to. Her reassignment to a harder role came only a few months after she requested a reduction in hours.
Friends said she had been suffering with diabetes and had been unhappy after the death of her cat.
Nick Alderson-Rice, who trained with Ms Kane and remained a close friend, said this weekend: "The changes were a huge disruption and Sarah had spoken to me about this and the longer- and shorter-term implications – she was worried about job security and there was anxiousness over dealing with new types of offenders. I certainly think that the split and new case load was an added burden and could have been a contributing factor to the outcome."
A second colleague, who declined to be named, said they believe the changes to her job "precipitated" her death. "Sarah was an unqualified grade of staff, I knew she wouldn't be able to cope with it [the NPS]. The NPS deals with high-risk offenders – murderers, rapists. The woman was not well … what she wrote [in her eulogy] suggests how she felt," the colleague added.
A close friend of the dead woman, not part of the probation service, confirmed last night that Ms Kane's work was making her unhappy. "I know she was under pressure at work. She expressed concern in doing a role she couldn't fulfil."
An industry blog, On Probation, has frequently published anonymous comments from officers complaining of stress in recent weeks. The man who runs the blog using the pseudonym Jim Brown said this weekend: "People are extremely depressed. They're off sick in droves. Some of these people are suicidal – they've said that on the blog comment and in emails."
Labour recently called for an inquiry into a preventable murder last month, after a man was wrongly assigned to the CRC, receiving less supervision than he would have done in the NPS.
Su McConnel, a senior officer from the Cornwall and Devon region, speaking as a member of the Napo probation union, told The IoS that she has taken months off with stress as she was so devastated that her team specialising in domestic violence and sex offenders would be broken up.
"They're having their jobs and careers trashed and I was trying to look after completely traumatised staff and it took its toll," she said.
Last night the shadow Justice Secretary, Sadiq Khan, called on David Cameron to halt the "half-baked" privatisation. He added: "The question Sarah Kane's colleagues will be asking is: could her death have been avoided? I am receiving regular reports on the enormous stresses and strains the Government's probation privatisation is causing to conscientious and professional staff.
"I can't believe the Justice Secretary and Ministry of Justice aren't receiving similar reports on a daily basis, of the exasperation of dedicated and experience probation staff at the growing mess the Government's reckless privatisation is causing."
The private sector is currently bidding to manage the 21 CRCs in a move that has upset the unions. A Napo spokeswoman said last night: "This privatisation would put inexperienced profiteers in charge of public protection and their interests would be about their shareholders and not the interests of local communities and the offenders themselves."
The MoJ declined to comment.