Charlie Alliston: Cyclist who knocked over and killed woman sentenced to 18 months in young offenders institution
Charlie Alliston sentenced at the Old Bailey crashed into 44-year-old Kim Briggs as she crossed Old Street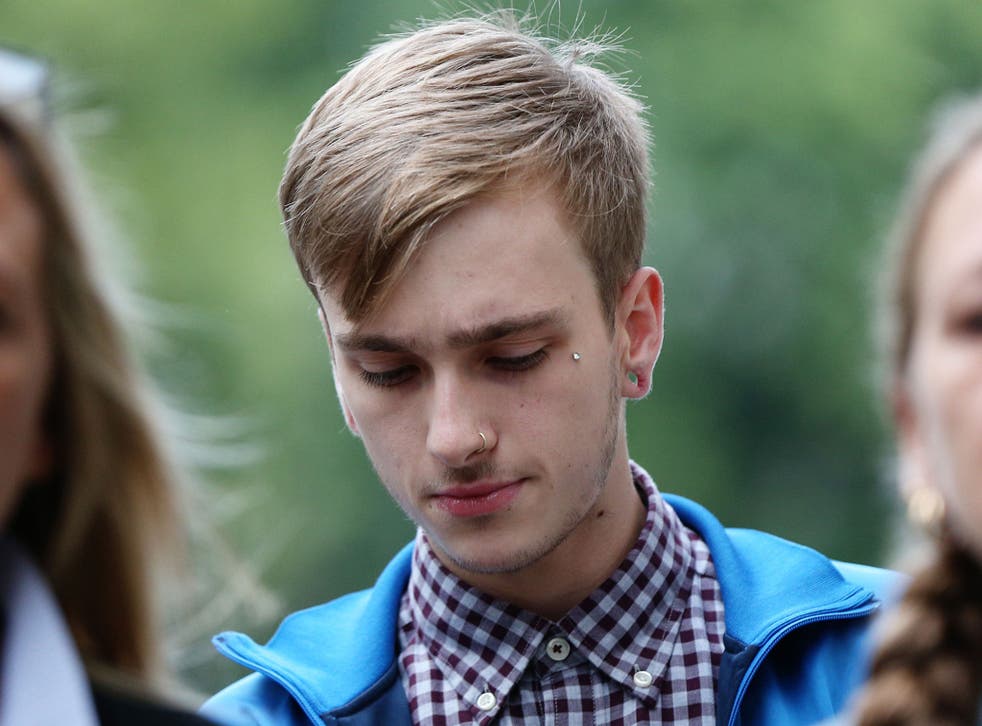 A cyclist who killed a woman after crashing into her on a busy London street has been sentenced to 18 months in a young offenders institution.
Former courier Charlie Alliston collided with 44-year-old Kim Briggs as she crossed Old Street in east London in February last year.
Much of the prosecution's case focused on the fact that Alliston, who was 18 at the time of the collision, had been using a fixed-wheel track bike with no front brakes, which is illegal in most circumstances.
But Alliston, now 20, and from Bermondsey, south London, claimed he had no idea it was a legal requirement to have a front brake, insisting it would not have made any difference when he saw Ms Briggs come into the road with a mobile phone.
He was cleared of manslaughter at a trial at the Old Bailey in August but was found guilty of causing bodily harm by "wanton and furious driving", the closest to dangerous driving a cyclist can be charged with.
In sentencing, Judge Wendy Joseph QC said: "I am satisfied in some part it was this so-called thrill that motivated you to ride without a front brake shouting and swearing at pedestrians to get out of the way.
"I've heard your evidence and I have no doubt that even now you remain obstinately sure of yourself and your own abilities.
"I have no doubt you are wrong in this. You were an accident waiting to happen.
"The victim could have been any pedestrian. It was in fact Ms Kim Briggs."
The judge said Alliston's "whole manner of driving" caused the accident.
"If your bicycle had a front wheel brake you could have stopped but on this illegal bike you could not and on your evidence, by this stage, you were not even trying to slow or stop.
"You expected her to get out of the way."
The case triggered calls for tougher penalties for cyclists responsible for collisions, including from Ms Briggs' husband, Matthew. But Duncan Dollimore, Cycling UK's head of advocacy and campaigns, said the prosecution of Alliston dispelled the myth that cyclists were "never held accountable for irresponsible behaviour".
He said: "Alliston's decision to ride a fixed wheel bicycle on busy roads was illegal, stupid, and had tragic consequences for Kim Briggs' family."
But he added: "There may be further calls for new cycling offences, with increased penalties, to be included with current driving offences.
"Such calls are misguided, as we need a complete review of the way in which the justice system deals with mistakes, carelessness, recklessness and deliberately dangerous behaviour by all road users.
"The Government acknowledged this in 2014 when announcing a full review of all road traffic offences and penalties, but we're still waiting for a full review, and even the outcome of a limited consultation launched last year.
"Those politicians and commentators who are now suggesting an extension of cycling offences might perhaps consider asking the Government why they have not progressed the wide scale review of offences and penalties they promised three years ago, which victims' families and road safety organisations have tirelessly demanded."
Ms Briggs, a mother of two and HR consultant from Lewisham, south London, had been on her lunch break when she stepped out into the road and was hit by Alliston, suffering "catastrophic" head injuries. She died in hospital a week later.
Alliston, who had worked as a courier in central London for around seven months from mid-2015, having dropped out of sixth form, said he attempted to avoid her in the moments before the collision.
"I tried to go around," he said.
"Having a brake, I wouldn't have had enough time to pull it.
"It was a few split seconds prior to the impact, so a brake at the time wouldn't have made a difference."
He said he was cycling at a "safe and reasonable speed" – 18mph, which is within the legal speed limit for the road – and had been "capable at the time of controlling it".
Speaking outside court, Mr Briggs repeated his call for a change in the law, saying there was a "gap" between the most serious and most lenient punishments for crimes committed on a bicycle.
He also took aim at bike retailers and courier companies for failing to crack down on the sale and use of bikes without front brakes.
"The fact that what happened to Kim is rare is not a reason to be no remedy," he said.
Commenting on the sentencing, detective inspector Julie Trodden, of the Met's transport team, said the case should "serve as a reminder to all road users that they have a responsibility to look out for each other and to travel safely at all times".
The Highway Code states that it is an offence to ride a bicycle on a public road without two "efficient" braking systems on the front and rear wheel. But the rules do not make clear what is considered "efficient", Cycling UK says. Nor do they define how the brakes must operate
Fixed-wheel bicycles, which allow the rider to slow the back wheel using the pedals, are legal when used with a front brake.
However there are a number of exemptions, when no front brake is required, including on some tricycles and quadricycles, and bicycles that have seats no higher than 635mm from the road.
Earlier this month an inquest heard how a cyclist died after colliding with a pedestrian in Reading.
Ben Pedley, 26, was cycling through a junction when he hit a man who had stepped into the road.
He was taken to John Radcliffe Hospital in Oxford but died two days later.
Mr Pedley's mother, Jacquie Pedley, said at the inquest: "He was a fantastic, law-abiding citizen who was very kind to anybody he met. He was intelligent. He would have articulated himself so well at this hearing today.
"The fact is that Ben was cycling along the road and a pedestrian, without looking, stepped out in front of him. That has caused his death.
"For his dad and his brother, the main concern is to prevent this happening to somebody else."