Da Pinchi Code: Police conclude 'innocent and explainable' symbols are not a mysterious criminal language
Social media has been abuzz over chalk and paint markings said to be used by burglars to target homes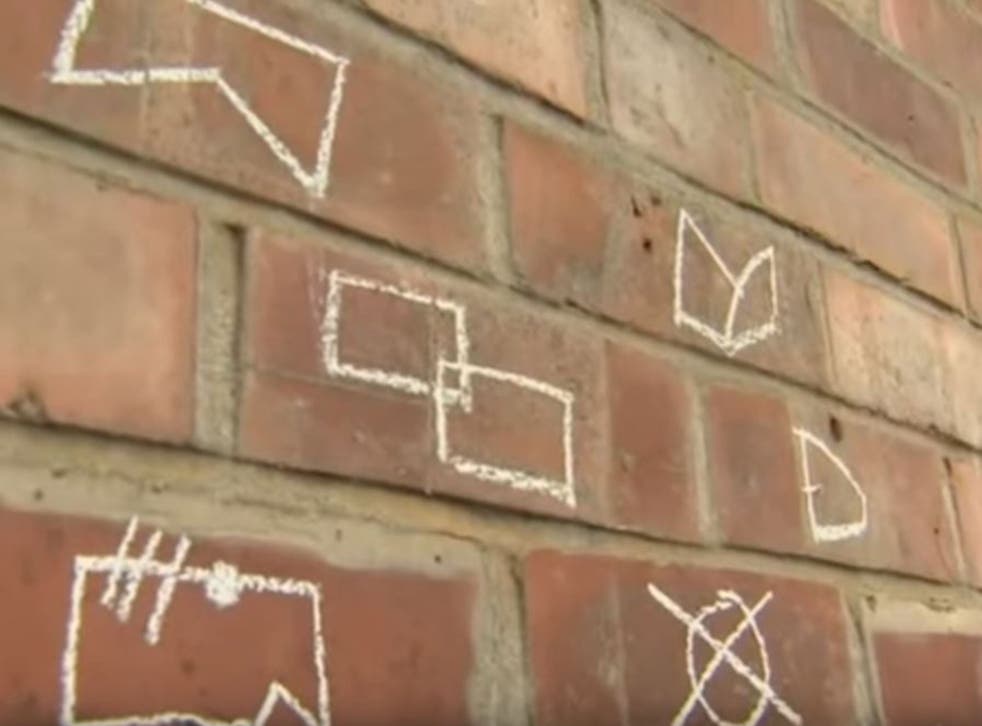 It's probably one to chalk up to experience. Police have cracked the "Da Pinchi Code" after concluding that a series of mysterious symbols, said to be used by burglars to help target homes, are actually "innocent and explainable."
For months social media has been abuzz over the chalk and paint markings, painted on roads, kerbs and walls, said to be a criminal code used to note whether properties are easy targets, alarmed, or owned by wealthy families.
Five small circles was said to denote a wealthy homeowner, two interlocking rectangles meant that the resident was nervous or afraid. Other messages indicated that households were a "alarmed", or had "nothing worth stealing".
However after due investigation, West Mercia Police said that the signs indicated nothing more than work planned by utility firms. There is no evidence to link these symbols to anything else, the force said.
Residents had built a Dan Brown-style conspiracy around the ground works markings used by gas, electricity, water, cable and telecoms contractors.
A police spokesman said that the different paint or chalk colours did have specific meanings. But their role was to indicate whether there were live power lines, flammable material, water, drains or a proposed excavation route.
The interlocking rectangles did not indicate a fearful home-owner but the potential movement of a manhole. A cross did not mean a "good target". It's real meaning was a water pipe location.
UK news in pictures

Show all 50
A symbol supposed to suggest a property was too risky to rob actually showed that a manhole cover needs locking. The jagged squiggle, indicating an "alarmed house", is used to show workers where a dropped kerb will apply.
Prior to the Mercia statement, police forces nationwide had taken variations on the "Da Pinchi code", reported over several years, seriously.
In 2013, police in Torbay, Devon, said the symbols were being drawn outside homes by criminal gangs and suggested that knowing what they meant could be a valuable tool in fighting crime.
Greater Manchester Police distributed warning leaflets after an elderly woman report a marking she believed had been left by a team of burglars scouting for targets.
Last year, police warned residents in the Warwickshire town of Bedworth to take extra security precautions after glow-in-the-dark symbols appeared overnight.
In Lanarkshire, Scotland, police responded to X marks daubed on several properties by tweeting: "Breaking the Housebreaker's code. These signs have been seen in East Kilbride, please retweet & report all sightings."
When the phenomenon reached North Wales last year, homeowner Geraint Evans, from Conwy, suggested residents draw on their properties a circle with a large "X" in the middle to indicate "nothing worth stealing".
There may be some truth to the Code however. A rogue builder in Plymouth overcharged a man and paved his drive in a square pattern with coloured blocks which police believed was meant to indicate an easy target. The pensioner was plagued by other traders offering to put right the original unfinished work.