Dave Lee Travis is found guilty of indecent assault
Veteran radio DJ convicted on one count at Southwark Crown Court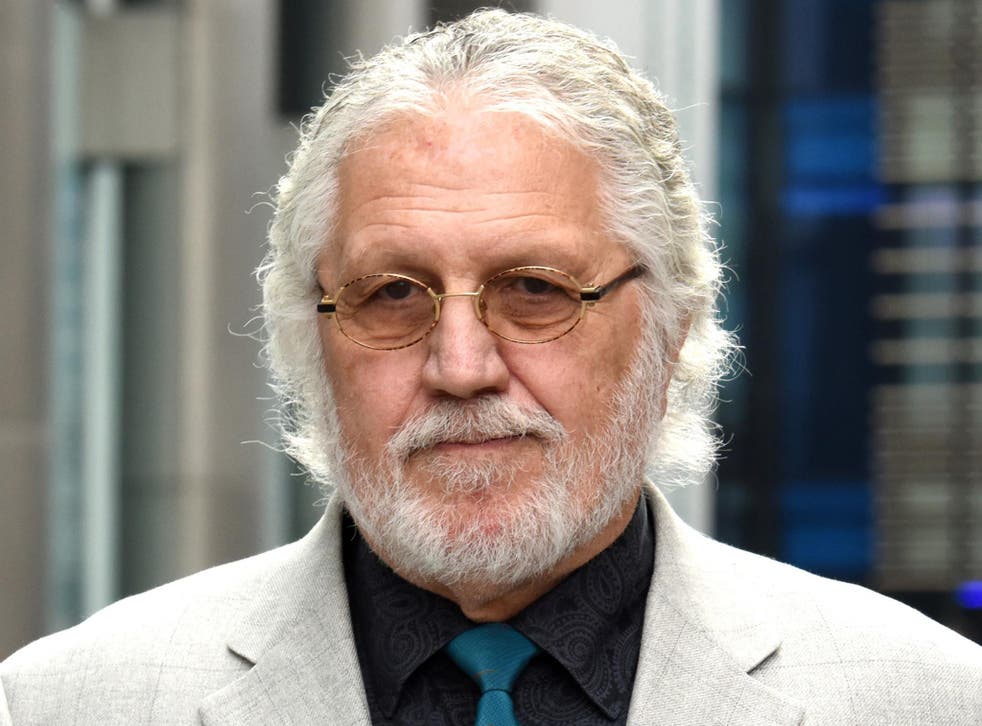 Dave Lee Travis portrayed himself as "a big, hairy cuddly bear" throughout his trials yet the former BBC Breakfast Show DJ now faces up to 10 years in prison after being convicted of indecently assaulting a female researcher on the Mrs Merton Show in the 1990s.
He was finally found guilty today at Southwark Crown Court of indecently assaulting a member of staff on the popular BBC show in 1995 and becomes the third person, following the conviction of Rolf Harris and Max Clifford, prosecuted under Operation Yewtree - Scotland Yard's ongoing investigation into historic sex abuse allegations. Travis, 69, was cleared on a second indecent assault charge and the jury was discharged after it was unable to agree a verdict on a third count of sexual assault. The veteran broadcaster said he had been caught up in a continuous "nightmare" after he was cleared in February on 12 charges of indecent assault but still faced a retrial on two further charges and a third additional charge.
Travis, who claimed in court that he was a tactile man who liked a hug, was cleared of indecently assaulting a woman in his dressing room in the 1990s while appearing as the "evil uncle" Abanazar in panto. The woman told the court she was shocked and managed to open the door enough to hear the Chuckle Brothers, Barry and Paul Elliott, call Travis's name from the corridor outside.
Travis, 69, claimed he was a product of a "different world". "If patting somebody's bottom was a crime in the 70s, half the country would be in jail," he protested. In court Travis, tried under his real name of David Griffin, said his accusers were motivated by money and the chance to grab a few moments of fame. He admitted cheating on Marianna, his Swedish wife of 43 years who stood by him in court, but steadfastly denied all the charges.
"You can't sexually assault a woman and expect people would not say anything," Lee Travis told the court. "I would fully expect to be kicked out. This is my reputation I have spent 50 years building up - I'm not going to let it all go to pot over something a kid made up."
Known as 'the hairy cornflake' thanks to his hirsute appearance, Travis was a figure ripe for satire. Of the comic creations that lampooned him over the years, the DJ preferred one by Ronnie Barker. In a sketch that gently mocked Top of the Pops presenters of the 1970s and 80s, Barker's character Dave Lav Trellis hooked his arms around two young women as he presented the show. "And that's exactly what I used to do," said the real DLT a year before he was arrested.
During two trials that has systematically challenged his persona as a hairy, cuddly 'tactile' star in a golden age of radio, DLT was accused of doing much more. During his first trial the prosecution had claimed that in a pattern of behaviour that repeated itself over 30 years, he targeted young women, many in the first flush of their careers. One of his alleged victims had claimed that the first sign of an attack was the smell of the DJ's pungent aftershave as he moved behind his victim. He was accused of shoving his hands up women's skirts, touching their breasts and pressing himself closely against them.
Travis strongly denied this. He was a touchy-feely man who loved women, and who in turn loved his harmless playfulness, he said. Travis had been part of the vanguard of new - and for several years all-male DJs - who joined the BBC as it shed its fuddy-duddy image in the face of the challenge from pirate radio. By 1976 he had taken over the weekly teatime show and had already secured the status of a "demigod", according to one of the women who gave evidence against him. Two years later he took over the prestigious breakfast show slot from Noel Edmonds, rebranding himself the 'hairy cornflake' having been previously known as 'the hairy monster'.
Travis's end at Radio 1 came in a major shake-up of the network. He quit Radio 1 with an on-air announcement in 1993 in opposition to an overhaul by the station's new controller Matthew Bannister. "Changes are being made here which go against my principles and I just cannot agree with them," he said. In reality, the old guard were moved on for a new generation of edgier presenters.
He was still presenting at Magic Radio when he became the fourth person arrested under Operation Yewtree. When the first accusations against him were made, Travis stood outside his bungalow in Mentmore, Buckinghamshire, to deny the allegations against him, but more kept coming. After his first court appearance, Travis was clearly angered. He told The Independent: "If I could stand here for an hour-and-a-half, I would. I either talk for a long time or I don't and at the moment I'm not talking."
Travis left court hand in hand with his wife and refused to answer questions. He faces up to 10 years in jail when he is sentenced on Friday.
Savile shockwaves: other convictions
The continuing waves caused by the outing of Jimmy Savile as a predatory paedophile has resulted in the fourth high-profile conviction for historic sexual abuse. The guilty verdict for Dave Lee Travis follows convictions for the entertainer Rolf Harris and the public relations guru Max Clifford, following investigations by Scotland Yard's Operation Yewtree.
The former BBC broadcaster Stuart Hall is also serving a prison sentence after being convicted of child abuse in two separate trials, following an investigation by Lancashire police. David Smith, a driver who is believed to have worked for the BBC, was found dead at his home before he was due to stand trial for historic sexual abuse after a Yewtree investigation.
Former pop star Gary Glitter and ex-Radio 1 DJ Chris Denning are also due to stand trial. The inquiry has drawn some criticism and accusations of a "witchhunt" by those under the spotlight. "The passage of time will not prevent offenders being investigated and brought to justice," said a Scotland Yard spokesman.
Paul Peachey