Dave Lee Travis trial: Former Radio One DJ was an 'opportunistic sex offender', court hears
The 68-year-old is accused of 13 counts of indecent assault and one of sexual assault between 1976 and 2003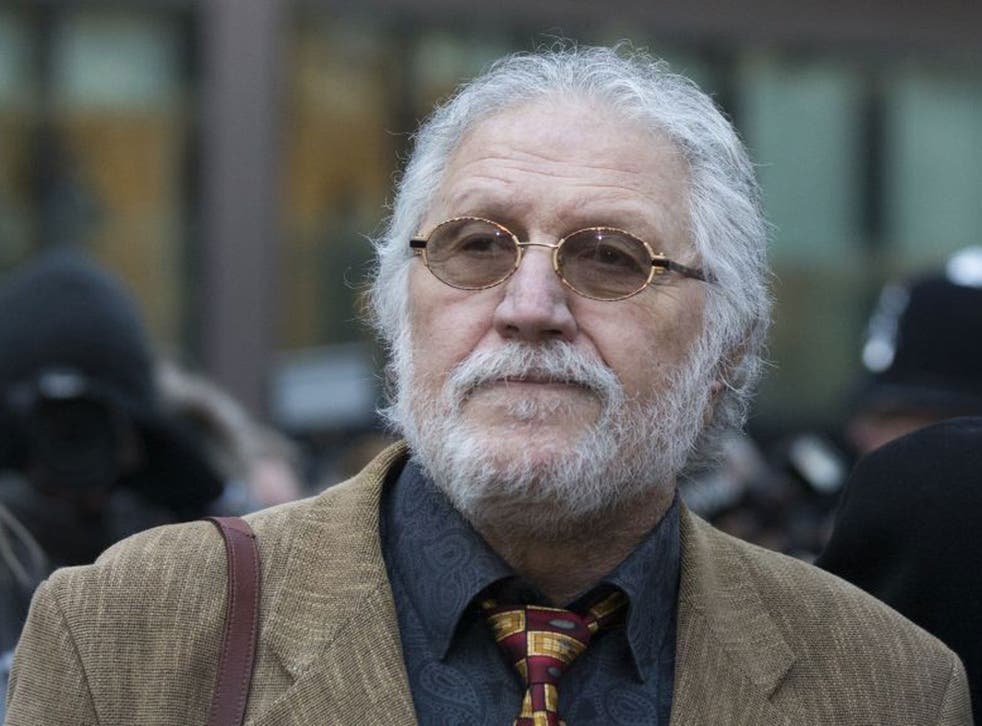 Former Radio 1 DJ Dave Lee Travis was an "opportunist" sex offender who preyed on vulnerable teenagers in BBC studios and elsewhere, a court heard today, as the broadcaster faces sexual assault charges against a number of women over four decades.
The 68-year-old, charged under his real name of David Patrick Griffin, allegedly attacked one young woman during a "Top of the Pops" filming, and a female BBC trainee while she was about to introduce the Radio 4 show "Women's Hour". Another alleged victim was 15 at the time she was assaulted in his caravan on the day of a June 1978 concert by the band Showaddywaddy in Gloucestershire, Southwark Crown Court in London heard.
The former DJ is the first suspect to stand trial under Operation Yewtree, Scotland Yard's investigation into allegations of historic sexual abuse launched following the Jimmy Savile scandal in October 2012 but the accusations against Travis have no connection with Savile.
Wearing a beige jacket, dark shirt and colourful tie, Mr Travis denies 13 charges of indecent assault and once charge of sexual assault against 11 women. The incidents are alleged to have taken place between 1976 and 2008.
The jury of eight women and four men were shown "Top of the Pops" footage from 1978 with two young women on either side of the presenter. They were told Mr Travis forcefully put his hand up the skirt of one of the women, then 19, during filming as he was introducing "The Smurfs Song". The exact moment was cut from broadcast.
Prosecutor Melinda Moore QC said that a BBC camera operator claimed she had her right buttock grabbed by Mr Travis during another TOTP recording and that a 24-year-old BBC trainee journalist on Radio 4 said she was groped by him in the studio as she prepared to introduce "Women's Hour" in the early 1980s. It was claimed that female staff said they were afraid to speak out to BBC management because they feared the sack.
The former DJ, from Buckinghamshire, sat in the dock and shook his head as some of the allegations were heard.
Referring to his youngest alleged victim, Ms Moore said that Mr Travis took the 15-year-old on the day of the Showaddywaddy concert into his caravan and told her "I love big boobs" before lifting up her t-shirt to expose her breasts and flicking her nipples. He pinned her down and ignored her pleas for him to stop but he refused and ran his hand up her thigh. The "terrified" teenager was in tears and thought he was going to rape her, the court heard.
Mr Travis is said to have told police "that never happened". Ms Moore said the band's lead singer Dave Bartram remembered the incident and will give evidence at the trial.
The former DJ told police officers that the allegations relating to assaults on BBC premises were "insane" and created to "sell newspapers". Denying the claim, he added: "When you live in a sweet shop, you don't eat the sweets," the court heard.
Mr Travis is also accused of assaulting a crew member in a dressing room while appearing in an "Aladdin" pantomime in Crawley with the Chuckle Brothers, Barry and Paul Elliott, in 1990. The court was told that One of the brothers disturbed him by walking past, the woman then fled the room and reported the incident to a stage manager but it was decided she would not go to the police because Mr Travis was a "star". Ms Moore said: "She was a junior member of a team and thought that she may lose her job."
Ms Moore said cast members in the panto had subsequently been told "they should be left alone with him and should not be in his dressing room at any time".
A British Airways employee, a carnival princess at the official opening of a hospital radio station and a newspaper journalist who was interviewing Mr Travis at his home while his wife was upstairs are among his alleged victims. The latter was allegedly assaulted in 2008 after asking the DJ about a photo of him sitting next to Jimmy Savile and remembered Mr Travis claiming he was a photographer and seeing an "amateurish" picture of Jo from pop group S Club 7 in a bikini on his wall, the court heard.
Three charges relate to two women who worked at Chiltern FM radio station between 2000 and 2003. The court heard Mr Travis rubbed one of his colleague's breasts on his first day at work and Ms Moore said he was "sexually assaulting" one woman and other colleagues on a "regular basis".
She said that Mr Travis was eventually banned from the radio newsroom after claiming that people were "bad-mouthing him". Station controller Colin Wiltshire confronted Mr Travis about sexual assault claims and the DJ left the station shortly afterwards for other reasons, the court heard.
Ms Moore earlier outlined the case against Mr Travis before the jury. She said: "I will refer to him as Mr Griffin. A lot of other people in this case will refer to him as Dave Lee Travis, DLT or various other nicknames he was given during his career. He was a radio DJ of some note and appeared on Top of the Pops for some years."
Ms Moore said "younger members of the jury" may not instantly know who DLT is but would know more about him over the course of the trial. She explained to the jury how the prosecution was arrived at: following ITV's Jimmy Savile expose two women came forward to newspapers making allegations against the broadcaster.
Mr Travis, also known as "The Hairy Cornflake", had made a public denial of any wrongdoing both in print and on air after he was arrested in connection with Operation Yewtree. One of the women made her approach to the newspapers after complaining of a lack of action by the BBC, the court heard.
Ms Moore told the jury Mr Travis's denials prompted a number of other women to come forward stating that they wanted to tell their story. She said the women sexually abused by the broadcaster were "vulnerable" and between 15 and 30 years younger than him. She added: "The offences vary in gravity. All are sexual in nature involving unwanted contact by this defendant on much younger women, both over clothing and under clothing."
Ms Moore said the jury will have to decide if the alleged victims are motivated by "money-grabbing, sensationalism and jumping on a bandwagon" or otherwise.
The trial, expected to last up to six weeks, continues.
The charges against Dave Lee Travis
• One count of indecent assault on a woman between January 1 1976 and December 31 1977;
• One count of indecent assault on a 15-year-old girl on June 17 1978;
• One count of indecent assault on a woman on June 29 1978;
• One count of indecent assault on a woman between January 1 1981 and December 31 1983;
• One count of indecent assault on a woman between January 1 1983 and March 2 1984;
• One count of indecent assault on a woman between January 1 1983 and December 31 1984;
• One count of indecent assault on a woman between November 1 1990 and January 31 1991;
• Two counts of indecent assault on a woman between November 1 1992 and January 1 1993;
• Three counts of indecent assault on a woman between January 1 2000 and December 31 2003;
• One count of indecent assault on a woman between January 1 2000 and December 31 2003;
• One count of sexual assault on a woman between June 1 2008 and November 30 2008.