Deepcut inquest: Father of Cheryl James calls Deepcut 'a toxic environment' after suicide verdict
Coroner rules there was no evidence that 18-year-old private was unlawfully killed but Surrey barracks failed in duty of care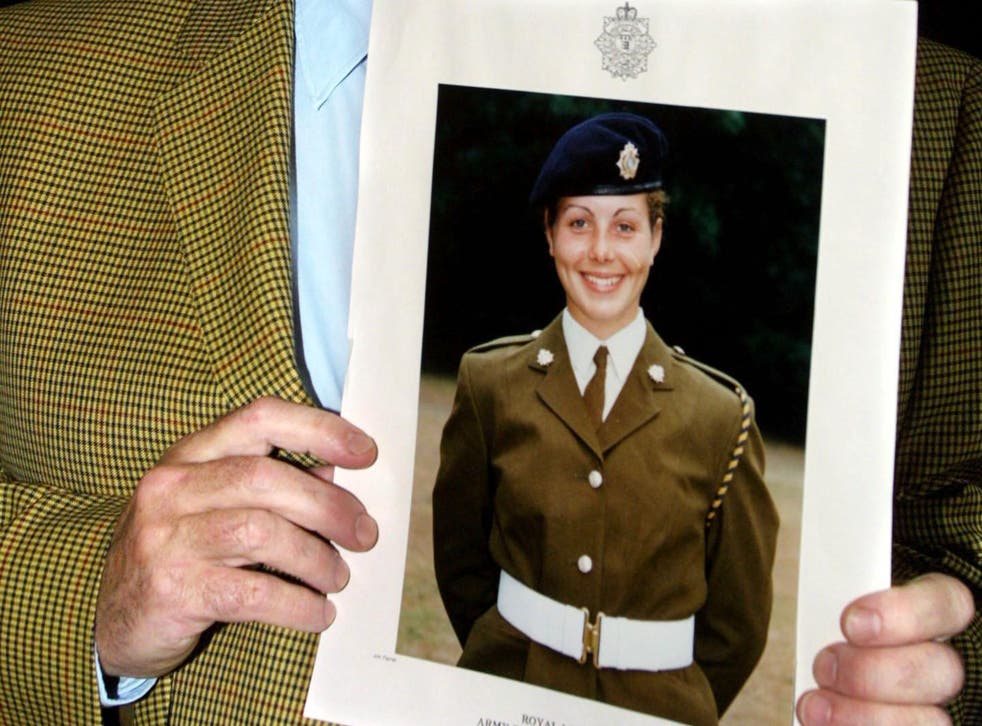 Deepcut army barracks was "a toxic and horrible environment," the father of Private Cheryl James has said following the long-awaited conclusion of an inquiry into his daughter's death.
Pte James, who was 18 when she was found dead with a gunshot wound to the head in 1995, had "inflicted the fatal shot and intended to die," coroner Brian Barker QC told Woking Coroner's Court.
"There can be no reasonable doubt that Ms James carried out an intended action and knew that its consequence would be death."
There was no evidence Pte James was unlawfully killed, found Mr Barker at the end of the three-month inquest in which more than 100 witnesses were questioned.
The coroner said Deepcut had failed in its duty of care towards young recruits.
He described an understaffed and undisciplined environment where recruits were bored and army instructors "saw young females as a sexual challenge".
"The general culture of Deepcut in 1995 was far below the standard expected."
Pte James was one of four recruits who died at Deepcut barracks in Surrey over seven years between 1995 and 2002.
In a dossier of around 60 allegations made in the same year of Pte James's death, compiled by Surrey Police and submitted to a 2006 investigation by the Ministry of Defence, an 18-year-old recruit described his time at Deepcut as "hell".
Mr Barker attacked the "haphazard provision of welfare support" offered by Deepcut to young recruits such as Pte James, who died one month after her 18th birthday.
And while he said it was difficult to identify the reasons behind Pte James's suicide, Mr Barker identified the fact she was placed alone on armed guard duty – contrary to army policy – as a contributing factor to her death.
Lone armed guard duty had created a "dangerous situation and provided the opportunity for her to take her life," he said.
Speaking outside the court, Pte James's father Des James said: "The evidence has revealed serious and profound failures in the care and supervision that ought to have been provided to her and all the other young people who joined up to the British Army with her.
"Deepcut was a toxic and horrible environment for a young women, and we are in no doubt that this would have had a terrible impact on those that were required to live there."
Mr James said while he welcomed the findings on the environment at Deepcut, he was "deeply saddened" by conclusion that his daughter killed herself.
"Having sat through all of the evidence ourselves […] It is our opinion that [the evidence] did not lead to this verdict," he said, instead suggesting pressure from Surrey Police to reach a conclusion of suicide.
The inquest had heard claims from Mark Beards, another private at Deepcut, that Pte James had been sexually assaulted at the barracks, but this was dismissed as "fantasy" by the coroner.
Mr Barker said there was no evidence Pte James was subject to "unwanted sexual harassment, abuse or bullying by any person at the barracks".
He said Pte James "disillusioned" with the Army, and had a troubled adolescence..
Following the verdict, the Army repeated its apology to the family of Pte James and said it wants to be a "beacon" for equality.
Brigadier John Donnelly, head of Army personal services, said the force was sorry for the care Pte James received.
He said: "I want to repeat the apology that I gave the coroner and to Mr and Mrs James at the start of this inquest.
"We are truly sorry for the low levels of supervision that we provided for the trainees at Deepcut in 1995, and for the policies that were applied to using trainees for guard duties, and that we took too long to recognise and rectify the situation.
He said the Army has made "profound changes" since 1995 and will study the coroner's conclusions "carefully". He added that the Army is committed to being "a beacon of equality of opportunity".
World news in pictures

Show all 50
Human rights organisation Liberty, who are representing the James family, released the following statement:
"This day has come 20 years too late. There should have been an independent police investigation right from the start. The Army should have been open about life on that camp from day one.
"Cheryl's family and friends would have been saved 20 years of unnecessary suffering and pain – and things might have changed for the better, serving the interests of the bereaved, serving soldiers and the British Army."
Additional reporting by Press Association