Exclusive book extract: 'Did you know about the phone hacking?' Andy Coulson: 'No comment'
In 2008 James Hanning asked David Cameron's then media chief to clarify the position. But the answer given invited yet more questions...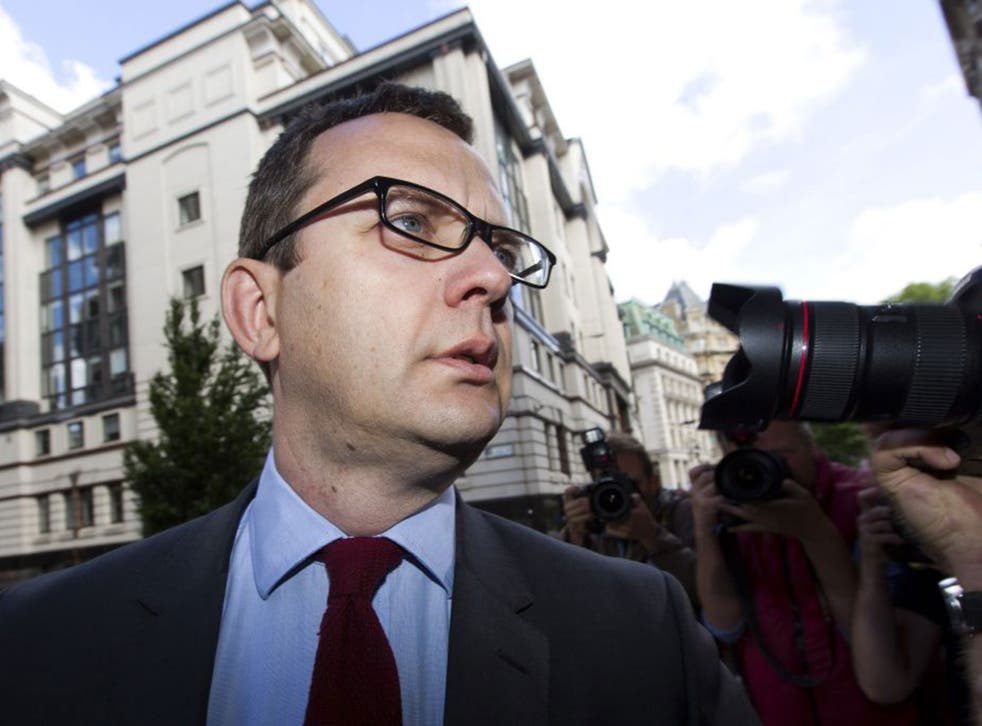 In last week's exchanges in the House of Commons, Ed Miliband made little impact on David Cameron over the decision to hire Andy Coulson in 2007 as his media chief. Cameron leaned heavily on Lord Justice Leveson's version of events, which effectively put him in the clear, despite some inconsistencies in the evidence his Lordship had heard. In short, Cameron had been misled, or so it seemed.
Leveson, though, wrote his report while charges were still pending against Coulson, convicted last week of phone hacking, so he had to be careful not to prejudice the case. But on the question of the PM's handling of the matter, to my mind, Leveson missed an intriguing element. The context in which Coulson was hired was, in fact, very different from the currently accepted version, and raises more questions about the decision to hire him. As author of a forthcoming book and co-author (with Francis Elliott of The Times) of a biography of David Cameron, I have had reason to follow this aspect of the story quite closely, and I'm still a little confused.
At about the time in early 2007 that Cameron was deciding to get in with the Murdoch press, he was in need of a communications boss, and urgently. He knew Gordon Brown was about to replace Tony Blair in Downing Street and that there was every chance he would call a snap general election, for which Cameron was not remotely prepared.
Coulson was free, if shopsoiled, and Cameron decided that this was the person for him. Fresh from presiding over illegality and with his redundancy payoff of several hundred thousand pounds in his hip pocket, Coulson was being waved into a top job, presumably to the delight of his lover Rebekah Brooks (although both she and Cameron deny it was her idea). With hindsight, it is hard to credit that more hurdles were not put in the way of Coulson's appointment.
So how would Cameron explain the hiring of someone with a questionable recent record? The line he decided to take, a colleague recalls, was that he had been reassured that Coulson's past was nothing to worry about, and later on, if that didn't wash, he would say that Coulson, having lost his job, was being given a second chance. In the event, Cameron didn't have to answer questions about Coulson's past for a couple of years.
So what had Coulson been asked, when he took the job, and what had he said? This remains a thorny issue.
George Osborne, then shadow chancellor, had a drink with Coulson at a London hotel in the spring of 2007. He told the Leveson inquiry that he asked Coulson, "in a general sense, as you might do in a social encounter, whether there was more in the phone-hacking story that was going to come out, that was not already public, that we needed to know about" – and he said "no".
This was consistent with the "the police have all the evidence" line widely used subsequently.
A number of people asked David Cameron privately if he was sure he was doing the right thing. One senior former Fleet Street editor told Cameron that the very fact of having edited the News of the World meant that Coulson would have done things that would disqualify him from holding such high office. But Cameron's biggest concern was quite different. He was fixated on the idea that there would be a repeat of what had happened to William Hague, whose media adviser Amanda Platell had written a video diary while in the job that hugely embarrassed Hague subsequently. If that could be resolved (as it was), Coulson was to be his media magus.
Coulson, well rewarded and heading for Mr Cameron's office, had to walk a tightrope. On the one hand, Murdoch had to be convinced that Coulson knew nothing, in order to secure his payoff. Murdoch would surely not have compensated a guilty man so generously (a figure of £600,000 has been mentioned). On the other, Coulson couldn't publicly deny knowing about the phone hacking in case any concrete evidence came out, because in that case he would have been shown to have lied, which would cost him that job and jeopardise the great News International switch from Labour to the Conservatives.
As far as Coulson's own pronouncements are concerned, a certain amount of mythology has built up. The phrase Andy Coulson "has always denied knowing" about the phone hacking became something of a mantra in the media. In fact, it is quite inaccurate, and the press had bought the most spectacular dummy. On 26 January 2007, an enduring untruth was born when journalists, possibly briefed by people who knew no better, were given the impression that Coulson had known nothing about the phone hacking by Glenn Mulcaire and Clive Goodman. It became the accepted truth, even though, in Coulson's own statement, there was no such denial. He said merely: "I deeply regret that [these actions] happened on my watch". There was to be no explicit denial for more than two years.
Did this glaring omission not raise concerns when the Tories came to do the due diligence on Coulson? Seemingly not. Indeed, there is no sign of anyone having even noticed. "Our biggest concern was to check whether all the court cases had concluded, whether there were outstanding tribunals," said one leading Conservative, perhaps aware that Clive Goodman had launched a case against the paper for unfair dismissal. Coulson's appointment was announced on 31 May. Behind the scenes, the settling of Glenn Mulcaire's case for unfair dismissal was imminent. His deal, agreed in principle, was signed days later.
But who had made sure that there was nothing in Coulson's past that might embarrass the Tories? Early in the saga, in one of his few statements on the matter, Cameron was strikingly imprecise as to who or what had reassured him that Coulson was in the clear: "I am satisfied that Andy Coulson was not aware that a journalist at the News of the World was engaged in this practice." He later told Lord Leveson that he had had the conversation himself.
A version of that exchange has been proposed by the journalist Matthew d'Ancona, an admirer of Coulson. In his book In It Together, d'Ancona says that Cameron's conversation with Coulson was the subject of wilful blindness. When Cameron raised the issue, Coulson had chosen a form of words that suggested he knew nothing of the detail of what the pair were doing on that occasion, but didn't deny knowing about the widespread practice of phone hacking. Cameron, we are to believe, takes Coulson to mean he knew nothing at all. "Coulson had said one thing and Cameron had heard – or remembered – quite another."
D'Ancona's offer of a lifeboat wins points for generosity and novelty, but is not the end of the story. Coulson's version, that he said something to the effect that he didn't know what Goodman and Mulcaire were up to, and that this was effectively the end of the conversation, leaves the Prime Minister looking either a fool or a knave. If he is a fool, it is for failing not to spot the evasiveness of Coulson's reply, which seems unlikely, for he is acutely political and sharp-eyed. If a knave, it is because Cameron was perfectly aware of the inadequacy of the denial, but cynically turned a blind eye, knowing that one day, in extremis, he'd be able to accuse Coulson of misleading him. The second option suited them both, but if true, suggests Cameron, by nature trusting and generous-spirited, had no interest in knowing the truth about Coulson's past, only in his ability to help get him into Downing Street. What d'Ancona calls Cameron's wilful blindness in this context (echoed by Tory pundit Lord Finklestein last week) is not that of an indulgent parent benignly pretending not to see a child taking the last biscuit. It is taking a big gamble and hoping no one will notice.
And for a while, no one did, or seemed to. In the absence of further evidence of phone hacking, the issue seemed to have gone for good. In late 2008, as Brooks and Cameron bonded in the Cotswolds, Francis Elliott and I were preparing a new edition of our biography of Cameron. Coulson had mentioned in a private conversation with a journalist that in his resignation statement he had denied knowledge of phone hacking. This was not my recollection, so I re-read that statement.
There was no such denial. I contacted Coulson to ask where, if anywhere, he had denied knowledge and/or would he give me a denial now. He asked to go off the record, which he did. I then asked, on the record, if he knew about the phone hacking at the News of the World. After a long pause he said: "I really have nothing to add to what I've said before." He was given another opportunity to answer the question, but he didn't take it. In other words, he was choosing to continue with his public non-denial stance.
This was curious. If he didn't know about the phone hacking, why not say so? If he did know, he had either come clean to anyone who asked him about it, which presumably would have made him unfit for the job, or something else had happened. If he had misled the Prime Minister (and/or one of his aides), why did he not say the same thing to me? Or, with hindsight (the d'Ancona version had not been published at that point), maybe he had only been willing to deny knowing about the fine detail of what Mulcaire and Goodman were up to. In which case, what an interesting conversation that must have been.
To my knowledge, and I have looked quite hard, it was not until 2009 that he did issue a public denial. He also told the House of Commons Media Select Committee in the same year: "my instructions to the staff were clear – we did not use subterfuge of any kind unless there was a clear public interest in doing so. They were to work within the PCC code at all times." He skated over the fact that the law does not recognise a public interest defence for phone hacking.
When asked by Leveson, Cameron said he had agreed with his shadow Cabinet Office Minister Francis Maude MP and his chief of staff Ed Llewellyn about the importance of obtaining assurances from Coulson. He said the pair had asked Coulson, although Coulson himself said had no recollection of any such questioning. Cameron told Leveson he had sought assurances himself from Coulson about phone hacking, in a meeting in the Norman Shaw Buildings in Westminster.
"I remember it was very important that I ask him that question," he added. Downing Street confirmed yesterday that Cameron, Maude and Llewellyn had all been told by Coulson he had known nothing about the phone hacking.
Coulson recalled speaking to Cameron in a phone call in which Cameron said security checks had been done on him. That call effectively confirmed he had got the job. Coulson said Mr Cameron had called while on holiday in Cornwall (seemingly it was the same call). "Mr Cameron sought assurances about my knowledge of the hacking at the News of the World. I was able to repeat what I said publicly, that I knew nothing about Clive Goodman and Glenn Mulcaire case in terms of what they did," he said (my italics). Here was the fogginess that formed the basis of the account published by Matthew d'Ancona. "In terms of what they did" invited further questions, but Lord Leveson chose to avert his gaze.
Asked whether any further assurances were sought by Mr Cameron in relation to the matter, Coulson replied: "Not that I recall."
In 2011 Cameron told the House of Commons he had hired Coulson "on the basis of assurances he gave me that he did not know about the phone hacking and was not involved in criminality". Fine. I just wonder why Coulson wouldn't tell me the same thing?
This is an edited extract from the forthcoming 'The News Machine', by James Hanning, with Glenn Mulcaire