Exclusive: Police under fire over arbitrary terror arrests at UK borders
IPCC investigating 25 complaints about Schedule 7 detentions at borders as Scotland Yard given ultimatum after refusing to hand over evidence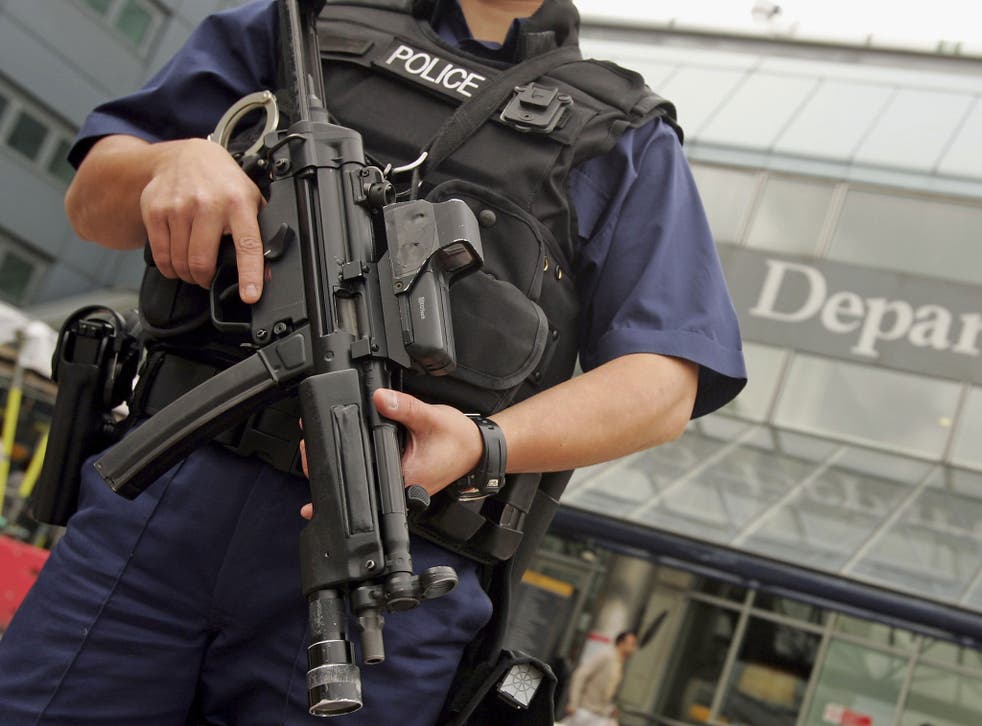 Scotland Yard faces legal action over its use of wide-ranging terrorism laws to question people at airports, after refusing to hand over the results of investigations into the alleged misuse of these powers by its officers.
Britain's biggest force has been given a seven-day ultimatum by the police watchdog to hand over its findings for some of the 18 outstanding complaints against the force about its use of the tactic – following its "consistent refusal" to investigate. The two organisations have been at loggerheads for months after police refused to reveal the reasons why some passengers were stopped by officers using a tactic that rights organisations have claimed indiscriminately targets ethnic groups.
The IPCC is also overseeing another seven complaints involving other forces, but it says it has received full co-operation over these.
The controversial law was used last Sunday to detain David Miranda as he transited through Heathrow airport on his way to Rio de Janeiro, where he lives with Glenn Greenwald, The Guardian journalist who has reported on the intelligence material leaked by Edward Snowden. The stop led to the seizure of thousands of classified documents and the launching of a criminal investigation, but also focused attention on the wide-ranging powers to stop and question passengers.
The Independent Police Complaints Commission (IPCC) said it was supervising 18 current investigations into the use of so-called Schedule 7 powers by the Metropolitan Police. These allow officers to detain passengers for up to nine hours without needing reasonable suspicion of involvement in terrorism.
The watchdog said it used its powers in February to order the Met to "investigate the rationale for stopping and questioning people under Schedule 7".
The force backed down under the threat of legal action two months later and agreed to investigate – but then refused to hand over the resulting investigation documents, according to an IPCC spokeswoman.
"We have written to them again this week reminding them of the obligation and given them seven days – or we will take the matter to court," she said.
The watchdog has received 43 cases in two years since taking over responsibility for the investigations following a raft of complaints from a police group and community groups over the use of the powers. Anti-terrorist officers were told to expect to conduct at least two such stops during a shift, according to papers lodged with an employment tribunal.
Kevin Maxwell, a former counter-terrorism officer at Heathrow Airport, told the tribunal in 2010 that officers were under pressure to complete monthly targets. Mr Maxwell, who won a case of victimisation, discrimination and harassment against the Metropolitan Police, also claimed that officers routinely ensured that stops lasted less than one hour to ensure that they did not breach the 60-minute detention limit which required them to fill out extra documentation.
The Home Office said that more than 97 per cent of examinations lasted less than one hour, and the majority less than 15 minutes.
"The claimant observed other officers stopping passengers despite having witnessed no suspicious activity, based on the colour of their skin or an Asian or Somali-sounding name," the tribunal ruling said – though it found that Mr Maxwell had not proved that ethnic or racial targeting of passengers had occurred. Mr Maxwell said: "If this is not being done properly it can undermine the integrity of the anti-terrorism system."
Scotland Yard said that legal action by the watchdog had been "unnecessary" after it claimed to have been "working hard" to strike a deal with the watchdog.
A Scotland Yard spokeswoman said: "The Metropolitan Police Service recognises the IPCC's role in scrutinising complaints related to Section 7 stops and has been working hard to agree a procedure for dealing with such investigations that is acceptable to all stakeholders. As a result of these efforts, legal action has been unnecessary. We hope to be in a position to finalise a way forward with the IPCC in the future."
Schedule 7: The law explained
Police can stop and search passengers at ports and airports under Schedule 7 of the 2000 Terrorism Act without reasonable suspicion that they are involved with terrorism.
The law provides wide-ranging powers to question people for up to nine hours with anyone failing to cooperate with police searches can face up to three months in prison.
While the Home Office says the power should not be used arbitrarily – or based on someone's ethnicity or religion – the Metropolitan Police has balked at giving the reasons for stops to the Independent Police Complaints Commission, according to the watchdog.
The government's reviewer of terrorism legislation, David Anderson QC, has raised questions about its powers and Amnesty has complained that it violates principles of fairness. Mr Anderson's most recent review showed that schedule was used for more than 61,000 people in 2012-13, a reduction of 12 per cent on the previous year.
Plans for reform are going through parliament including a reduction in the times that someone can be held from nine hours to six.
Paul Peachey