Father of maths teacher who ran off with pupil Megan Stammers appeals to son to get in touch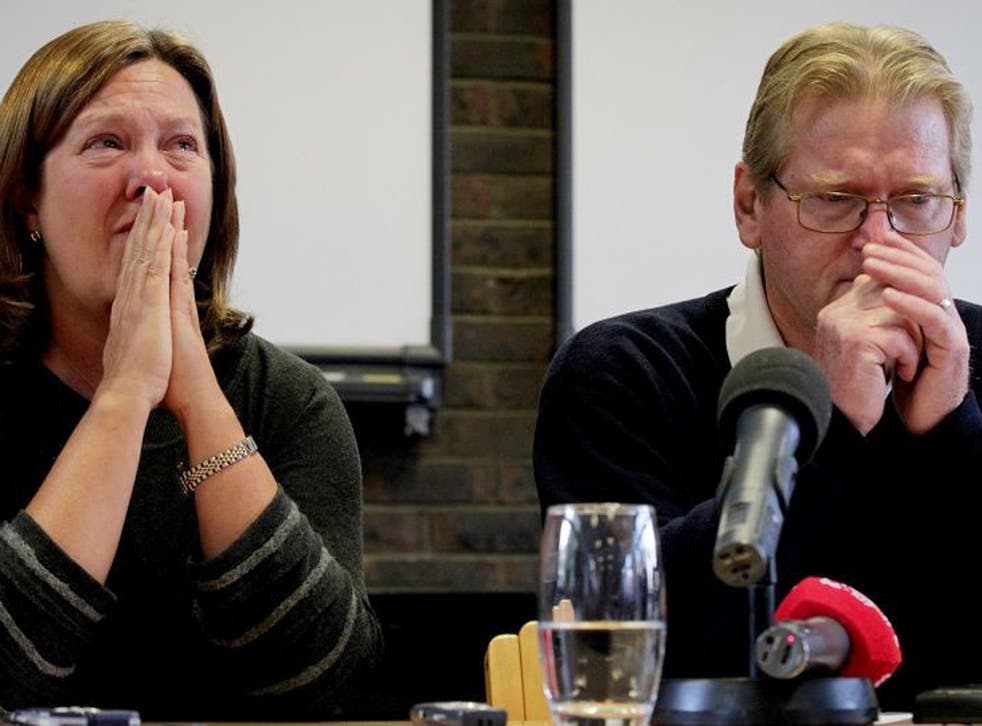 The father of a married teacher urged his son and his teenage pupil Megan Stammers to "please, please get in contact" as a week passed since they fled to the Continent.
Jim Forrest fought back tears while he sat by his wife Julie to implore Jeremy Forrest, 30, and 15-year-old Megan to call or email home.
Directly appealing to the runaways, Mr Forrest, of Petts Wood, south-east London, said: "Hi Megan, hi Jeremy, I hope this message reaches you and you are both okay. There are a lot of people back home that are desperate to hear from you. All I am asking is for one of you to make a call, send an email, so we know you are both safe.
"We are all here for you both. Please, please get in contact."
He made his appeal as police said that an international letter of request and European Arrest Warrant have been issued in relation to child abduction.
Police declined to comment on where Megan and Mr Forrest may be now but there is no "specific suggestion" that they are in Spain.
The arrest warrant was issued on Tuesday afternoon, five days after Megan and Mr Forrest boarded a ferry from Dover to Calais.
Asked why a warrant was not issued earlier, Chief Inspector Jason Tingley said their belief was that the pair might use return ferry tickets to come home on Sunday evening.
He also said there is no suggestion that they might be dead.
The last confirmed sighting of Megan and Mr Forrest, who taught maths at Bishop Bell C of E School in Eastbourne, East Sussex, is from CCTV cameras on board a cross-Channel ferry at 9.30pm last Thursday.
The release of two images of the pair, arm-in-arm and holding hands, was intended to trigger a response from the public about their whereabouts.
Mr Tingley said there are a number of rumoured sightings in Europe and that inquiries are taking place with countries to confirm or dismiss them.
He urged Mr Forrest to make contact, saying he will be aware that "he has questions to answer" and that getting the pair home is their top priority.
Speaking at Sussex Police headquarters in Lewes, Mr Tingley said: "This has probably not gone the way that Megan or Jeremy expected. Jeremy will be aware that he has questions to answer, and making contact with us is the best way he can do this.
"As part of the process of working with the French authorities, we have secured an international letter of request and a European Arrest Warrant. These orders, which have been obtained with the help of the Crown Prosecution Service, enable us to work with the European authorities and are in relation to an offence of child abduction. This means taking Megan without the consent of her parents.
"The full details of this warrant have been circulated to every EU country. When the pair are found in an EU country, Jeremy can be arrested and Megan will be taken into protection."
Amid question marks over how intensely efforts are being made by European counterparts, it is said that details of them and Mr Forrest's Ford Fiesta are being circulated to all countries on the Continent.
Reports have claimed that French police are not actively looking and have not carried out standard credit card or mobile phone checks, and that Interpol is unable to confirm its involvement.
Police refused to say what type of help they are getting from overseas authorities, saying it is a "tactical question" which they would not divulge if it were a domestic inquiry.
Mr Tingley said the French authorities have "a slightly different perspective" because what has happened is not seen as an offence in that country, "but we have their full support and we have that team working with us".
British police are working with the French authorities and are able to react swiftly to any information, he said.
"We have a detective inspector working in France with a team of officers that are dedicated to this inquiry," he said.
"If we are contacted by Megan or Jeremy, we will be able to react to that very quickly because our priority is still their safe return to this country."
Megan left her home in Walton Close, Eastbourne at around 4.30pm last Thursday, telling her mother she was going to stay overnight at a friend's house.
Later that day CCTV recorded Mr Forrest's black Ford Fiesta, registration GJ08 RJO, heading to the Port of Dover with Megan in the passenger seat.
They headed across the English Channel on a ferry some time after 9.30pm.
The following morning Megan's mother, Danielle Wilson, received a standard text message from her school to say that Megan had not attended lessons, leading to police being called.
Ms Wilson told reporters earlier this week that during her last conversation with Megan, her daughter appeared "really excitable" and was "jumping around".
After Megan told her mother that she loved her, she left with a warning to her and her friend: "Make sure you girls don't oversleep."
On Monday the schoolgirl's stepfather, Martin Stammers, 43, who has launched a Twitter campaign for Megan's safe return, told journalists: "Everyone is missing her. Everyone is concerned about her. She is by no means in any trouble whatsoever. We just want to hug her. We want her back in our arms with her smiley face and dimples."
Megan and Mr Forrest, an amateur musician who lives in Ringmer near Lewes, were due to return on Sunday evening but did not board the ferry.
The last contact was on Friday when a message was sent to one of Megan's friends, saying she was in France. But the message did not originate from her phone.
Mr Stammers has tweeted: "Please continue your efforts, if I could thank you all individually I would, your help is invaluable I implore you to RT £findmeganstammers."
One of Megan's friends, Casie Barnes, 15, who lives a few doors away from her family in Eastbourne, said she would never have imagined that Megan would enter a relationship with Mr Forrest.
Asked about the relationship, she said: "I'd never put them both together as a couple. She was a shy girl."
Anyone with information is asked to call Sussex Police on 101, quoting Operation Oakwood.
A telephone number and text number which can be used from abroad have been set up. They are 00 44 1273 475 432 or text +447786 208 090.
PA