Government accused of 'stoking tensions' against human rights lawyer pursuing British soldiers for alleged war crimes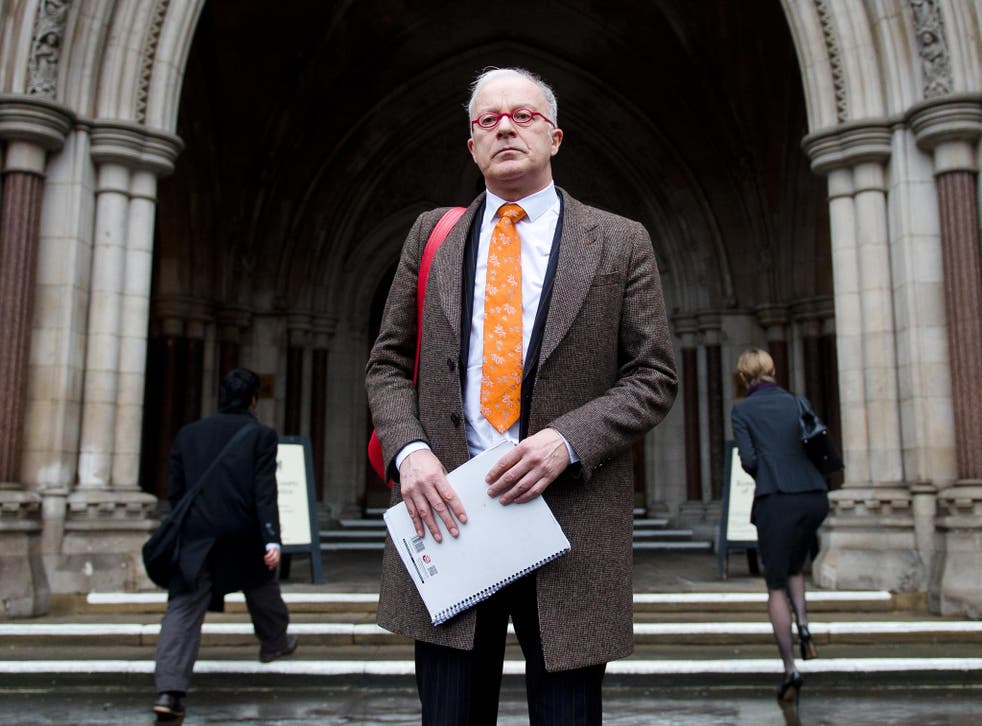 The Law Society has demanded action from the Home Secretary, Theresa May, over a string of violent threats dating back a decade against the human rights lawyer who brought cases against British soldiers over alleged brutality in Iraq and Afghanistan.
Security has been stepped up at Phil Shiner's Birmingham-based law firm after a string of abusive messages. The messages spiked once his team withdrew claims that British troops killed unarmed civilians at an army base, following a year-long £22m public inquiry. One of the emails said: "Pick a lamppost you scum, we'll bring the piano wire."
Mr Shiner blamed the Government for stoking the tensions and specifically identified the Defence Secretary Philip Hammond and Justice Secretary Chris Grayling.
The lawyer, who represented Iraqi families, has since been the subject of hostile articles during the Al-Sweady Inquiry into the most serious allegations faced by British troops during the Iraq war. Despite the concession made by his firm, the inquiry is continuing to consider claims Iraqi civilians were mistreated in British custody.
Further abuse came after the International Criminal Court announced last month that it would start a preliminary investigation into claims of British war crimes in Iraq. It followed complaints made by Mr Shiner and a Berlin-based charity.
Mr Shiner cited comments by Mr Hammond in the House of Commons in May 2014, when the minister spoke of "an increasing spate of costly actions have been brought against her Majesty's Government by contingent-fee lawyers on behalf of foreign nationals".
"They're deliberately having a go, personalising it about me. It's a well known tactic," said Mr Shiner. "If they didn't do it, these knuckleheads wouldn't have anything to go on.
"There's been a huge spike. We've had everything: people phoning up and being abusive. A concerted Government attack on me has contributed to it. They are stirring it up."
A statement on behalf of both ministries said: "We totally condemn any threats of violence which may have been made, but it is ridiculous to blame Government ministers. It is only right that the department robustly defends the reputation of the Armed Forces and seeks to make sure no taxpayers' money is wasted, especially where dubious cases are brought."
West Midlands Police met twice with officials at the firm, Public Interest Lawyers, in the last week after the messages targeting Mr Shiner and his company, his practice manager said.
Nicholas Fluck, the president of the Law Society, said: "All lawyers should be able to carry out their legitimate work freely and without fear of reprisal. As such, the Law Society has today written to the Chief Constable of West Midlands Police Force and the Home Secretary urging them to address Mr Shiner's case promptly."
UN principles about the role of lawyers states that "Governments shall ensure that lawyers are able to perform all of their professional functions without intimidation, hindrance, harassment or improper interference".
Mr Shiner represented the family of Baha Mousa, the Iraqi man who died in British army custody in 2003 after being beaten and abused by British troops. The case resulted in the jailing of Corporal Donald Payne in 2007 at a court martial, making him the first member of the British armed forces to be convicted of a war crime.
Mr Shiner said that some of those that targeted the firm through emails, social media and phone calls had left names which have been passed to the police. His family has previously been targeted and a prosecution against one man was dropped in 2011 because of delays, he said.
West Midlands police said: "We are currently investigating allegations of malicious communication whereby 17 emails have been received by the company. One of the malicious communications is being dealt with as racially motivated."
Register for free to continue reading
Registration is a free and easy way to support our truly independent journalism
By registering, you will also enjoy limited access to Premium articles, exclusive newsletters, commenting, and virtual events with our leading journalists
Already have an account? sign in