Grant marches into battle: I was hacked by Mail on Sunday
Evidence suggests practice went beyond News International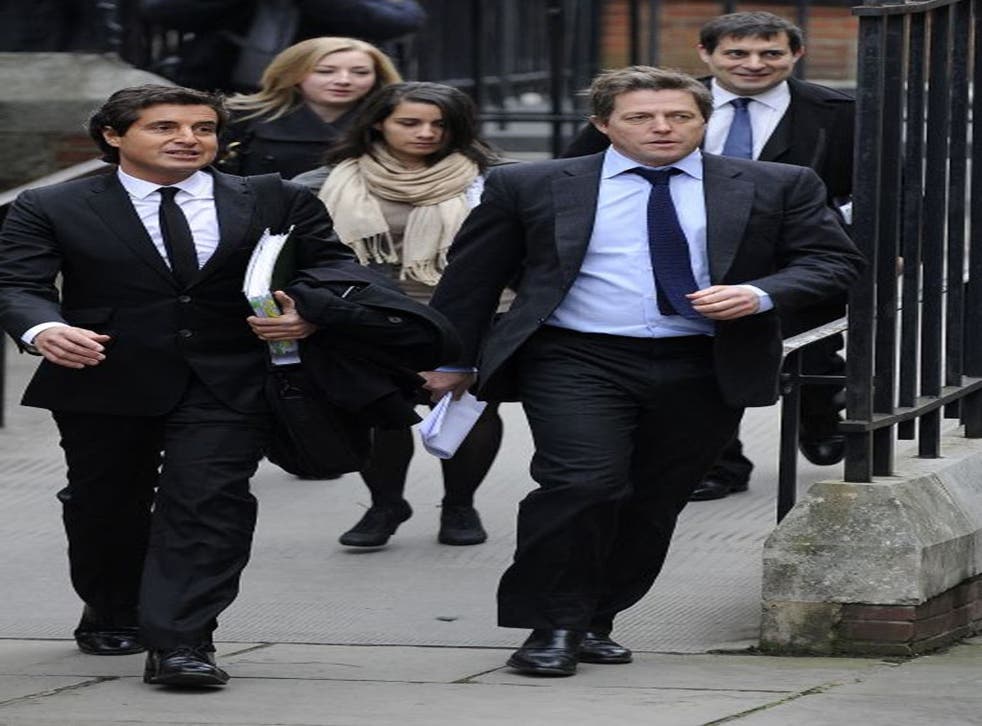 The publishers of the Mail on Sunday were thrust into the judicial blame game on phone hacking when the actor Hugh Grant told the Leveson Inquiry that key details about his life could only have been obtained by the paper illegally intercepting his voicemails.
Grant's wide-ranging assault on both Mail titles had been given to Associated Newspaper's lawyers last week in the form of the actor's full testimony. Jonathan Caplan, counsel for the Mail titles, had earlier challenged the agreed legal format of Lord Leveson's inquiry by demanding to cross-examine witnesses that were critical of his client.
Although the request was refused, it quickly became clear why Associated was worried. The Mail columnist Amanda Platell and a company PR executive who advises Associated were in court and hinted at anger inside the company that they would have to wait months before being allowed to respond.
With the News of the World regarded as the main culprit of hacking, Grant said that in February 2007 – just after Clive Goodman and Glenn Mulcaire had been jailed – the Mail on Sunday printed a story about his failing relationship with the heiress Jemima Khan.
The article said his relationship was "on the rocks" and said a contributing factor was late-night calls he had with a "plummy voiced" studio executive from Warner Brothers. He called the story "bizarre" and "left field", but that during his preparations for the inquiry, the "penny dropped".
Details of the story were untrue, but he could not think who the source was.
However, he said he knew a Hollywood executive who had an English assistant, who was married and middle aged. "She used to call me – late – and talk about English stuff: Marmite, whatever. Her voice could only be described as 'plummy'." Stating that the information in the Khan story could only have been obtained by voicemail interception, he challenged Mr Caplan to come up with another explanation: "I would love to hear what they say this was, if it wasn't phone hacking."
A spokesman for the Mail on Sunday refuted the suggestion, and claimed the source of the story was "a freelance journalist who had been told by a source who was regularly speaking to Jemima Khan". He added: "Mr Grant's allegations are mendacious smears driven by his hatred of the media."
Grant claimed that when he was interviewed by Scotland Yard this year and shown pages from Mulcaire's notebooks, the names of the journalists who had commissioned the private eye had been redacted. Though these were later revealed as NOTW journalists, the stories linked to the commissions appeared not in the News International title, but in the Daily Mirror and Daily Mail. In what at times sounded like a sustained attack on the Mail, Grant said the Daily Mail knew the fake name that his pregnant girlfriend, Tin Lang Hong, had used to check into hospital to have their baby. He also repeated the accusation made last week by his counsel, David Sherborne, that when he appeared on Question Time, Ms Hong had received a threatening call which said: "Tell Hugh Grant to shut the fuck up."
His relationship with Ms Tong featured in a Daily Mail column. According to him, Amanda Platell "offered evidence as to why I should be loathed". He described the piece as a "hatchet job" and said that having paid £125,000 to a former lover for a picture of Ms Hong, the newspaper wanted more pictures of his new, German girlfriend.
Evidence of tabloid phone hacking also featured in the evidence of Graham Shear, a solicitor who has represented many celebrities and sports stars in privacy and defamation cases. He described how one of his clients was under siege from the media. Minutes before he expected his clients to arrive at his home, reporters and photographers appeared. He said that only an intercepted voicemail could have told them where his client was going.
The writer, Joan Smith, also claimed her voicemails were hacked while she was having an open relationship with former Europe minister, Denis McShane.