Hatton Garden jewellery burglary: Chances of recovering items 'nearly impossible', says expert
Neil Duttson said having spent four days raiding the safe deposit boxes the thieves could easily wait months before acting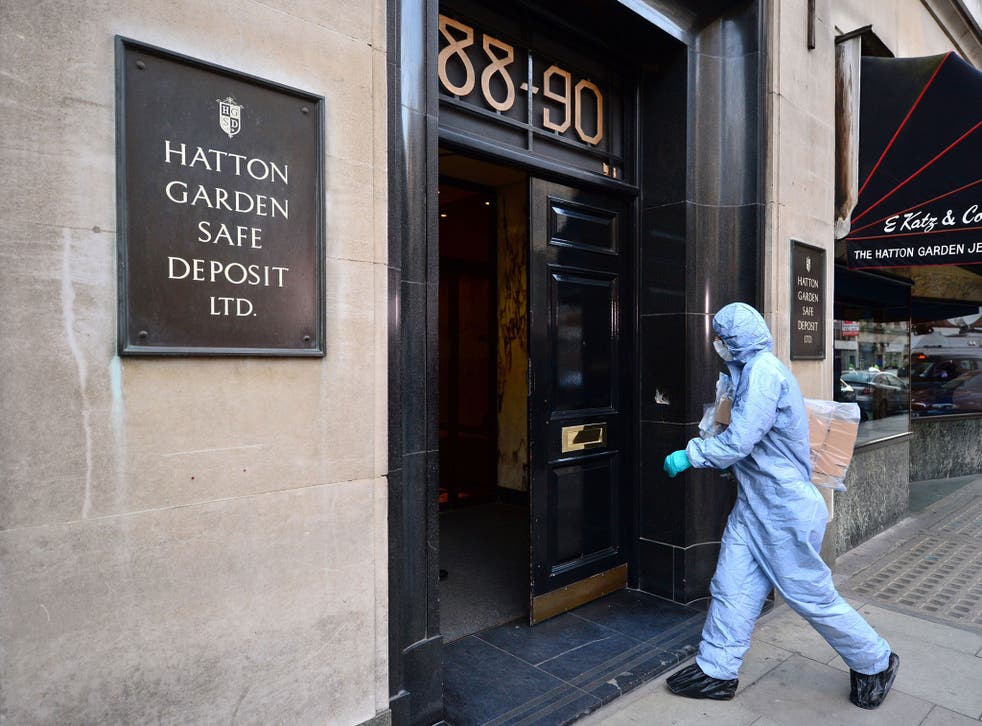 The chances of finding the £200m worth of gemstones and other luxury goods stolen from a safe deposit box firm over Easter weekend are "nearly impossible", a diamond dealer has said.
Neil Duttson, who buys stones for private clients, said having spent four days raiding Hatton Garden Safe Deposit Ltd in London's famous jewellery quarter the thieves could easily wait months before acting.
He said: "Once diamonds have been re-cut and polished there is no geological map. I imagine they will be sat on for six months. You can expect some cheap diamonds will be coming on the market soon."
Scotland Yard said that "approximately 60 to 70" safe deposit boxes were raided – much less than the 300 initially reported leaving police sources to speculate whether the gang had been spooked and fled earlier than Easter Monday or that it contained as few as two to three people.
More details emerged as to how the raiders pulled off one of the UK's biggest jewel heists. It is thought they either cut through the roof of the building or gained access from a top floor office before descending the lift shaft to the ground floor.
One deposit box holder, who asked not to be named, said a security guard told him the thieves did not break in through the vault door of the basement, accessed by stairs from the ground floor and where 600 safe deposit boxes are located, but in through the wall next to the vault door using heavy cutting equipment to get through metal bars.
The sound of drilling would not have been surprising as one jeweller in the area said local residents had been sent a letter telling them that any works they hear could be from the nearby Crossrail project.
The gang is believed to have arrived on Thursday evening before escaping at some point before Tuesday morning when people returned to work and discovered the robbery. A security guard had responded to an alarm in the building on Good Friday but did not search inside "because he doesn't get paid enough" one client claimed he was told.
Angry customers continued to gather outside the company for a second day criticising the firm for failing to keep them informed as to whether their goods had been stolen. Another jewellery dealer called Hatton Garden's security "a joke" claiming it was the third time they have been raided, most recently in 2003 when a criminal posing as a wealthy customer stole around £1.5m in goods from several boxes.
Hatton Garden Security Limited launched the same year and looks after the jewellery quarter, but not the safety deposit firm which has its own security. Its director Darren Boorman told the Independent his patrols had not noticed anything untoward last week.
The dealer, who asked not to be named, said: "It had happened three times now. If my safe is all right I am taking it out of there. My father had a box there and it is the second time since I have had one."
His family have had a safety deposit box with the company for around 30 years, which he pays £300 a year for, and spoke of his anger and frustration at the situation with the company.
He said: "I am relying on them. It is a joke. How could someone bring all that heavy equipment in?"
Customers who were escorted into the building emerged with anguished looks. One man said he had not been given any information by the company and that he was "very disappointed" at what had happened. Hatton Garden Safe Deposit Ltd did not return calls.
Michael Miller, a jeweller from Knightsbridge, London, said he "felt sick" at the prospect of losing up to £50,000 of uninsured jewellery and watches during the burglary.
Mr Miller, who has held a deposit box with the company for almost 10 years, said the deposit boxes were used by many jewellers in the area to store their stock at the end of the day, and some could be worth up to £2m each.
Ex-Flying Squad chief Roy Ramm said he "would not be surprised" if the jewellery, cash and other goods stolen during the raid was worth as much as £200m.
A Metropolitan Police spokesman said: "This is a slow and painstaking process involving forensic examination, photographing the scene and recovering exhibits in meticulous detail in order to preserve the evidence. Officers anticipate this process to take approximately two days.
"Officers are working closely with Hatton Garden Safe Deposit Ltd to establish the identities of those affected. Police will be contacting victims directly as and when they are identified."