How the dog with a Monaco bank account led police to Redknapp's secret 'bungs'
Court told Spurs manager used his offshore account 'deliberately and dishonestly'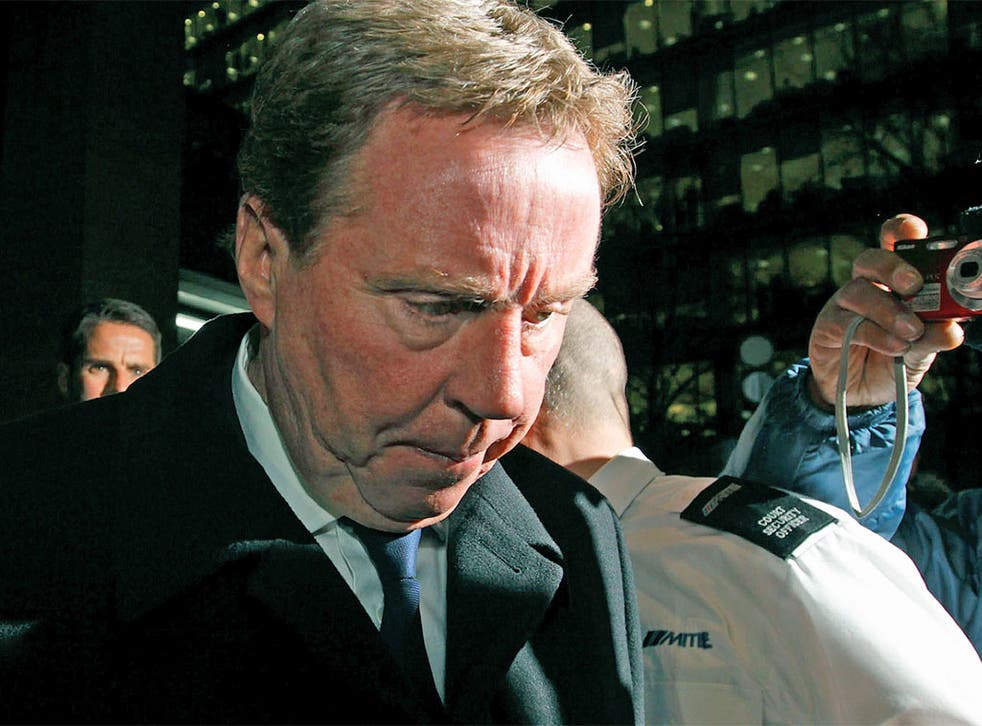 One of Britain's most high-profile football managers, Harry Redknapp, flew to Monaco to set up a secret offshore bank account named after his pet dog to receive bungs of nearly £200,000 and hide them from the taxman, a court heard yesterday.
Mr Redknapp – the Tottenham Hotspur manager tipped to become England's next boss – flew to the principality with its tradition of banking secrecy to obscure a money trail and "deliberately and dishonestly" received two large payments from the chairman of his then employers, Portsmouth Football Club, Southwark Crown Court heard.
The 64-year-old only revealed the existence of the secret account after the end of a separate two-year tax investigation into a £300,000 bonus paid to him after a transfer involving the former England captain Rio Ferdinand, the court heard.
John Black QC, prosecuting, said Mr Redknapp's "hard-headed business acumen" had seen him earn an annual salary of up to £500,000 and bonus payments of many hundreds of thousands more.
Mr Redknapp was named director of football at Portsmouth in 2001 and had a clause in his contract entitling him to 10 per cent of any profits made from the sale of players. But when he was appointed manager in 2002, his contract was renegotiated and he only got five per cent, the court heard.
Days later the club agreed the sale of England striker Peter Crouch for £4.5 million to Aston Villa, netting Mr Redknapp more than £115,000, half of what he could have earned under his old contract.
Mr Redknapp did not wait long before he took steps to get what he thought he was due, said Mr Black. The prosecution alleges that four days after the bonus was signed off by a senior executive, Mr Redknapp flew to Monaco to set up a private bank account at HSBC under the name "Rosie 47", which combined his dog's name with his date of birth, said Mr Black. The owner and chairman of Portsmouth Football Club, Milan Mandaric, made payments to Mr Redknapp of $145,000 (£93,000) in June 2002 and $150,000 in April 2004, the court was told . "These payments were a bung or offshore bonus that the parties had absolutely no intention of paying taxes for," said Mr Black.
Mr Black said that under the terms of the new contract, any sums from transfer activity would be paid directly from Mr Mandaric, rather than the club as had happened previously. Mr Black said the off-record payments "would be hidden from the UK tax authorities".
Mr Redknapp yesterday sat in the dock alongside Mr Mandaric, 73. Both men deny two counts of tax evasion.
Mr Black said Mr Redknapp's Monaco account was open for nearly six years, but had only four major transactions, including the two large payments made by Mr Mandaric.
In 2002, Mr Redknapp asked for about $100,000 to be transferred from the account to a Florida-based bank holding the account of First Star International Ltd. Mr Black said the company operated as a personal account for Mr Mandaric, part-owner of the company. The Monaco account was closed in January 2008, when Mr Redknapp asked for the balance of $207,000 to be transferred to his UK account.
The court was told that he never mentioned the account during the tax investigation from 2004 to 2006 into his finances. That inquiry was into the Rio Ferdinand transfer deal from West Ham United – where Mr Redknapp was manager at the time – to Leeds United. It was part of an investigation into illicit payments in football, led by Lord Stevens. Mr Redknapp mentioned the Monaco account for the first time in a newspaper article in November 2006, the court heard.
Mr Redknapp, who underwent minor heart surgery last year, is the most successful English manager in the modern game, having led Portsmouth to success in the FA Cup and Spurs to last season's Uefa Champions League quarter-finals.
Mr Mandaric, who is Serbian, is now chairman of Sheffield Wednesday, having previously worked at Leicester City.
The case continues.
Register for free to continue reading
Registration is a free and easy way to support our truly independent journalism
By registering, you will also enjoy limited access to Premium articles, exclusive newsletters, commenting, and virtual events with our leading journalists
Already have an account? sign in