'I just wanted to help': Beautician who set up GoFundMe page for attacked pensioner Alan Barnes
Katie Cutler, 21, who lives nearby Mr Barnes, said she had been moved when she heard about what happened to him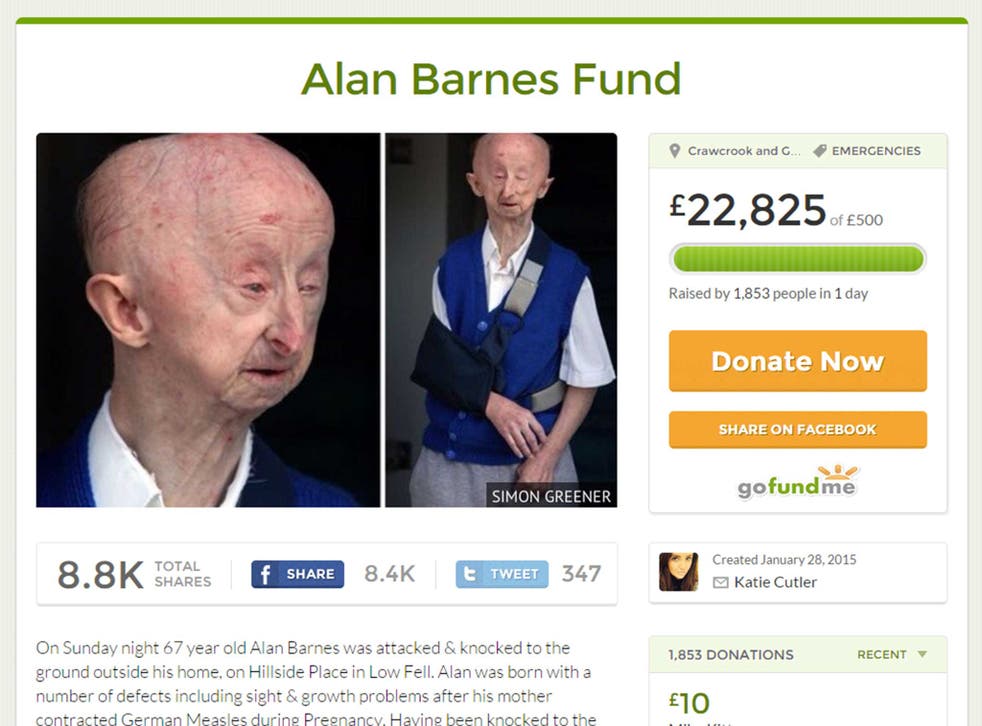 A campaign to raise money for a disabled pensioner attacked outside his home has gone viral, raising over £30,000 since it was set up two days ago.
Katie Cutler set up a GoFundMe page for Alan Barnes after he was brutally attacked by a mystery assailant outside his home in Gateshead, Tyne and Wear, on Sunday night.
Despite only being live for just two days – and initially asking for only five hundred pounds – the petition has been shared 10,000 times and raised £34,296 at time of writing.
Ms Cutler, 21, told The Independent: "It doesn't really feel real at the moment. I feel so overwhelmed, I have just been inundated with emails and messages - it hasn't sunk in and I can't believe how lovely people have been."
Although she doesn't know Mr Barnes personally, Ms Cutler, who lives nearby in Gateshead, has friends and family who are friends with the pensioner. He's often recognised about the community, known for his mathematical skills and as an active member of the local Methodist congregation.
"When I saw the news, maybe on the Wednesday, I was just so upset. Obviously what's happened to him is really awful."
"I just wanted to help," Ms Cutler, who works as a beautician, said. "I thought I would set up a little fund because I've got lots of clients and friends on Facebook to donate."
The attack left Mr Barnes, 67, who is partially sighted and weighs just six stone, with a broken collarbone and terrified to return to his home.
His sister, 55-year-old Carol Hill, is presently helping him to find a new place to live and caring for him while he heals.
"The police seem to think it was a random opportunist attack. But they must have seen Alan as an easy target," Ms Hill told the Daily Mail.
"I was furious. Whoever has done this has no morals at all to attack someone so vulnerable."
Mr Barnes was knocked over and his pockets searched while he was taking out the rubbish. When his attacker discovered he had no money he ran off, leaving the terrified pensioner to seek help from a neighbour who rang his sister.
A spokesperson for Northumbria police confirmed to The Independent that officers were still searching for the suspect.
DC Chris Neil, Gateshead CID, said: "This was a cowardly assault on a vulnerable man who wasn't able to defend himself. His disability means he is partially sighted and quite short and it's disgraceful that someone would target him."