'I've got nothing to hide': Max Clifford questioned over two separate sex offence allegations eight years apart
The PR guru said the allegations were not linked to children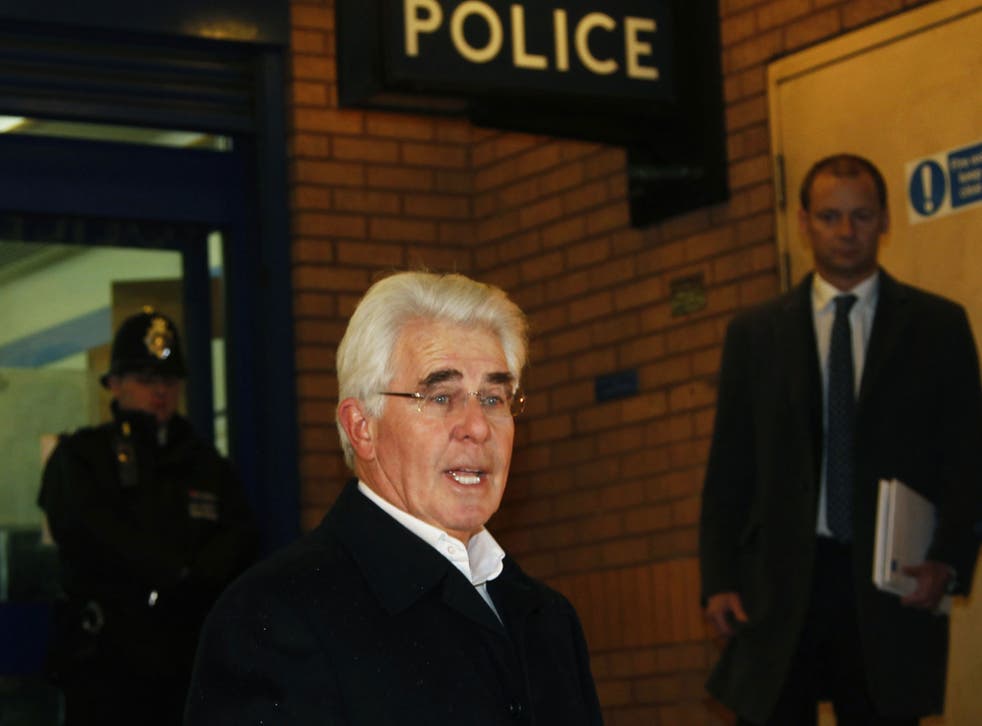 Publicist Max Clifford was questioned by police about two separate sex offence allegations some eight years apart that he "vigorously and totally" denied, he said yesterday.
Mr Clifford, 69, said the allegations were not linked to children, but that he was not allowed to talk further about his 12 hours of questioning following his arrest on Thursday morning by officers on the Jimmy Savile historic sex abuse inquiry team. "There were a couple of things put to me, I think one was in 1977 and the other one in 1985, both of which I vigorously and totally denied," Mr Clifford said.
The publicist was arrested at his Surrey home after previously warning about a "witch-hunt" during a series of television interviews after revealing that more than a dozen stars and managers had contacted him with concerns about the Scotland Yard inquiry. He had said that he hoped police concentrated on finding people like Savile "who were manipulating" girls.
He declined to repeat the witch-hunt charge yesterday, but added: "I will watch what goes on and what happens, but obviously that's the worry based on what seems to be happening."
He spoke to reporters briefly yesterday as he left his gated home on an exclusive estate near Weybridge where he lives with his wife. Speaking from the seat of his Rolls-Royce as he left home to meet friends for breakfast at a café, Mr Clifford said that he intended to continue working while the inquiry unfolded.
"It's a horrible thing to happen to anybody but I'm old enough and ugly enough to face it and sort it out, which is what I have got to do," he said. "The police have got to look into it. That's what they have to do and obviously I have to answer their questions and hopefully show clearly and conclusively to them and everybody else that there's absolutely no truth in it at all.
"I'd been there about 12 hours sitting in the cells and being asked questions for hours and hours and hours. I wasn't exactly a bundle of joy, you know. I still came out and faced the cameras and spoke to everyone as I've got nothing to hide."
Asked later if the allegations that were put to him were linked with children, Mr Clifford said: "No, no, no. But I'm not allowed to talk about that at all."
Scotland Yard did not identify Mr Clifford in a statement and said only that a man in his 60s arrested on suspicion of sexual offences had been bailed to appear at a date later this month.
He was the fifth person to be arrested in connection with Operation Yewtree, which is focused on allegations against the late Jimmy Savile, but has led to the arrests of other prominent figures in the entertainment industry. The force said up to 450 potential victims had been identified, most of them linked with Savile.
Mr Clifford's client and long-standing friend, the comedian Freddie Starr, has also been arrested and denied allegations against him. The 1970s pop star Gary Glitter, the ex-BBC producer William De'Ath and the DJ Dave Lee Travis have been arrested. They have denied the allegations. A man in his 80s was also questioned by detectives last week.
Officers are looking at three strands within their inquiry: claims against Savile; those against Savile and others, and a third group entitled "others" that includes Mr Clifford and Mr Travis.
The investigation has rapidly expanded since Scotland Yard first announced the inquiry in October, when it said it was dealing with 25 to 30 Savile victims. The inquiry has now cost £2m and a team of 30 officers are working on it.