Iftikhar and Farzana Ahmed jailed for life for murdering their daughter Shafilea
Judge told the pair they had sought to keep the teenager in the "sealed cultural environment" of rural Pakistan rather than modern Britain
Iftikhar and Farzana Ahmed jailed for life for murdering their daughter Shafilea

Show all 2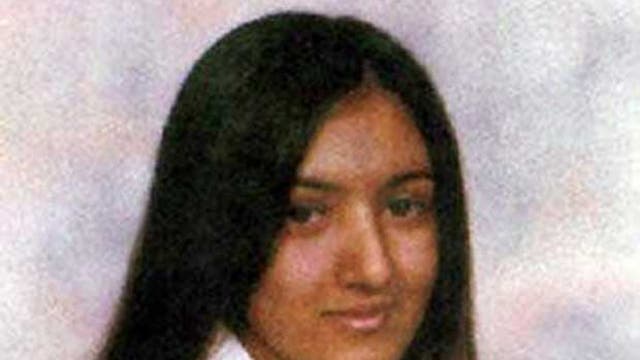 Parents convicted of the honour killing of their daughter were sent to jail for life today and told they had sought to keep the teenager in the "sealed cultural environment" of rural Pakistan rather than modern Britain.
The judge at Chester Crown Court said Iftikhar Ahmed and his wife Farzana's fear of being shamed by their community was greater than their love for their daughter.
Shafilea Ahmed, 17, was suffocated at her home in Warrington, Cheshire in 2003 after her Pakistani-born parents stuffed a plastic bag into her mouth in front of their four other children.
It followed years of abuse against the westernised teenager. Whilst teachers informed social services three times of her plight as she appeared at school covered in cuts and bruises and repeatedly ran away from home. But on each occasion she returned to her parents.
Despite being the immediate suspects in the case, it took nine years to bring the Ahmeds to justice after police faced a wall of silence both within the family and the community.
They were only convicted after Shafilea's sister Alesha, now aged 22, gave evidence against her parents in court.
Sentencing them to serve at least 25 years in prison Mr Justice Roderick Evans said the couple's expectation that she live in a "sealed cultural environment separate from the culture of the country in which she lived was unrealistic, destructive and cruel".
They had killed her in a fit of rage after she refused to obey them over an arranged marriage and other issues, the judge added.
"You wanted your family to live in Pakistan in Warrington. Although she went to local schools, you objected to her socialising with girls from what has been referred to as the white community," he said.
"You objected to her wearing western clothes and you objected to her having contact with boys. She was being squeezed between two cultures, the culture and way of life that she saw around her and wanted to embrace, and the culture and way of life you wanted to impose on her," the judge added.
He said the Ahmeds had "blighted the lives" of their other children forcing their younger daughter Mevish to come to court and lie on their behalf.
Alesha would be "unlikely to be able to avoid the legacy of her upbringing," while it was impossible to tell whether their son Junyad, who continued to back them, was either doing so out of "filial affection or the result of the warped values you instilled in him," he said.
Both Mevish and Junyad and the youngest child, who cannot be named for legal reasons, wept as their parents were convicted. Mrs Ahmed, 49, changed her story during the trial. After years of insisting she believed her daughter had run away and been murdered by someone else she said she had witnessed Mr Ahmed, 52, beating Shafilea on the night of her disappearance. She said she could not speak out because she too feared for her life.
Edwina Harrison, independent chair of the Warrington Safeguarding Children Board, said procedures had been changed since Shafilea's murder and now 16-year-olds who presented themselves as homeless as the teenager did would be assessed along with a social worker present while agencies now work more closely together.
Speaking after the verdicts, Shafilea's close friend, Melissa Powner, who had helped her try and escape her parents, described the pain of having to watch as her "killers roamed free".
"If there is one thing that we pray will come from this, it is that her beautiful face and tragic story will inspire others to seek help and make them realise that this kind of vile treatment, no matter what culture or background they are from, is not acceptable and there is a way out," she said.
Mohammed Shafiq, chief executive of the Manchester-based Ramadhan Foundation, said: "Honour killings go against Islam. Islam totally forbids honour killings, it forbids forced marriages and if anybody thinks somehow that they are doing these actions as a result of their faith, then they are seriously misguided."