It's Community Payback time: rioters must clean up their mess, says Nick Clegg
Deputy PM plans to make guilty face those whose property they destroyed – and tries to head off Labour call for public inquiry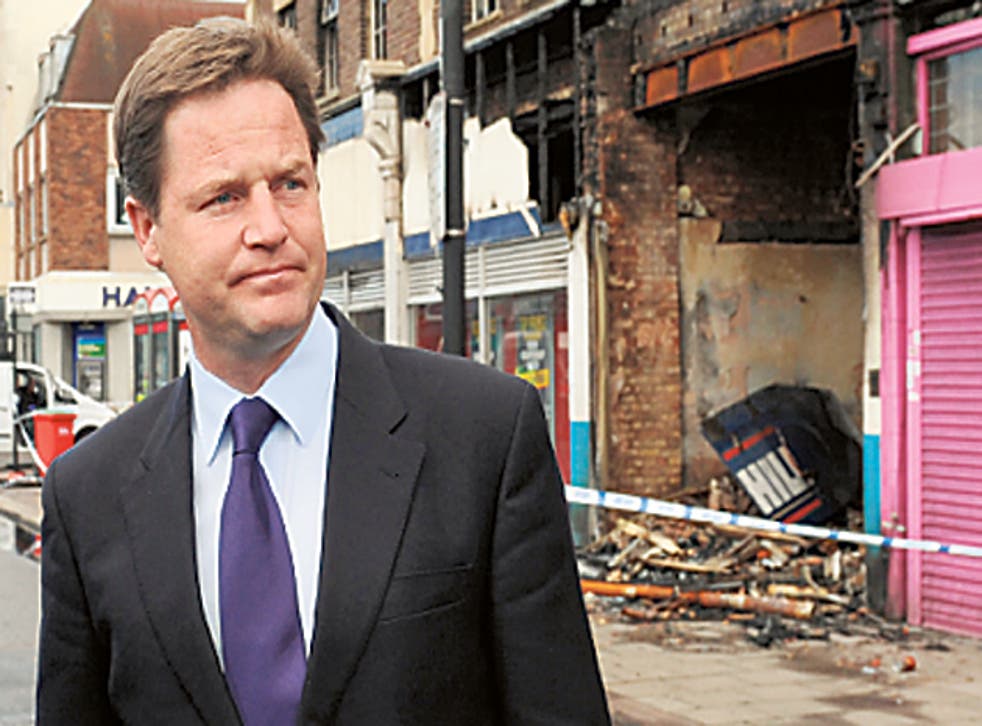 People convicted of last week's rioting and looting who are not sent to prison will be forced to do community work in the areas affected by their behaviour, Nick Clegg will announce today.
The Ministry of Justice is to order the Probation Service to arrange for Community Payback orders to take place on projects associated with the damage caused in the disorder or in the places where it took place. Many will also be forced to meet the shopkeepers, homeowners and businessmen whose property was destroyed in the rioting in an attempt to bring home the consequences of their actions.
Mr Clegg will today become the last major party leader to contribute to the debate on the causes and consequences of the rioting and will attempt to stamp a Liberal Democrat identity on the Government's overall response. Aides said the idea was to ensure that first-time offenders did not get "sucked into" repeat offending as a result of taking part in the riots, but had a chance of rehabilitation.
"Clearly some people are going to go to prison, but this is about ensuring that those who don't, contribute to the areas where they've caused the damage and those communities can see that they're doing that," said one senior Liberal Democrat aide. "We also don't want to create repeat offenders. Meeting victims has proved to be a very effective way of ensuring that people face up to the consequences of their actions and that's what we want to see happening."
In his speech, Mr Clegg will say that "strong justice" means people change their ways. "Victims of crime are only truly protected if punishment leads to criminals not committing crime again," he will say. "That's why those people who behaved so despicably last week should have to look their victims in the eye. They should have to see for themselves the consequences of their actions and they should be put to work cleaning up the damage and destruction they have caused so they don't do it again." It also emerged yesterday that Mr Clegg is attempting to broker a deal between Ed Miliband and the Government over the Labour leader's call for a full-scale independent inquiry into the riots. Mr Clegg is proposing setting up a Victims and Communities Commission which would visit the areas affected by the rioting.
David Cameron is known to be opposed to setting up an "expensive and lengthy" formal inquiry, but could be prepared to compromise on a less formal – but still independent – investigation that would produce policy recommendations for ministers. "No deal has yet been done but this is something we are looking at," said the source. Theresa May has also written to Sir Denis O'Connor, the Inspector of Constabulary, asking whether sufficient numbers of police officers have training in public-order policing. The Home Secretary will also make a speech today outlining why she believes it is necessary to continue with the Government's plan of introducing directly elected police commissioners.
In remarks which may be seen by senior officers as provocative, she will claim that the last 10 days have underlined the importance of political accountability over the police service. Senior officers have expressed anger at what they perceive as Government interference in operational decisions over how they handled the rioting.
While again praising the bravery of officers, Mrs May will also claim the message of the riots was that the service functioned best when working closely with directly elected politicians who could channel public concerns and ensure they were reflected in decisions taken on the ground.
Has Government cut help for deprived families?
* The Government was last night accused of reducing the funding for key projects aimed at tacking Britain's most deprived and dysfunctional families.
Yesterday David Cameron called for "urgent action" to "turn round the lives of the 120,000 most troubled families" as part of the Government's response to the riots. But Labour claimed the Government had spent nearly £4m less on Family Intervention Projects in the last year.
It added that the fund, administered by local councils, is no longer ring-fenced, meaning it can be diverted into other areas. Labour, which set up the fund, claimed that between 2009 and 2010 3,518 families had received help and it was associated with a 47 per cent reduction in the number of families experiencing risks associated with poor family functioning including poor parenting, family breakdown, domestic violence or child-protection issues. But the Department of Education said Family Intervention Projects had been wrapped into the £2.2bn Early Intervention Grant to councils. They said this money was ring-fenced but local authorities had the flexibility to spend the money where they felt it was best used.