Lockerbie bombing: Scottish police and FBI identify two new suspects in Libya
Scotland's Lord Advocate and the US Attorney General have requested permission to question the suspects in Tripoli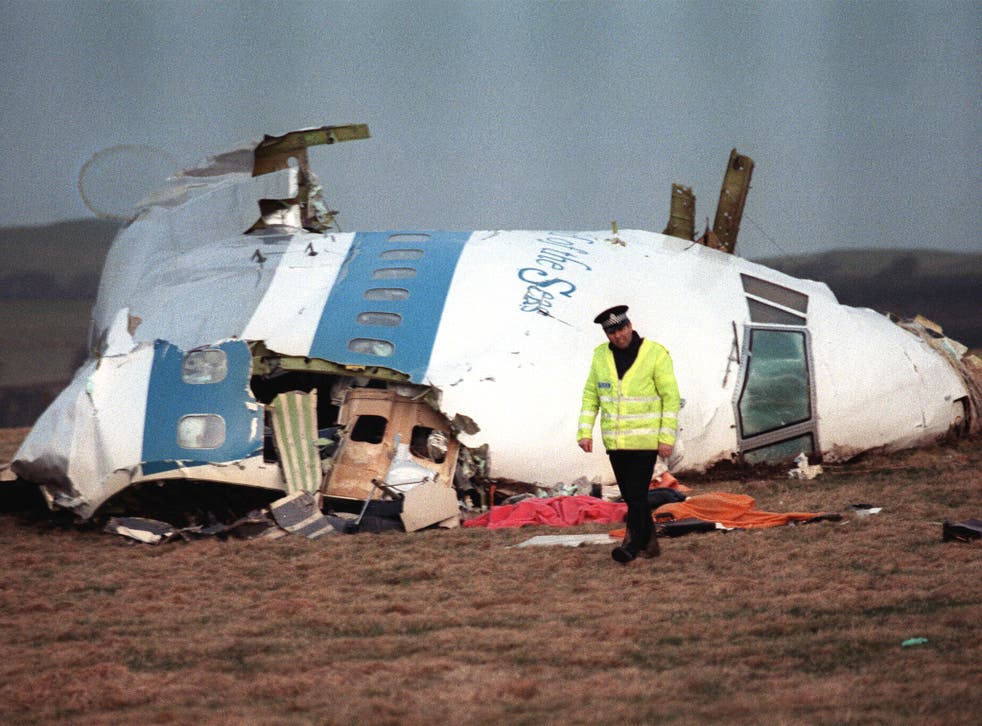 Scottish police and the FBI have requested permission to question two men identified as suspects in the Lockerbie bombing.
They believe the two individuals were accomplices of Abdelbaset al-Megrahi - the only person to have been convicted of the 1988 atrocity that killed 270 people.
Megrahi, who was released from jail by the Scottish Government in 2009 on compassionate grounds after being diagnosed with prostate cancer, died in 2012 while still protesting his innocence.
Scotland's Lord Advocate, Frank Mulholland QC ,recently met the US Attorney General, Loretta Lynch, in Washington to review progress made in the ongoing investigation.
They have now requested permission from the Libyan authorities for Scottish police and the FBI to interview the two named suspects in Tripoli.
A spokesperson for the Crown Office said: "The Lord Advocate and the US Attorney General have recently agreed that there is a proper basis in law in Scotland and the United States to entitle Scottish and US investigators to treat two Libyans as suspects in the continuing investigation into the bombing of flight Pan Am 103 over Lockerbie.
"The Lord Advocate has today, therefore, issued an International Letter of Request to the Libyan attorney general in Tripoli which identifies the two Libyans as suspects in the bombing of flight Pan Am 103.
The homecoming: Lockerbie bomber arrives in Tripoli

Show all 7
"The Lord Advocate and the US Attorney General are seeking the assistance of the Libyan judicial authorities for Scottish police officers and the FBI to interview the two named suspects in Tripoli.
"The two individuals are suspected of involvement, along with Abdelbaset Ali Mohmed al-Megrahi, in the bombing of flight Pan Am 103 in December 1988 and the murder of 270 people."
The plane exploded as it passed over Lockerbie, killing everyone on board, and 11 more people died when large sections of the aircraft hit the ground.
Additional reporting by PA
The suspects
Abu Agila Mas'ud
Born in Tunisia, the 64-year-old worked for Abdullah al-Senussi, Libya's former head of intelligence, and was known as an expert in bomb-making. Ma'sud greeted Adelbaset Al-Megrahi on his return to Libya in August 2009 after his release from a Scottish jail on compassionate grounds. He is named on a declassified CIA cable which claims he accompanied Megrahi to Malta in December 1988, and described him as "a tall black Libyan male who is approximately 40 to 45 years of age." And Ma'sud is also referred to in German police files relating to the bombing of a disco in Berlin in 1986 which killed two US servicemen and a Turkish woman, and wounded more than 220 people. He was in Berlin at the time of the attack, and used aliases and code names, according to the files. Ma'sud is currently in jail, serving a ten year sentence he was given earlier this year after being found guilty by a Libyan court of using bombs to booby-trap cars belonging to opponents of Gaddafi in 2011.
Abdullah al-Senussi
Gaddafi's long-serving spy chief, and the husband of Fatma Farkash, the sister in law of the late Libyan dictator. The 65-year-old was sentenced to death by firing squad in July this year after a trial in Tripoli found him guilty of war crimes for the brutal suppression of protests in Benghazi in 2011. Senussi has also been linked to a number of other atrocities in recent years. He ordered guards to fire on prisoners during a protest at the Abu Salim prison in 1996 in which 1,200 people were killed, according to witnesses. Senussi has long been suspected of being behind the Lockerbie bombing, and in 1999 was convicted in absentia in France of the bombing of a passenger jet over Niger in which 170 people died a decade earlier. The Libyan has also been linked to an air disaster in which 157 people died, when a Libyan Arab Airlines plane broke up in mid-air as it approached Tripoli, killing all those on board, in December 1992.
Jonathan Owen
Profile: Chasing the bombers
Ken Dornstein idolised his older brother David, who helped raise him as their divorced mother struggled with mental illness.
So when the 25-year-old David Dornstein, who had hoped to become a writer, was among the 270 killed in the 1988 Lockerbie bombing, it hit his student brother hard.
Ken Dornstein wanted to find out who was behind the bombing and, after graduating, he began working for a detective agency in Los Angeles. "I was interested in the tradecraft of how you find people," he told New Yorker magazine recently.
Mr Dornstein, who now works on TV documentaries, could not believe Abdelbaset al-Megrahi, the only person convicted of the bombing, had acted alone, and decided to pursue the other bombers.
He went to Libya and began to focus on a technical expert, Abu Agila Mas'ud, and Abdullah al-Senussi, Muammar Gaddafi's intelligence chief. He found Mas'ud and Senussi had probably both been present when Megrahi arrived back in Libya after his release from a Scottish prison. "It's like a ... belated victory party for the Lockerbie plotters."
Eventually, Mr Dornstein discovered Mas'ud was facing trial, with Senussi, in Libya, for putting bombs in the cars of opposition members in 2011.
Ian Johnston