'Oooh, this is wonderful'. Bewildered Lord Janner finally goes to court to face 22 counts of child sex offences
Legal team applied for the peer to appear via video link from his home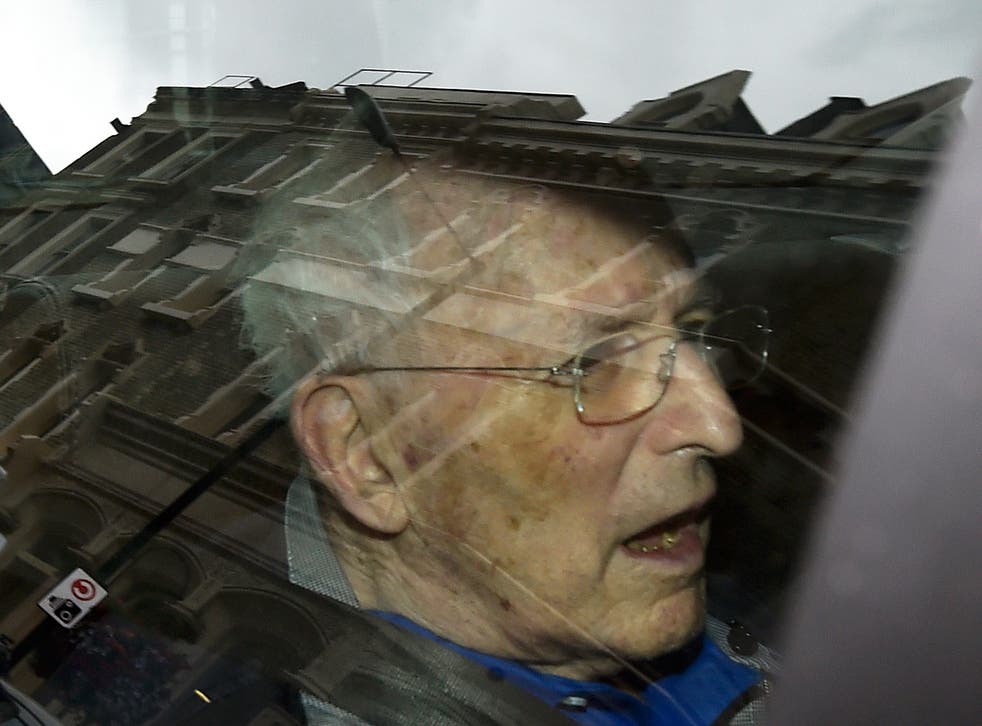 Lord Janner finally appeared in court on Friday charged with 22 counts of child sex offences after a judge threatened to arrest him when he failed to turn up earlier in the day.
His lawyer had argued he should be allowed to appear via video link at Westminster Magistrates' Court because he is suffering from dementia and an appearance would be too distressing and breach his human rights.
The judge rejected this and Janner, wearing a baseball cap and with his hand covering his face, was finally driven to the court at 2pm.
As Janner walked into court his first words were: "Oooh. This is wonderful."
During the brief appearance in court, which lasted 59 seconds, Deputy Chief Magistrate Emma Arbuthnot told him his case would be sent to Southwark Crown Court. A committal hearing was scheduled for 1 September.
As he left, his daughter said to him: "Let's go home for a nice ice-cream".
Earlier, olice officers attempted to prevent photographers taking pictures of him as the silver Toyota entered the secure compound.
Prior to the decision, Lord Janner's legal team's request for a "live link" to the court from Lord Janner's home was been denied by Judge Arbuthnot.
The judge said if Lord Janner, 87, appeared agitated "we will immediately abort that part [of proceedings] and continue in his absence".
It follows a long-winded session in court as the peer's lawyer Paul Ozin QC attempted to convince the judge that Lord Janner should appear by video link, an argument rejected by Judge Arbuthnot who told the defending lawyer: "This matter will be resolved today even if I have to have him arrested".
She added that her preferred option was for the peer to appear at Westminster court, telling the court the procedure would last "about 40 seconds".
Mr Ozin had said the application to speak from home would be "where he is least likely to suffer an adverse reaction" due to his dementia. He added that if this was unacceptable, it may be possible for the peer to appear via video link from a police station or from Wood Green Crown Court.
However, the prosecution under Louise Oakley argued that such as link would not be acceptable within the law and that Lord Janner must appear as per the intial request.
Following the decision, Mr Ozin told the court arrangements for Lord Janner's appearance at the Westminster court "were always in place anyway" but urged the press to remember that the peer was a "vulnerable man".
Lord Janner was scheduled to appear in court at 9.45am in relation to 22 child abuse charges spanning a period from the 1960s to the 1980s.
His legal team have argued that the peer is unable to appear as he suffers from severe dementia due to Alzheimer's disease. Mr Ozin has also said his client is showing symptoms of Parkinson's disease and would be unfit to plead or attend any trial. He had appealed to the High Court to prevent Lord Janner being forced to appear.
The request was denied by Lady Justice Rafferty, sitting with Mr Justice Irwin, who said the peer had must appear - however briefly - in a magistrates court in order for the charges to be processed up to the crown court.
Lord Janner's family have denied all of the claims and maintained he is innocent of any wrongdoing.
The hearing continues.
Register for free to continue reading
Registration is a free and easy way to support our truly independent journalism
By registering, you will also enjoy limited access to Premium articles, exclusive newsletters, commenting, and virtual events with our leading journalists
Already have an account? sign in