Megan Stammers and Jeremy Forrest found, hand in hand, after eight days that felt like a lifetime
Teacher and 15-year-old Megan Stammers are tracked down by French police in Bordeaux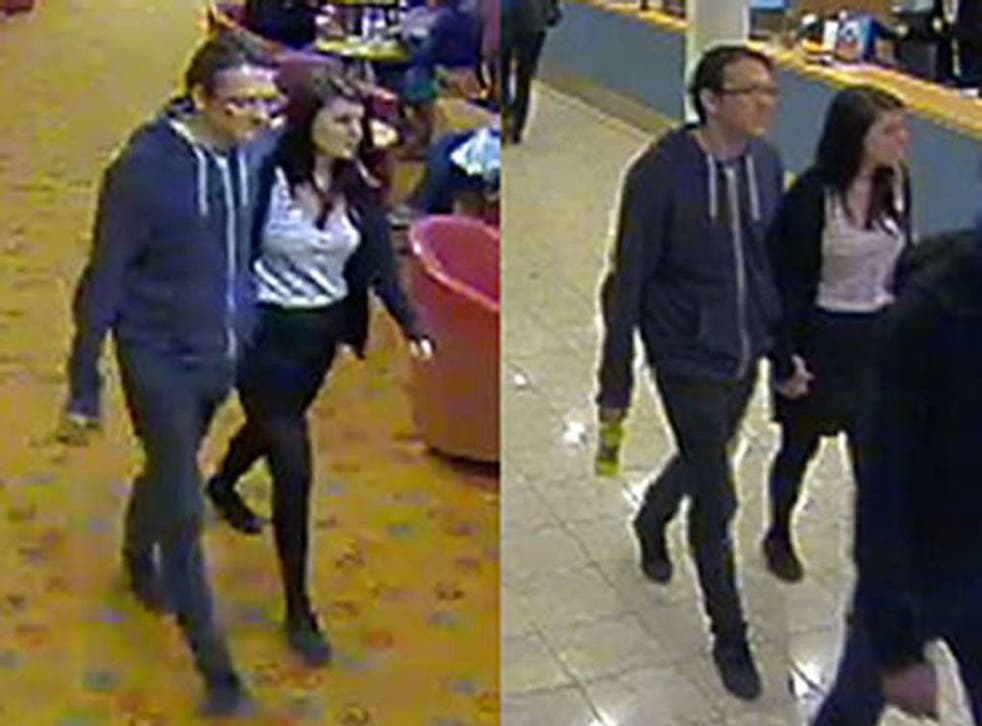 The week-long hunt for the maths teacher Jeremy Forrest and his teenage pupil Megan Stammers ended yesterday in a dramatic swoop by French police on a busy shopping street as the couple walked hand-in-hand seemingly en route to a job interview.
Detectives acting on a tip-off were lying in wait for Mr Forrest as he strolled yesterday lunchtime with 15-year-old Megan in the centre of Bordeaux, some 300 miles south-west of Paris. The 30-year-old married teacher was under arrest for child abduction last night while Megan, under the care of British diplomats and child protection officers, was due to be re-united with her family within hours.
News that the runaways had been found was greeted with elation by relatives increasingly fraught after eight days without a sighting of the pair since they boarded a Dover-to-Calais ferry on Thursday night last week.
Martin Stammers, Megan's stepfather, emerged from his home in Eastbourne, East Sussex, with his thumbs in the air and declared himself "over the moon".
Paying tribute to Sussex Police and the French authorities, he said: "I'm just happy. I just know in my heart that she's safe and well and she will be back with us very soon. We have our daughter back – it's just such joy."
The manner of Mr Forrest's arrest, surrounded by a team of crack detectives, belied suggestions that the French authorities were not doing enough to find the British pair. It also cast light on the apparent naivety of the missing teacher.
Officers from a Paris-based elite police unit which investigates murder, rape and abduction received a tip-off on Wednesday that the teacher had enquired about a job at a Bordeaux bar and was recognised by staff from a photograph in the media.
The Bordeaux prosecutor's office said yesterday that the pair had been traced "thanks to a credible and useful piece of information that we received 48 hours ago".
Further reports, including another confirmed sighting by a member of the public on Thursday, sparked a joint Franco-British police operation which resulted in the interception as the pair walked along Rue Sainte Catherine, Bordeaux's main shopping street, at 1.20pm local time.
The Independent understands that at least one Sussex Police officer, forewarned of the imminent arrest, was already in Bordeaux yesterday while liaison staff from Britain's Serious and Organised Crime Agency, based in Paris, also took part in the operation.
Megan and her married teacher, who met at Bishop Bell Church of England secondary school in Eastbourne, had either deliberately ignored or were unaware of the Europe-wide efforts to trace them because they made little or no effort to hide themselves in Bordeaux. French police sources said Mr Forrest may have been on his way to an interview for a bar job when he was arrested.
After leaving Britain on Thursday, the pair made their way to Paris. Sources said their black Ford Fiesta was found there earlier this week and it was believed they went to Bordeaux by train.
The teacher, a tattooed amateur musician, from Ringer, East Sussex, whose messages via social media to Megan – and her replies – have been pored over in recent days, was due to be brought before a French judge last night to have his detention formalised.
He faces a further hearing on Tuesday to rule on the validity of the European Arrest Warrant for suspected child abduction against him obtained by Sussex Police. If the court approves and Mr Forrest makes no objection, he will be extradited to Britain. In a statement, the teacher's parents, Jim and Julie Forrest, who had also made an emotional plea for their son to get in touch, said: "We are pleased that Megan and Jeremy have been found safe and well. This has been an ordeal for all the families concerned." Inquiries will continue into the handling of concerns about the relationship between Mr Forrest and Megan. It emerged this week that questions had been raised with the school authorities to investigate the pair before their disappearance. The alarm may have been raised about Mr Forrest as long as eight months ago after he was allegedly seen holding hands with Megan on board a return flight from a school trip to America.
The teenager was last night expected to spend the coming days in an undisclosed location being reunited with her family as well as receiving help from trained police officers and child welfare experts.
Terry Boatwright, headteacher of Bishop Bell, said: "Clearly, much needs to be done now to support Megan and her family as they seek to return to some sort of normality and we will do all we can to play our part in that."