Middle-aged man arrested for sunbathing in Speedos in Brick Lane market
One witness says he initially thought it was a 'slightly odd street performance'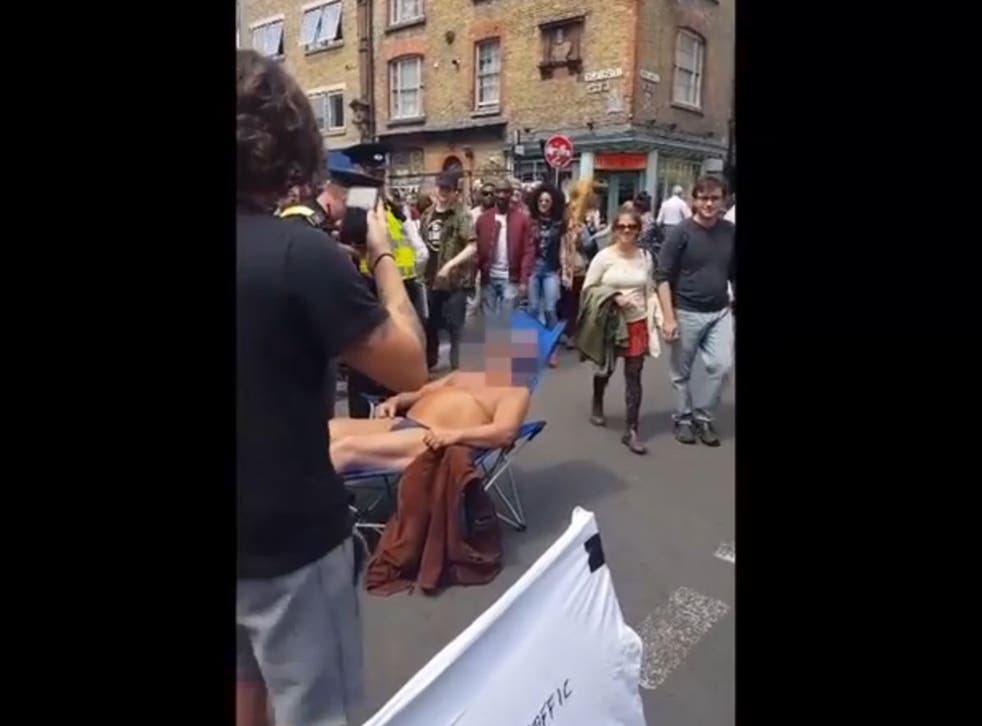 A middle-aged man has been arrested after sunbathing while wearing nothing but Speedos in the middle of Brick Lane market.
Bystanders filmed the moment Gerald Muir was confronted by police while lying in the deckchair in the busy east London street on Sunday afternoon.
The 51-year-old reportedly looked outraged as officers told him they had received complaints about his behaviour from members of the public.
After talking to him for several minutes the man was arrested.
The man was overheard saying "Who is upset?" and asked officers if "it's illegal to sunbathe" as they tried to move him.
As he was led away in handcuffs he reportedly made a reference to Muhammad Ali - who died over the weekend - by shouting "For Ali. He likes freedom".
Craig Jameson, 28, who filmed the encounter, said he had initially thought the man was doing a "slightly odd street performance".
He told the London Evening Standard: "He was sitting there really quietly just laughing when people came up to him.
"Someone started talking to him for ages and he just said he was listening to the music.
"We watched for a little while and people were laughing and joking and nobody seemed offended".
He said a few safety wardens from the council then came over to ask him to move and he refused.
Mr Jameson said he and his wife had gone to visit a few shops and returned five minutes later to see police making the arrest.
He said he did not think the man should have been arrested as he wasn't "doing any harm".
"He wasn't wearing anything less than what people wear on the beach or at London Fields.
"[Police] grabbed hold of both of his arms – he wasn't violent but was resisting. They then walked him away in handcuffs.
UK news in pictures

Show all 50
"I just thought it was not the right way to be handled. I thought they could have spoken to him and established he was doing no harm or give him a clear reason why he couldn't be there but they didn't", Mr Jameson said.
A police spokesman Muir was later charged in connection with the incident.
He told the newspaper: "Gerald Muir, 51, of Tower Hamlets, was charged with being drunk and disorderly in Brick Lane on Sunday, June 5.
"He has been bailed to appear at Thames Magistrates Court on June 20."