Military armoured cars attract interest from Met
Scotland Yard team studies vehicles at sales fair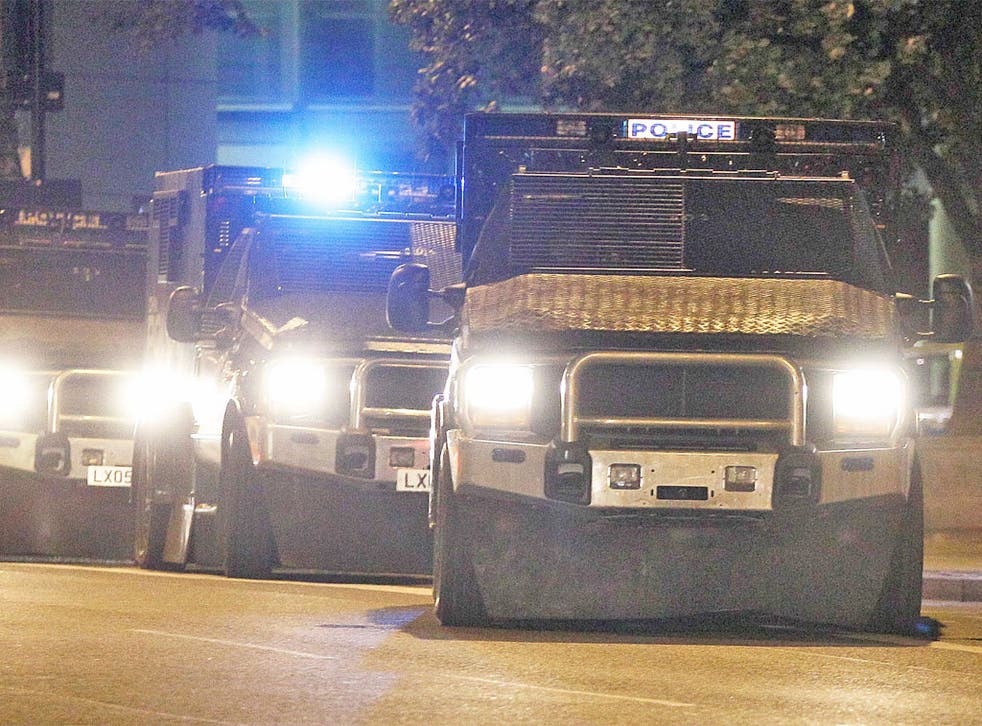 Scotland Yard is considering acquiring a new fleet of "military-spec" armoured vehicles to help tackle future riots and disorder on London's streets, The Independent has learnt.
Specialist Metropolitan Police engineers and transport officers were among a delegation of Scotland Yard officials who held talks with some of the world's leading military and public order armoured vehicle manufacturers at an international sales exhibition in Hampshire yesterday.
Although dominated by the latest battlefield vehicles and attended by high-profile delegations including senior military officials from Egypt, Jordan, Saudi Arabia, Iraq and Oman, leading companies such as Britain's Jankel, Oshkosh from the US, and France's Renault Defense were also marketing their latest public-order vehicles.
A detachment of the Met's bullet and bomb-proof Jankel trucks, originally ordered to bolster the Yard's counter-terrorist capacity, was deployed at the height of last summer's rioting and used to push back petrol bomb-throwing rioters as police struggled to control of parts of London.
The Independent understands that the delegation sent to the International Armoured Vehicles exhibition in Farnborough yesterday included an officer from CO20, otherwise known as the Territorial Support Group, which provides the core of the Metropolitan Police's anti-riot squad.
The police group, rubbing shoulders with military buyers from across the globe,was actively sought out by a number of companies seeking to generate sales. Renault Trucks Defense, which has sold specialist Sherpa security and public order vehicles to Qatar and to two countries in western Europe, said it believed its new MIDS vehicle, designed to offer a high degree of armoured protection for 12 officers in a city environment, will be of interest to Scotland Yard.
Oshkosh, whose multi-role SandCat is marketed for "urban operations and security missions", also said they were expecting the Met delegation to look at their vehicle. Oshkosh have recently sold 250 civil order vehicles to the Mexican authorities to combat the growing power and unrest caused by the countries drug cartels and gangs.
During the riots in London last year, some of the Met's fleet of 13 Jankel Guardian armoured vans were ordered into the worst trouble spots across the capital, including Clapham and Hackney. The decision to divert the Jankels, normally based at Heathrow, was taken only after the Met were deemed to have lost control of the rioting and widespread looting.
Following the most violent period of the disorder, the Home Secretary Theresa May discussed the Met's use of plastic bullets and water cannons. Within Scotland Yard and Whitehall there was recognition that the deployment of the seven-tonne Jankels had been effective. As well as offering heavy armour, the vehicles are equipped with cameras, monitors and an intercom system which allows officers to address those outside. Upgrading the Jankel Guardians to vehicles with a greater degree of armed protection, capable of carrying more officers to hot spots, is understood to be behind the new strategy of boosting the Met's armoured fleet.
Jankel, based in Surrey, which also converts 4x4 trucks for the United Nations and the Ministry of Defence, are hoping to compete with major international manufacturers and forge greater links with the Met. Its stand at the exhibition featured a prominent picture of one of its vehicles deployed in the riot-hit streets of Clapham.
A spokesman for Scotland Yard said: "The Metropolitan Police Service's fleet has a wide range of functions, capabilities and specialisms. It is important that we are familiar with the new vehicle technology to ensure we can provide a suitable solution."
Armoured cars: The despots' vehicle of repression
Armoured vehicles have been deployed by regimes facing pro-democracy protests throughout the Arab Spring. Examples of their use include:
Egypt
Egyptian army armoured vehicles were driven into crowds of demonstrators in the Maspero district of Cairo last October during protests by Coptic Christians about the lack of security around churches.
Syria
Armoured personnel carriers have been captured on satellite images showing Syrian forces massing in the city of Homs, where hundreds of people have reportedly been killed in heavy shelling. Russian-built military carriers have also been deployed during attacks in Deera and the mountain resort town of Zabadani.
Bahrain
British-built Tactica armoured vehicles, manufactured in Newcastle by a division of BAE Systems, led a convoy of Saudi military personnel invited into Bahrain during the suppression of democracy demonstrations. The Saudi forces were held in reserve while Bahraini security forces led the crackdown.