Mob attacks Asian restaurant linked to sex grooming court case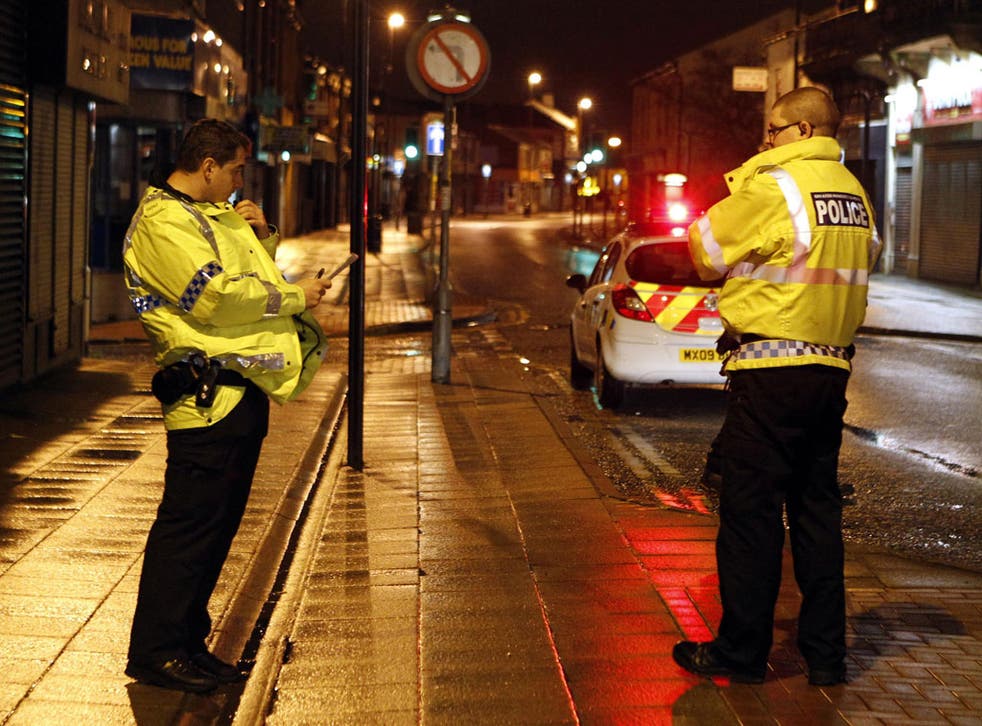 "We are innocent people loyal to the community," proclaimed the posters adorning the windows of the Tasty Bites takeaway yesterday. If we are guilty, why the police have not arrested us? Why we are still working? Why our shop is still open?"
Inside, Mushtaq Ahmed was indignant with anger and shock. He invested his life savings to help his son-in-law buy the fast-food outlet three years ago and has been steadily building the business.
But on Monday, takeaways in the Heywood area of Rochdale were mentioned in media coverage of a child sex gang trial involving 11 Asian men at Liverpool Crown Court. Racial tensions have been simmering ever since and on Thursday night they erupted when a demonstration, apparently organised on social media, in protest at the allegations, degenerated into violence.
Up to 150 people – many of them children – took to the streets, some of them brandishing racist placards. During the evening the mob began pelting police with bricks and targeting takeaways on the main shopping parade before being dispersed by riot vans.
Taxi drivers were threatened and an Asian pizza delivery man had his vehicle attacked. A police officer suffered bruising and two people, including a 14-year-old boy, were arrested.
Although Mr Ahmed and his family have nothing to do with the trial or the alleged events which are said to have taken place prior to his purchase of the business, his livelihood has collapsed since Monday. "I have lost all my customers – not a word of a lie. We are suffering. Last night they were doing all sorts of stuff – shouting 'get the rapist out'. 'Paedophile'. Quite abusive words.
"The police were there but they were quite limited and they asked us to close the business. It will take me five to 10 years to build it back up again. We have had so many phone calls giving abuse – all kinds of threats; threatening to burn the shop down."
Four people are employed at Tasty Bites and Mr Ahmed has mortgaged his family home in order to set his son-in-law Ammir Rafiq up in business. Each works seven days a week until at least 1am.
But not last night. Like the other Asian businesses in this predominantly white community, they were rolling down the shutters early as police called for calm and promised a "robust" approach to any further trouble.
Amid the rumours swirling around the town are fears that elements of the far-right might be preparing to exploit the tensions. There have already been calls to ban an English Defence League march due to take place in the nearby town of Hyde following an alleged attack on a white teenager by Asian youths earlier this month.
But no one knows what will happen in Heywood, which has hitherto escaped the kind of rioting which so badly scarred near-neighbours Oldham, Burnley and Bradford in recent years.
The sense of foreboding was palpable. At Eagle Cars 2000, where the drivers are predominantly Asian, most went home early as trouble flared. "One driver told me they saw baseball bats and they were getting out of town. They are frightened as is everybody. The base staff were frightened, I was frightened," said manager Katie Turner.
Zeeshan Khokhar, owner of take-away Bits * Pizza, described how "white friends" came to his shop to protect him. He said: "It started about 4pm, kids banging on windows. They were shouting, 'Why are you still open you dirty bastards?'."
Darren Taylor, manager at Domino's Pizza, said one of his drivers was surrounded. "They were banging and kicking on the car and calling him a paedo and a Paki," he said.
The disturbances were condemned by community leaders. Mohammed Shafiq, chief executive of the Manchester-based Ramadhan Foundation, said: "Mob rule or vigilantism is not the way we conduct ourselves in this country." Colin Lambert, leader of Rochdale Council, said: "Let's keep the cohesion together. This is about protecting families and children."
Police, meanwhile, urged parents to be aware of where young people were over the coming days. Superintendent Chris Hankinson, from Greater Manchester Police, said the trouble was caused by less than 10 individuals seeking to take advantage of the current tensions. "Those that seek to use what's going on at the moment in Liverpool to further their racist agenda will be dealt with robustly," he said.
All 11 men in the Liverpool trial deny the variety of charges against them.