Woman stabbed to death by ex-boyfriend a week after reporting him to police for harassment
Joshua Stimpson was 'angry' with break-up and 'rather demanding', says prosecutor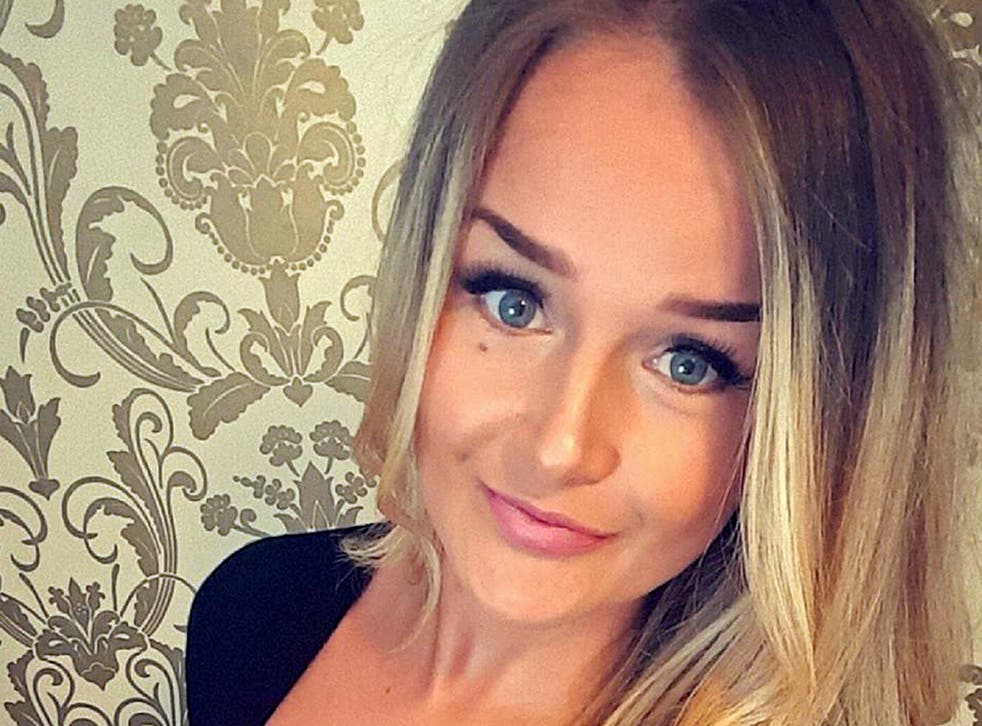 A student told friends she was "looking over my shoulder all the time" moments before her ex-boyfriend stabbed her to death in a shopping centre car park, a court heard.
Molly McLaren, 23, sent the WhatsApp message just before Joshua Stimpson launched a frenzied attack on her with a kitchen knife as she sat in her car, Maidstone Crown Court was told.
Covered in blood, the 26-year-old was arrested shortly afterwards in the car park at the Dockside retail outlet in Chatham, Kent, on 29 June, jurors heard.
A week earlier Ms McLaren had reported him to officers in North Kent police station.
The pair had been in a seven-month relationship after meeting on Tinder, but she ended it about two weeks before she died when they began to have problems, the court heard.
Stimpson admits manslaughter but denies murder, arguing diminished responsibility.
Philip Bennetts QC, prosecuting, said: "There is no dispute that he killed Molly McLaren. In certain circumstances the charge of murder can be reduced to manslaughter. In this case the defence will assert that it should be.
"The defendant has pleaded guilty to the manslaughter of Molly McLaren. The plea is on the basis that at the time of the killing Joshua Stimpson was suffering from diminished responsibility. The prosecution does not accept that he was."
Jurors were shown a CCTV image of Stimpson in Asda in Chatham, buying a Sabatier paring knife at around 5pm on 27 June.
About half an hour later he bought a Saxon pickaxe from Homebase further along the road.
The knife was the same one used to kill her two days later, Mr Bennetts said.
Dressed in a blue suit, blue shirt, tie and flanked by four dock officers and medical staff, Stimpson cried and dabbed his eyes with a tissue as he entered the courtroom and listened to the details of the case.
The court heard how the pair's relationship became strained and Ms McLaren told friends she faced a "dilemma" as she found herself no longer attracted to Stimpson.
In text messages read to the court, Ms McLaren described his behaviour as "childish" and that she felt like she was "constantly treading on egg shells" around him.
UK news in pictures

Show all 50
"It's just pathetic," she wrote. "I just feel really pressured with you at the moment if I'm honest."
On a night out on 17 June in Maidstone, Ms McLaren took Stimpson to one side and broke up with him.
The next day he told her she could have done it in a more "respectful way", the court heard.
Mr Bennetts said Stimpson was "angry" with the break-up and described him as "rather demanding". He said Ms McLaren was frequently trying to put things right.
After they split up, Stimpson posted derogatory comments and photographs about Ms McLaren on Facebook, including claims that she was taking drugs.
The court heard Ms McLaren told friends he was "manipulative", had "turned really nasty" and was threatening her.
"He's literally lost the plot. I was worried he was going to turn up at my house," she said. "I'm actually scared of what he might do to me. He knows my parents are going away for two weeks."
She reported the comments to Facebook and when nothing happened, went to North Kent police station, the court heard.
When she spoke to a PC Philpott on 22 June, he called Stimpson, put him on speakerphone and said: "We wouldn't want Molly to come to the police station again about you, would we?"
Stimpson's reply was, "Wouldn't we?", Mr Bennetts said.
On the morning of 29 June, Ms McLaren went to PureGym at the Dockside outlet and started working out.
When Stimpson arrived shortly after and put his exercise mat near hers, she asked him, "Are you following me now?", Mr Bennetts told the court.
At 10.45am she texted her mother, saying: "Mum he's turned up at the gym and come next to me", before phoning her.
Her mother told her to go straight home.
It was at this point she contacted her friends, Mr Bennetts said.
He told the court how Kodie Jarvis had witnessed the attack, and said: "She parked the car. She saw Stimpson drive up. He got out of his car. He walked quickly towards Molly McLaren, who was sitting in the driver's seat of her car.
"He yanked the door open. Molly started screaming. A man tried to pull Stimpson off. Stimpson, covered in blood, paced up and down the length of her car and then stood next to her car."
When officers arrived minutes later, he walked towards the police car and said: "You want me", before being arrested, the prosecutor said.
Mr Bennetts told how Benjamin Morton, who had tried to intervene, described Stimpson as "continuously stabbing" Ms McLaren in the neck and head, adding: "It was like a frenzy, he was doing it again and again."
The trial, which is expected to last two weeks, continues.
PA