Moors murderer Ian Brady breaks his silence after 47 years: 'I killed for the existential experience'
75-year-old breaks 47-year silence as he tells mental health tribunal of mixing with criminals from Krays to Great Train Robbers and IRA terrorists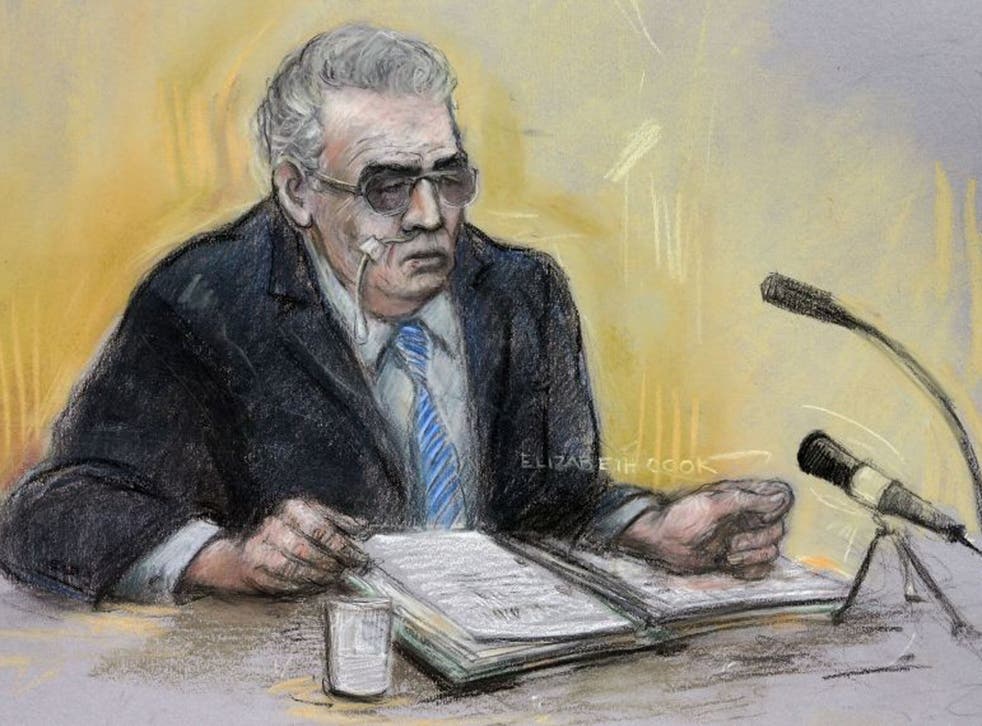 Moors murderer Ian Brady denied he was insane as he recalled cooking steaks with Ronnie Kray whilst mingling with some of Britain's most notorious criminals during his half century of incarceration.
In an extraordinary four-hour display which veered between vaunting self-aggrandisement and breath-taking callousness towards his victims and their relatives who were watching via video-link, the child killer failed to express any remorse for his crimes.
Throughout the long-awaited appearance at the mental health tribunal, which must decide whether the 75-year-old - now the UK's longest serving prisoner - be returned to a normal jail from the secure hospital where he is held, Brady repeatedly stonewalled at suggestions he had a personality disorder or that his five murders were evidence that he was "abnormal".
Speaking in a quiet, controlled voice, his Glaswegian accent still pronounced, he hit out at "media fascination" with his past complaining he was demonised and romanticised like Jack the Ripper and comparing reports of the shocking moorland killings to the Sherlock Holmes novel The Hound of the Baskervilles and the Gothic romance Wuthering Heights.
He passed judgment on politicians that had considered his case over the years - praising Labour's Roy Jenkins as the "greatest Home Secretary ever" and claimed to have once discussed Russian literature with James Callaghan.
Brady was particular scornful of Tony Blair who he accused of getting rich off his "war crimes" in Iraq whilst claiming he was effectively a political prisoner after Margaret Thatcher had intervened in his case. He said Britain was a "psychopathic country" that had been invading other nations for 300 years.
Under cross examination by the tribunal and counsel for Ashworth Hospital on Merseyside where the tribunal is being held , Brady pedantically answered questions with his own, arguing over definitions and showing off his prison learning in psychology, German and French philosophy.
At one point he mocked his questioners over their knowledge of the method acting techniques of Russian dramatist Stanislavski - which he claims to have studied to feign mental illness - and held forth on the dictionary meaning of existentialism, an idea he repeatedly used to explain the motivation for what he considers his comparatively "petty crimes".
Asked to elaborate on the value he himself had received from killing, Brady replied "existential experience".
Brady continued: "I'm as pragmatic as a soldier or a politician - you never see any regret from Tony Blair, in fact he is minting a fortune from his war crimes. I'm simply saying this dichotomy is common through all levels of society".
His victims' families, who watched proceedings from a separate courtroom to the media at Manchester Civil Justice Centre, criticised the £250,000 tribunal as a waste of money. Terry Kilbride, the brother of John, who was snatched in November 1963 aged 12, accused Brady of revelling in the opportunity to address the outside world and suggested the money should have been used to recover the body of Keith Bennett, who has never been found.
 "He'll try anything, won't he, to be in the limelight. He likes to be number one," he said.
Speaking for the first time since his 1966 trial, the killer described how he mixed freely with the Kray twins, the Great Train Robbers, and members of the Richardson crime family.
He said he had met spies and as well as convicted IRA terrorists and perpetrators of the Iranian Embassy siege. In one exchange he recalled how he and Ronnie Kray were prisoners on a special security wing at Durham jail in the late 1960s after a riot.
"We had the whole block to ourselves … Ronnie Kray was cooking for his landing. I was cooking for my landing … I could cook it all sorts of ways because we were sick of eating steak," he said.
Brady denied suggestions that he had been afraid of attacks by fellow inmates who shouted threats and banged his door. He said his relationship with the Krays was chronicled in the book Hard Bastards, written by Kate Kray, wife of Ronnie.
Insisting that the public and media fascination with him remained undimmed, he said: "After half a century you think there would be amelioration but they (the media and the public) are obsessed with the case." He added: "You don't want to go into the reasons which are somewhat theatrical. Why are you still talking about Jack the Ripper? It is a case of the background and the fascination - all the fog, capes and the cobbled streets. The moors are the same thing - Wuthering Heights and the Hound of the Baskervilles."
Brady also boasted of his political connections claiming to have played disgraced MP John Stonehouse in a 1979 prison chess final.
He conceded that he had no chance of ever being released from prison - fiercely denying he intended to move to a Scottish jail and obfuscating on whether he planned to commit suicide. Describing life since his 1966 conviction he said: "You are not omnipotent you are just a package." He added: "If you put someone in a cage and simply pin labels on them as aggressive, anti-social, paranoid and then poke them with a stick you will get a reaction eventually and you will say `I told you so'. You don't know what the end result will be."
Brady, who was still wearing a nasal tube through which he has been force fed for the past 14-years rejected claims that he regularly ate food. Answering questions from his lawyer Nathalie Lieven QC Brady contrasted the "negative, repressive and deliberately provocative" staff at Ashworth with his experiences in mainstream jail before he was transferred to the secure hospital following his 1985 psychosis diagnosis. Looking back he recalled working as a prison barber giving fellow inmates haircuts and beard trims and praising the "cosmopolitan atmosphere" or where all the prisoners were "mentally active" with his current situation.
Claims by medical staff that he was paranoid were also wrong, he said. Confidential medical notes had been published in newspapers after leaks by staff. His description of carers as "earwigs" was common prison slang, he added. "Compared with the authorities most prisoners are perfectly mentally healthy compared with the paranoia of the prison penal officials," he said.
Paranoia was "unavoidable" within the prison context. "Only the authorities call it paranoia. The prisoners regard it as sensible suspicion. You learn to read people for survival purposes," he added.
"I was in solitary confinement for a time. I would memorise whole pages of Shakespeare and Plato and other people and recite them all to myself while walking up and down exercising in the cell. If I interact with the TV, Tony Blair or something on, and make any comment, this is interpreted as psychosis," he said.
The panel is expected to release its final decision on Thursday which must then be agreed by Justice Secretary Chris Grayling.
Video: Relative of Moors murder victim doubts Ian Brady's hunger strike