Naked Rambler could face a "lifetime of imprisonments" after European court ruling
Stephen Gough loses in landmark case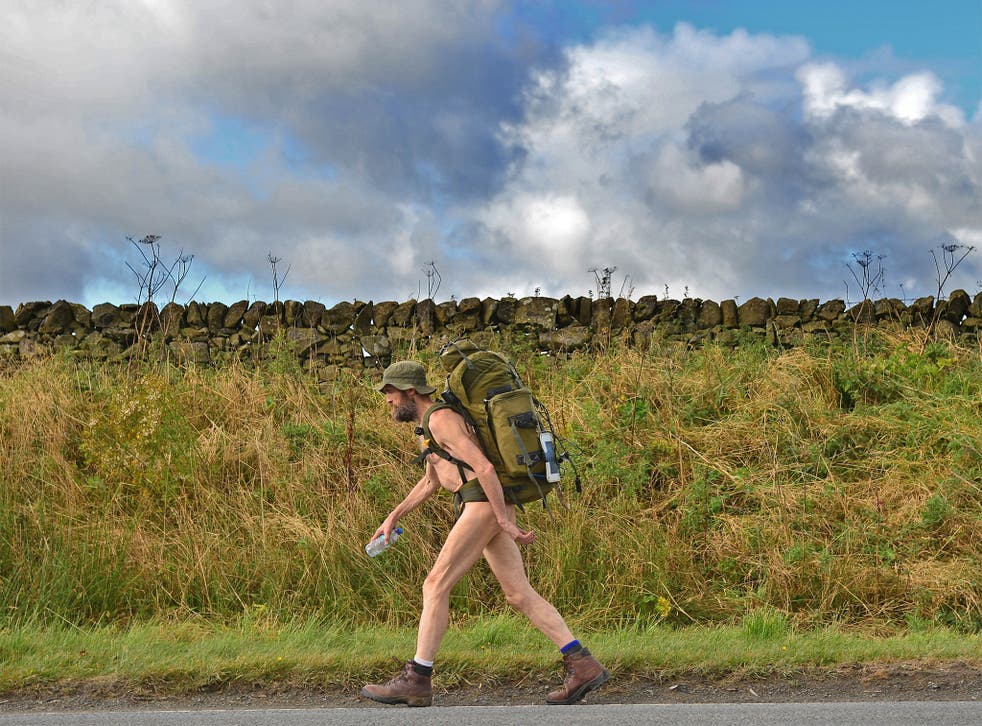 He's already spent more than 10 years in and out of prison for rambling around the countryside in the nude, but now the so-called "naked rambler" faces a possible lifetime of arrest, release and re-arrest, after he lost his case at the European Court of Human rights.
Former marine Stephen Gough, 54, had claimed he has a human right to bare all in public and that his repeated arrest, prosecution, conviction and imprisonment for boots-only rambles violated his rights.
However the court in Strasbourg found that while he had a right to freedom of expression, this did not extend to hiking with his pants off, adding that his views on nudity were "shared by very few people".
According to his lawyer Mike Schwarz, from law firm Bindmans, the ruling came as a "massive disappointment" and could potentially mean a lifetime of arrests and imprisonment for Mr Gough, who remains convinced he is "doing the right thing". Mr Schwarz told the Independent it would most likely require a change in the law or attitudes in society for his client to avoid future spells in prison.
Speaking through his lawyer, Mr Gough told the Independent: "I was brought up to believe I lived in a country that celebrated eccentricity and difference, not only because it added variety and colour to the otherwise slavish conformity that can feel depressive, constricting and sometimes just downright boring; but that it also indicated a deeper appreciation of how the unorthodox, at its very essence, is how originality and creative energy manifests itself. That without the freedom to express our individuality and uniqueness in our own way, something inside us dies, and we can the world around us become less vital."
Mr Gough, who is originally from Hampshire, became famous in 2003 when he walked naked across the United Kingdom, from John O'Groats to Land's End. This naked journey saw him arrested 15 times and spend 140 nights in prison, mainly in Scotland where police and prosecutors hold a dimmer view of public nudity than in England and Wales.
The father of two is currently serving a two-and-a-year sentence for breaching an indefinite antisocial behaviour order (Asbo) against being naked in public. He was arrested in April wearing just his boots and socks outside the gates Winchester prison, where he had just completed a sentence for a previous breach of the order.
Despite appearances Mr Gough is not a naturist though, nor does the British naturist movement support him. On a naked ramble with the Independent on Sunday in 2012 he told the paper: "They think I'm a bit in-your-face; they think I'm a maverick. They want to keep it all confined, to their own strips of beach. Whereas I'm rocking the boat."
The current legal battle came about after he was arrested in 2011 for being naked on a flight and was sentenced to 330 days in prison by a Scottish judge. Following this imprisonment and alleging inhuman treatment, he went to the ECHR to complain of "repressive" measures taking against him, citing Article 8 – the right to respect for a private and family life – and Article 10 – which grants freedom of expression.
However the ECHR judges found that authorities in Scotland had not "unjustifiably interfered with his exercise of freedom of expression", though they did admit that the "acceptance of public nudity in a modern society is a matter of public interest".
The ruling comes after concerns were raised by naturalist this summer that police in Northern Ireland and England were being more zealous in cracking on skinny dipping and naked cycling events.
Naked truth: What the law says
According to guidance created by British Naturism in collaboration with the human rights law firm Bindmans: "There is no general prohibition of nudity and naturism is not a criminal offence, per se.
Nudity is legal in a much wider set of circumstances than is sometimes assumed."
Andrew Welch, of British Naturism, says it would not be automatically illegal to strip or go skinny dipping on a beach. In England and Wales, the law effectively exempts "a naturist whose intention is limited to going about his or her lawful business naked" from Section 66 of the 2003 Sexual Offences Act, which prohibits "flashing" – exposure of the genitals with the intention of causing alarm or distress. The same guidance protects naturists from Outraging Public Decency – committing in public an act of a lewd, obscene or disgusting nature.
More problematic, however, is Section 5 of the Public Order Act 1986 which prohibits "disorderly behaviour within the hearing or sight of a person likely to be caused harassment, alarm or distress".