Police release footage after neo-Nazi convicted of belonging to banned terror group
Benjamin Hannam: Met Police did not know officer was neo-Nazi until anti-fascists leaked data
Hannam was not identified for years after fellow officers raised no concerns
A serving police officer was only exposed as a former member of a neo-Nazi terrorist group because anti-fascists leaked data from an extremist website, it can be revealed.
Benjamin Hannam, 22, has been convicted of membership of National Action and committing fraud by concealing his allegiance when applying to join the Metropolitan Police.
Commander Richard Smith, head of the force's Counter-Terrorism Command, said the investigation was triggered by a data dump from the fascist Iron March forum.
A person or group identified only as "antifa-data" posted the personal information of more than 1,200 users online in November 2019.
Mr Smith said police started investigating the leaked material because of its links to extreme right-wing organisations, and searching for UK-based members.
Read more:
"We identified a forum user called Anglisc," he told a press conference. "We did some work on that particular account back to 2016 and linked it to Hannam's address.
"At that point our investigation revealed that he was, by then, a probationary police officer."
Hannam had used Iron March under the alias "Anglisc", and two other usernames, since March 2016.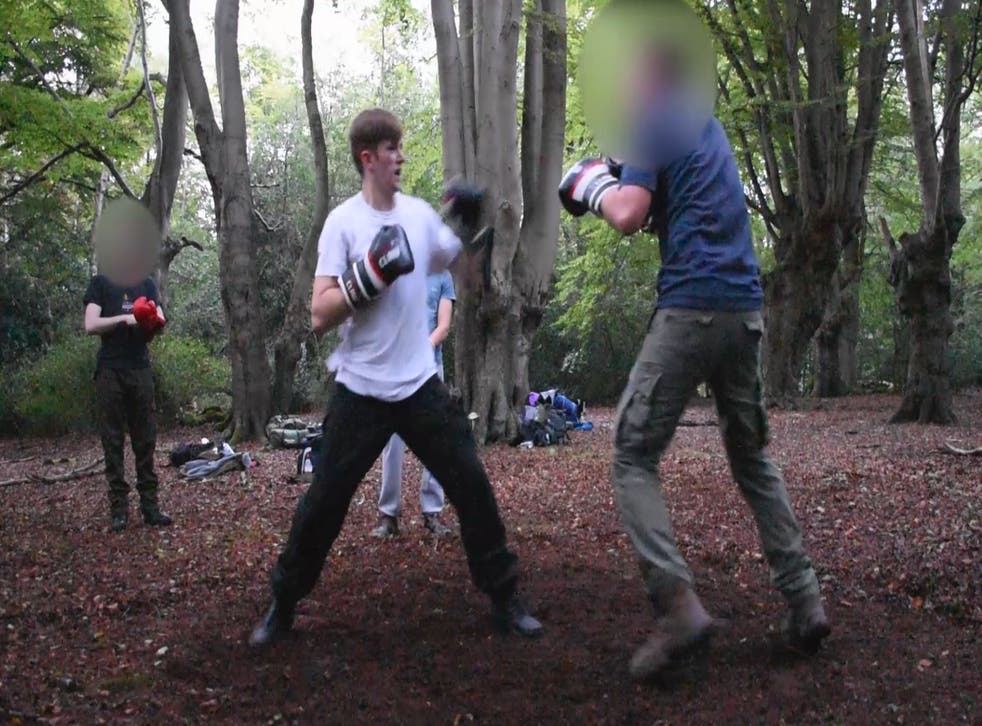 In an introductory post, he said he had "grown desperate" after "seeing what's happening to my country".
He described himself as a fascist and said he was a member of National Action's London branch in messages to other users.
Asked whether Hannam would have been caught without the Iron March data leak, Mr Smith said it was "difficult to speculate".
"Clearly, in this case the Iron March leak triggered the investigation but that's not to say we wouldn't have received information from elsewhere and would not have identified him," he added.
Hannam's real identity had not been discovered by police before they accessed the Iron March data, despite his attendance at National Action meetings with senior members including the group's co-founder, its 2016 conference, boxing camps and graffiti events.
'Miss Hitler' and fellow neo-Nazis convicted of National Action membership
Hannam appeared in a promotional video for NS131 and in a photograph alongside other members, in front of a National Action flag.
Several other people at the events he attended were prosecuted more than two years ago, including high-profile leaders such as Mark Jones and Oskar Dunn-Koczorowski.
Asked why Hannam had not been identified as part of earlier investigations, Mr Smith said: "If it had been possible to identify Hannam earlier, I'm confident we would have done."
Hannam's trial started on 8 March at the Old Bailey, but nothing could be published until the jury reached its verdict because of a reporting restriction.
It was imposed because Hannam was due to face a second trial for possessing indecent images of children, and a judge did not want that jury to be swayed by the terror trial.
But on 23 March, Hannam pleaded guilty to one count of possessing an indecent image of a child. Prosecutors did not proceed with a second count of the same offence, and left a third to lie on file.
Hannam was involved with National Action from March 2016 and it was banned as a terrorist organisation by the government in December that year.
He then took part in activities by its successor group NS131, which was an alias used to evade the prohibition until it was also banned.
Investigators believe Hannam ceased active involvement with the group by October 2017 – almost three months after he applied to become a police officer.
He passed vetting checks, completed training and was a probationary constable in an emergency response team by the time of his arrest on 5 March 2020.
Scotland Yard said no officers had raised concerns about his ideology or behaviour over Hannam's two years of service, and were "shocked" by the investigation.
The Metropolitan Police said "thorough checks" were carried out on the cases and incidents Hannam had dealt with, as well as his use of the Police National Computer database, and that nothing of concern was found.
Officials said there had been no complaints about his conduct or behaviour from colleagues or members of the public, and that his only known misconduct was an incident where he used his brother's travel card on public transport.
Mr Smith said that if Hannam had answered a key question on his application and vetting forms truthfully, there was "no way he would have been accepted as a police officer".
The forms asked recruits if they are, or have ever been, members of the British National Party (BNP) or a similar organisation "whose aims, objectives or pronouncements may contradict the duty to promote race equality".
Hannam denied being a member of National Action at any point during his trial, and said that even if he had been he was right to answer "no" on the forms because it was not similar to the BNP.
The Metropolitan Police said the national recruitment form was being updated as part of an unrelated review, but defended its processes.
"Obviously there will be public concern around the fact a member of National Action managed to become a member of the police service, but once we identified that fact we moved very swiftly and robustly to investigate," Mr Smith said.
"The fact he had lied on his form and provided reliable references that did not raise any concerns about his character meant that the application proceeded."
Hannam gave the Metropolitan Police a character reference from his university, which "raised no concern", and investigators said that before his trial they did not know about incidents at secondary school where he had been racially offensive and submitted Islamophobic work.
Mr Smith said: "A balance has to be struck about the depth and proportionality of the checks that can be carried out into every individual who wants to join the police. We think we have that balance about right, it will never be completely perfect."
Hannam was suspended from duty when he was arrested and will now face misconduct proceedings that will see him dismissed.
Mr Smith said he believed Hannam was "unique" as the first police officer convicted of a terror offence.
But he added that Scotland Yard was alive to the risk of "infiltration" by right-wing groups, who have recently been active in the British military.
"Nothing indicated that either Hannam was part of deliberate infiltration in the police, or that he carried out any activity seeking to draw others into the ideology that he holds," Mr Smith said. "We didn't find any evidence of that at all."
Mikko Vehvilainen, a National Action member who was convicted in 2018, was a lance corporal in the British Army and had been trying to recruit fellow soldiers in preparation for a race war to "cleanse our lands".
Two members of the Generation Identity white nationalist group were also found to be serving in the Royal Navy in 2019, and were not formally disciplined.
Numerous international Iron March users included in the leaked data claimed to be members of the military or police forces.
An investigation by Vice verified the identities of three American servicemen, including a marine who was trying to recruit people for a fascist paramilitary group he wanted to launch in the US.
Iron March was shut down in November 2017 and succeeded by a website called Fascist Forge, which went offline in February 2019.