Nigella Lawson arrives for second day in court after accusing Charles Saatchi of threatening to 'destroy' her with drug claims
I've taken cocaine at two times in my life - but I've never been an addict, she  told court yesterday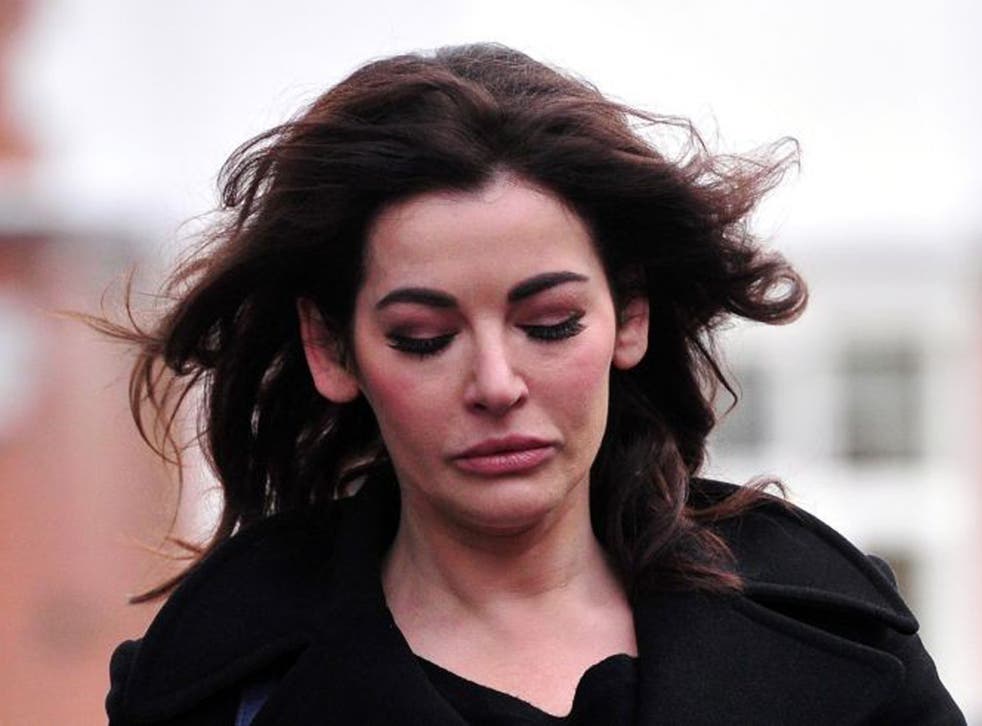 The television chef Nigella Lawson has arrived at court for a second day to continue giving evidence in the fraud trial of two former assistants.
Yesterday, said she had been "put on trial" as she admitted taking cocaine and cannabis and told a court how her former husband Charles Saatchi had threatened to "destroy" her.
Ms Lawson, 53, had been called as a witness in the fraud trial of two former assistants but, in a day of high drama at Isleworth Crown Court, the self-styled "Domestic Goddess" claimed that it was she who was really in the dock.
"I have been put on trial here where I am called to answer, and glad to answer the allegations, and the world's press, and it comes after a long summer of bullying and abuse," she said. "I find it's another chapter in that."
She arrived at the west London courthouse on Wednesday dressed all in black, facing ranks of photographers and television crews from around the world. Responding to evidence from earlier in the hearing, she rejected as "absolutely ridiculous" the suggestion that she was a heavy drug user. "I have never been a drug addict. I've never been a habitual user. There are two times in my life when I have used cocaine," she said.
That drug use had occurred during the terminal cancer of her late first husband John Diamond, with whom she took cocaine on six occasions because "it gave him some escape", and more recently during a dark period in her marriage to Mr Saatchi, the reclusive art collector. "In July 2010 I was having a very, very difficult time. I felt subjected to intimate terrorism by Mr Saatchi."
She said that she had been "completely spooked" by the latest drug use and had sought medical help. "I concluded that I did not have a drug problem, I had a life problem, and I needed to attend to that and I did seek out a therapist."
Ms Lawson also acknowledged her use of "the odd joint" of cannabis. "I found it made an intolerable situation tolerable," she said. "It's a false friend and not a good idea."
During her evidence, Ms Lawson gave her explanation of press photographs that showed Mr Saatchi holding her by the throat outside Scott's, a London restaurant, earlier this year. The incident began, she said, when she commented to Mr Saatchi on a person walking past with a baby buggy.
"I said 'I'm so looking forward to having grandchildren," the cook told the court. "He grabbed me by the throat and said 'I'm the only person you should be concerned with. I am the only person who should be giving you pleasure."
She told the court that Mr Saatchi had "told everyone" that the Scott's incident had involved him taking cocaine out of her nose. She also claimed that a PR blog written about the episode had been "dedicated to salvaging Mr Saatchi's reputation and destroying mine."
Two of Ms Lawson's former personal assistants, Elisabetta Grillo and her sister Francesca, are accused of using credit cards loaned to them by the TV presenter and Mr Saatchi to spend more than £685,000 on themselves. They deny the charges.
Anthony Metzer QC, defending Lisa Grillo, asked the cook: "Do you have it in for Lisa now?"
"No, I so don't," she replied.
She was asked if she had told Lisa Grillo that would leave her husband. "It wasn't so much a discussion," she said. "I may have said I didn't know how much longer I could take this."
The court heard that Mr Saatchi liked to keep large sums of cash in a "zippy freezer bag". Ms Lawson said: "He did like huge wads of cash because he didn't like to use credit cards."
Mr Metzer asked Ms Lawson if Mr Saatchi had a temper. "Yes, he did have a temper and I don't think that anyone can be in any doubt he had a temper," she said.
Asked if Mr Saatchi was patriarchal and traditional, Ms Lawson claimed that he "didn't like to take part in family life."
The trial continues on Thursday.
Video: Nigella admits to taking cocaine
By default player size is set to 420 x 315px. But you can resize player width and height once you get the player code using player params.