Now the gloves (and everything else) are off as naturists are criminalised
Two Belfast Lough skinny dippers threatened with inclusion on sex offenders' register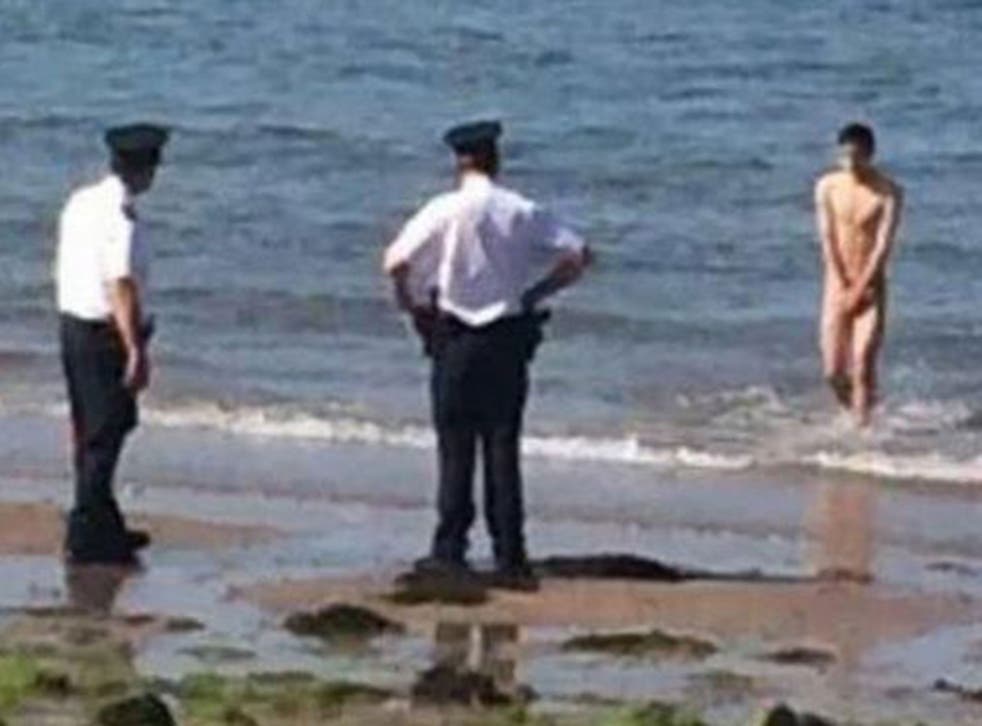 When 744 swimmers took off their clothes and plunged into the sea off the New Zealand coast last year, the world's largest co-ordinated skinny dip made it into the Guinness Book of Records. When two men attempted the same in County Down last week they were threatened with inclusion in a markedly different volume: the sex offenders' register.
In what campaigners called a gross example of "pushing the prudery bandwagon", the case of the "Belfast Lough Two" has been passed to the public prosecutor's office for a decision on whether they should be charged with indecent exposure.
Pictures appeared on social media last week showing a man emerging from the sea with his hands over his privates to be greeted by two (fully clothed) police officers.
"NOT a good idea, we are treating this kind of behaviour extremely seriously and will be continuing to take action against anyone who decides to do the same," said the Police Service of Northern Ireland (PSNI) on Facebook.
"There are young children in these areas too. You could end up with a Criminal Record and placed on the Sex Offender Register."
The prosecutor's office has yet to decide on whether to bring charges, but the response to the police's intervention has been largely critical. Beneath the PSNI's Facebook post, one local wrote: "The last time I seen any skinny dippers was when I was 6 years of age. Funny enough it was 12 off duty police officers all drunk at a party at a caravan."
The posting has prompted one naturist group to record an official complaint against the language used by the force, which it warned would have a "chilling" effect on others taking advantage of the weather to strip this summer.
"There have been lots of threats, harassment and so on, but it's a fair while since there have been any prosecutions that we know about," Malcolm Boura of British Naturism told The Independent. "It's caused a lot of concern in naturist circles. Amongst our members, to say they're irate about it is an understatement. Bloody furious would be the words for it."
British Naturism has complained to two other police forces over comments that it claims unfairly criminalise nudists. These incidents included The World Naked Bike Ride in Clacton, Essex last month, when organisers came under pressure to abandon the event.
Campaigners say that police are more zealous in cracking down on skinny dipping in Northern Ireland and Scotland. Earlier this month a couple in Haddington, East Lothian. allegedly ran naked through the countryside, crossing barbed wire fences and walls, after being spotted skinny dipping at a beauty spot. They were arrested two miles away.
Nudists can be prosecuted under the Public Order Act, for outraging public decency or causing a public nuisance, according to guidance issued by the Crown Prosecution Service. However it said that a "balance needs to be struck between the naturist's right to freedom of expression and the right of the wider public to be protected from harassment, alarm and distress".
The only reference to the Sex Offenders' Register in the CPS guidance is under "flasher's law – a section of the Sexual Offences Act which requires a "person to intentionally expose their genitals and intend that someone will see them and be caused alarm or distress".
But the guidance says that naturists would not be guilty of the offence if their "intention is limited to going about his or her lawful business naked".
The hot spots for naked bathing are along England's south coast where some 10 beaches are used by naturists with the agreement of landowners.
Four years ago, 400 people went swimming off Rhossili beach on the Gower Peninsula in Wales in Britain's largest burst of skinny dipping to raise money for two bastions of respectability, the National Trust and Marie Curie Cancer Care.