Sex teacher Stuart Kerner spared jail after judge says he was 'groomed' by 16-year-old girl
Judge Joanna Greenberg criticised after giving suspended 18-month sentence to religious education teacher, Stuart Kerner, 44, following affair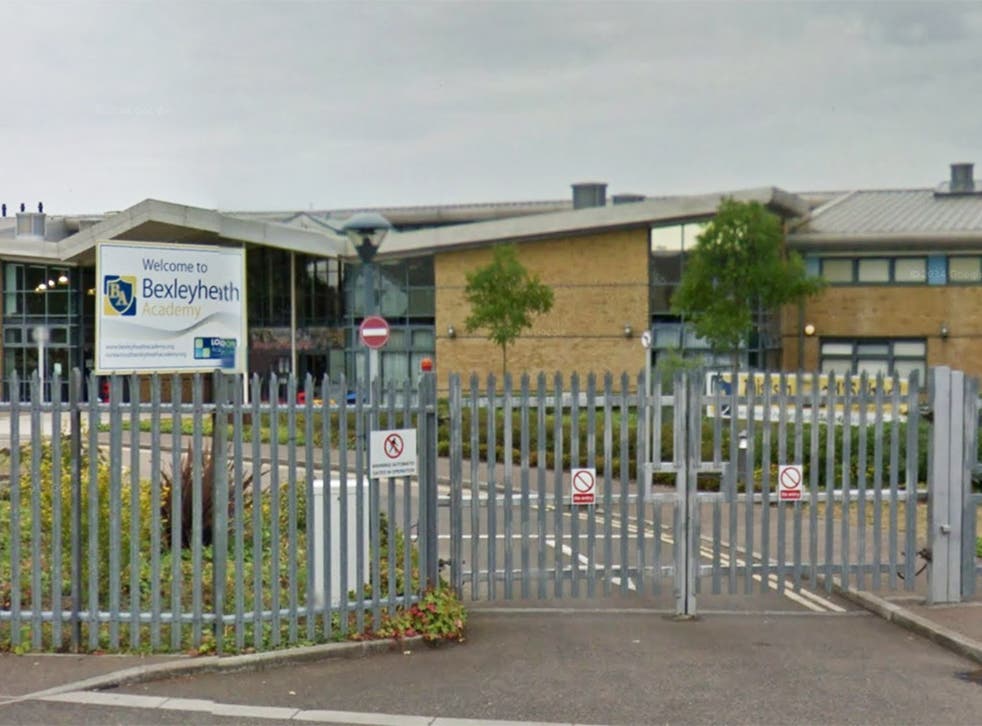 Child protection campaigners have reacted angrily after a judge declined to jail a teacher who had a sexual affair with a teenage pupil, on the basis that he had been "groomed" by his victim.
Stuart Kerner, 44, a married religious studies teacher, was given a suspended 18-month jail term after being convicted of an illicit relationship with the 16-year-old student during which the pair had sex at his school in south-east London and at his home.
Judge Joanna Greenberg QC said she was allowing Kerner, a vice principal at Bexleyheath Academy, to walk free after finding his victim had been "stalking" him. Sitting at the Inner London Crown Court, Mrs Justice Greenberg described the teenage victim as "intelligent and manipulative", adding: "Her friends described her, accurately in my view, as stalking you.
"If grooming is the right word to use, it was she who groomed you [and] you gave in to temptation."
The remarks by the 63-year-old judge, who has sat on the bench for almost 20 years and last year became a circuit judge – one rank below a place in the High Court – were criticised as "astonishing" by child abuse workers.
Campaigners accused Judge Greenberg of seeking to transfer blame on to the victim when teachers have a legal and professional responsibility to reject any sexual advances from pupils. Jon Brown, lead for tackling sexual abuse with the NSPCC, said: "Despite the alleged pressure that he was under from the girl in question, it's still a fact that Stuart Kerner grossly abused his position of trust.
"This was an abusive relationship and young people involved in situations like this can be damaged in many ways. Teachers have a duty of care to their pupils and Kerner should have taken steps to distance himself from the girl."
The Attorney General's Office said on Twitter that it had "received complaints about Stuart Kerner sentence and will consider whether to refer to Court of Appeal under [the unduly lenient sentences] scheme". It said it would make a decision by 11 February.
Campaigners said the remarks gave rise to concern about attitudes within the judicial system to victims of sex offences after previous cases in which underage victims have been described as soliciting the crimes against them.
A barrister was suspended by the CPS last year after he described the 13-year-old victim of sexual abuse as "predatory". The judge in the case was also investigated after saying he was taking into account that the girl had "looked and behaved older" when he sentenced her attacker.
Holly Dustin of the End Violence Against Women Coalition said: "The judge reinforces very negative myths about sexual violence, that the perpetrator was led on by the victim. This case shows how such deeply held prejudicial attitudes permeate the criminal justice system."
Kerner, a father-of-one from Aylesford, Kent, was found guilty by majority verdicts last month of two charges of sexual activity with a child by a person in a position of trust. He was cleared of four counts of the same offence and two other charges which alleged sexual activity when the victim was 15. The court was told that the teacher, described as "well-respected" by colleagues, continued to maintain his innocence.
He had accused the pupil during his trial of being a "devious and wicked liar" who had made up the affair after reading the novel Fifty Shades of Grey, about a sexual relationship between an older man and a younger woman.
The court heard that the relationship had taken place despite a miscarriage suffered by Kerner's wife, Katharine, who has stood by him despite the affair.
Prosecutors said the victim had lost her virginity the first time she had sex with Kerner in February 2012.
The second offence took place in October 2012, when Kerner had a day off and arranged to pick up the schoolgirl and take her to his home.
After the affair was brought to light by a complaint from relatives, the victim told police: "I felt special. But, I dunno, it wasn't really. And admitting that does kind of hurt." She added that she believed "hand on heart" that Kerner would not have pursued her unless she had encouraged it. The pupil claimed he had also told her their relationship was "written in the stars".
During his sentencing, Mrs Justice Greenberg said she was satisfied that Kerner had in no way encouraged the pupil and had himself been "emotionally vulnerable" due to his wife's troubled pregnancy. She said this did not excuse his behaviour, but it helped explain why a man of "exemplary character" had committed such offences.
She added: "The law demands that you are the responsible adult and you show restraint, and we know that you failed to do so."
Donald Findlater, director of research and development with the child protection charity the Lucy Faithfull Foundation, said: "I think it unhelpful to attribute the word 'grooming' to a child. Children develop crushes.
"Their insights into consequences are often not as developed as those of adults."
Other judicial controversies
'Predatory' sex abuse victim
A barrister was suspended by the Crown Prosecution Service in August 2013 after he described the 13-year-old victim in a sex abuse case as "predatory". Richard Colsover, who was not an in-house CPS lawyer, was told his use of the word was not appropriate and out of line with CPS guidance. Judge Nigel Peters QC was also investigated by the Office for Judicial Complaints after he said he was taking into account that the victim had "looked and behaved older" when he sentenced her abuser.
'Rape convictions will not rise until women drink less'
Judge Mary Jane Mowat said rape conviction statistics would not improve "until women stop getting so drunk".
Speaking last year, she said: "Juries are in a position where they've got a woman who says 'I was absolutely off my head, I can't really remember what I was doing… I can't remember if I consented or not but I know I wouldn't have done. When a jury is faced with something like that, how are they supposed to react?"
The remarks, made to a newspaper shortly after her retirement, were criticised by campaigners who said judges should be making clear that an incapacitated woman is not capable of giving consent.
The same judge had previously said she would not "criticise" a teacher convicted of possessing child pornography for being attracted to children.
Criticism of abortion policies
Mr Justice Cooke attracted criticism after he described abortion law as being "wrongly, liberally" interpreted as making terminations "essentially available on demand" prior to 24 weeks. The remarks were made as he sentenced mother-of-two Sarah Catt to eight years' imprisonment for aborting her unborn child at 39 weeks. The Court of Appeal later described the sentence as "manifestly excessive" and reduced it to three and a half years.