Two PAs cleared of fraud - and Nigella Lawson left reeling at 'ridiculous sideshow' of drug allegations and public dissection of her marriage to Charles Saatchi
TV chef hits out after case that exposed relationship with Charles Saatchi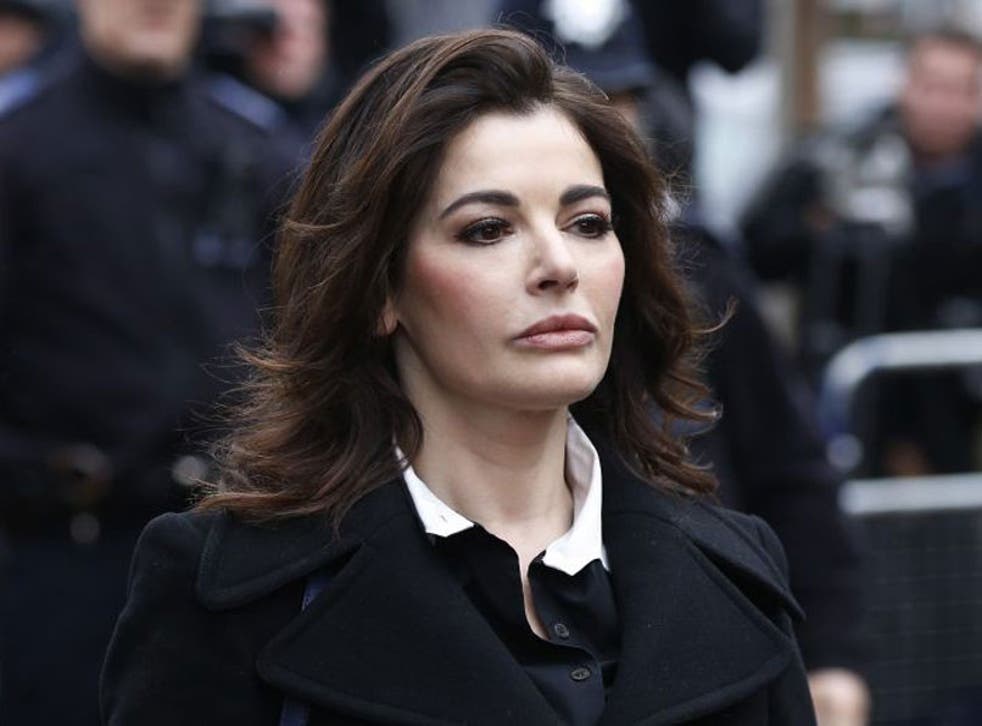 Long before a jury acquitted Francesca and Elisabetta Grillo of fraud, the public had switched its attention to a parallel yet juicier legal spectacle – the public dissection of the marriage of Nigella Lawson and Charles Saatchi.
The Italian sisters who had worked as personal assistants to the mercurial power couple mouthed "C'e un dio" ("There is a God") on Friday as they walked free from Isleworth Crown Court in west London. Instead, it was left to their two purported victims to salvage what remains of their careers and reputations after three weeks of mutual destruction from the witness box.
Scotland Yard on Friday night left took the decision not to prosecute Ms Lawson, but confirmed that the decision would be reviewed if new evidence came to light.
In turn, the millionaire mother-of-two came out fighting, declaring herself "disappointed but unsurprised" by the verdicts and describing her experience as a witness as "deeply disturbing".
It was a perhaps predictably acrimonious postscript to one of the strongest cocktails of wealth, celebrity, ego and alleged criminality to be served up before a British court in decades.
In pictures: Trial of Nigella Lawson and Charles Saatchi's former PAs

Show all 8
Lawyers for the Grillos – the sisters who had stood accused of frittering away £685,000 in unauthorised credit card spending – suggested to jurors that they faced a choice between accepting Ms Lawson's insistence that she would not have sanctioned a succession of lavish fripperies, such as a £5,000 Miu Miu pink fur coat, or believing the defendants' case that Ms Lawson had allowed the spending in return for their silence about her alleged drug-taking inside the £25m Belgravia family home.
The acquittal of the Grillos, once core members of the circle of confidants and bag-carriers that Ms Lawson memorably described as "Team Nigella", demonstrates that prosecutors failed to prove beyond reasonable doubt that a crime had been committed.
During three weeks of testimony, the woman who has sold two million cookbooks and amassed a personal fortune of £20m has nonetheless found herself put through a reputational Magimix.
Ms Lawson was forced during seven hours of testimony to disclose that she had used cocaine and smoked cannabis in front of her children in order to cope with what she claimed was the "intimate terrorism" inflicted upon her by her ex-husband. But she denied her use was ever "habitual", pointing out that not a single witness, including Mr Saatchi, had been produced to say they had seen her taking drugs.
Sources close to the chef insisted prior to the verdict that it was "business as usual" as her latest television series – an X Factor-style gastronomic elimination show called Taste – returns to the American screens and begins its first British run on Channel 4 next month.
The extent to which the one-time domestic goddess considers herself to have been demonised was made clear in the statement she released on Friday where Ms Lawson says she had tried to ensure the CPS was aware of what she alleges was a campaign to destroy her reputation and a court system which gave her no chance to rebut lurid claims of substance abuse.
Juxtaposed with Ms Lawson's evidence that she had taken cocaine just seven times in her life, including during the period in which her first husband John Diamond was dying, was testimony that she left £20 notes coated white powder in her desk drawer and kept a "stash" inside a hollowed-out book alongside Mr Diamond's wedding ring.
Karina Arden, the lawyer representing 35-year-old Francesca Grillo, said the cook had backed herself into a corner by having to allow the sisters to fund a lavish lifestyle using Mr Saatchi's Coutts credit cards in order to ensure her drug use was hushed up.
Ms Arden said: "She was in the position of trying to keep a dark secret, even of the limited scale to which she admits, to stop [it] coming out."
For her part, Ms Lawson, 53, hit out at the "ridiculous sideshow of allegations about drug use".
The judicial Punch and Judy show played out in a courtroom heaving with journalists from outlets including the Disney Channel had its roots in two once-loving relationships turning sour.
Ms Lawson described Francesca, 41, as her "rock" after she helped her through the death of Mr Diamond but said a close bond with the sisters, who come from Calabria, had been progressively loosened in recent years as the Italians allegedly became less engaged with their work.
An investigation was launched into the Grillos' prolific spending over five years, from 2008 to December 2012, after Elisabetta used a credit card account to take a taxi to a polo match and Mr Saatchi, 70, asked his accountant to scrutinise their spending.
In a household which spent money with abandon, annual credit card bills reached £1.2m and included such monthly outgoings as £1,500 on flowers. Jurors were told of Ms Lawson's "gold cage" lined with every dress available from the Joseph brand and wardrobes overflowing with cashmere. Also not to be forgotten was the plastic bag of banknotes kept on top of the fridge to accommodate Mr Saatchi's preference for paying his daily expenses in cash.
But after the sisters rejected a demand that they halve their modest salaries and pay back the money they would eventually insist they had been allowed to spend, the police were called in by Mr Saatchi with, he said, the support of his then wife.
The trap which led the couple to Isleworth was laid with the publication in June of photographs showing the former advertising mogul gripping Ms Lawson by the throat in a Mayfair restaurant, which presaged a police caution for Mr Saatchi – and a divorce.
Ms Lawson claimed what followed was a caustic campaign to compel her to give evidence against the Grillos and in so doing clear her estranged husband's name while enmeshing her in wrongful claims of drug-taking.
In an email sent by Mr Saatchi to his wife, he belittled her as "Higella" and suggested that Francesca and Elisabetta would be found not guilty because she and others in the household were "so off your heads on drugs that you allowed the sisters to spend whatever they liked". Ms Lawson refuted this claim.
When he took to the witness box, Mr Saatchi drew back from the claims, describing them as a "nasty statement" and insisting he was "utterly bereft" they had been made public. He added: "I absolutely adore Nigella and I'm broken-hearted to have lost her."
Such protestations were challenged by defence lawyers. It was suggested that the multimillionaire, whose own assistants were found to have ordered copies of his books to boost its ratings on Amazon, had engineered the case to attack Ms Lawson by proxy.
With the words of Anthony Metzer QC, counsel for Elisabetta, that "this was a case with no winners" still resounding, it remains to be seen whether Ms Lawson will be able to re-establish herself as the epitome of culinary glamour rather than an object lesson in what happens when an apparently gilded union falls apart.
In a recent interview Ms Lawson said: "Home cooks tend to be slightly conflict-averse. Whether we delude ourselves or not, we often want to produce food as a way of creating harmony. [It] doesn't always work."
It is possible that, as she spoke, her mind was not too far from home.