Philpott children were 'well looked-after and well nourished and happy' court told ahead of parents' sentencing
Mick and Mairead Philpott, found guilty yesterday with Paul Mosley on six counts of manslaughter for causing fire that killed children at the family home, defended today as 'good parents'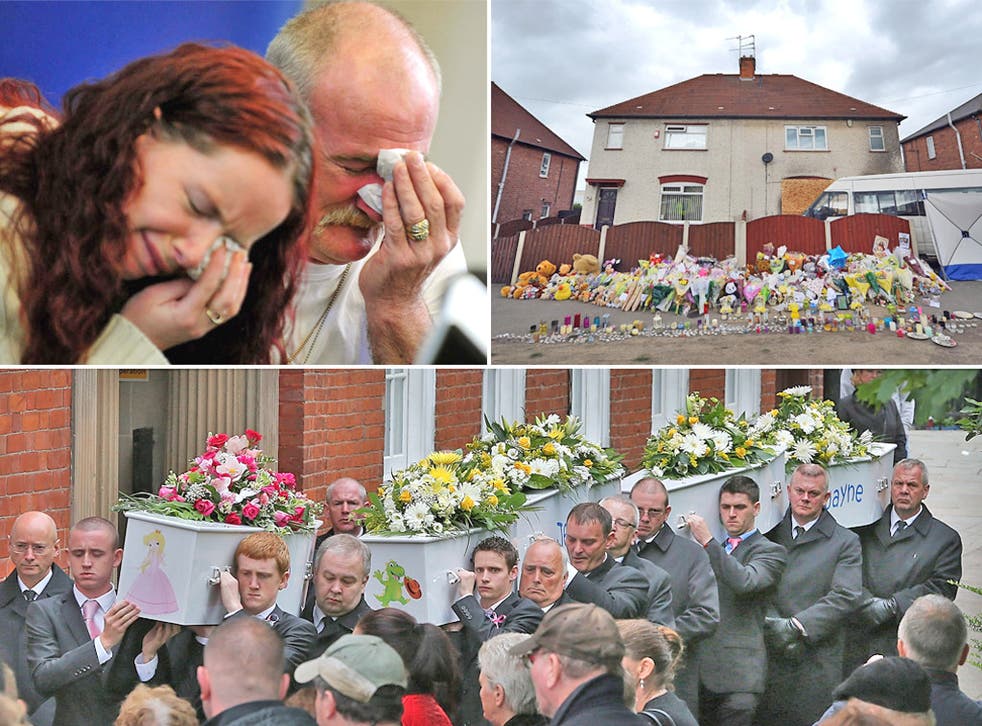 Lawyers for a couple who killed their six children by deliberately setting fire to their house whilst they slept claimed they were "very good" parents who provided "happy" lives for their offspring.
During mitigation at Nottingham Crown Court counsel for Mick and Mairead Philpott said they had never meant to harm their daughter or five sons aged between five and 13 who perished in the blaze at the family home in Derby last May.
Instead they described them as a couple broken by grief and parents who now faced a life of public opprobrium for their crimes. Once again there were emotional scenes in the courtroom with angry exchanges from the public gallery aimed at the defendants following media coverage of the case.
Mick and Mairead Philpott were found guilty of six counts of manslaughter on Tuesday along with their friend Paul Mosley, 46, in a bid to frame Mr Philpott's former lover Lisa Willis as part of a bitter custody battle after she walked out of the family home. They will be sentenced tomorrow, Thursday.
Anthony Orchard QC, for Mr Philpott said: "All the witnesses, even Lisa Willis, agree on this. There's no evidence at any stage that he deliberately harmed any of them," he said.
The barrister said his client's bizarre behaviour in the wake of the blaze had been consistent with symptoms of extreme grief. "He will have to live with the hatred and hostility of the press and the public for the rest of his life," he added.
But Judge Mrs Justice Kate Thirlwall, interjected during defence arguments that Mr Philpott's 1978 attempted murder conviction was "a long time ago" pointing out that all of the father of 17's relationships had been violent.
It emerged that Mr Philpott, 56, was on bail at the time of the fire after admitting punching a driver in a road rage attack. In 1991 he received a two-year conditional discharge for assault after he headbutted a colleague; and in 2010 he was given a police caution after slapping his wife and dragging her outside by her hair.
Shaun Smith QC, for Mairead Philpott, said despite the unusual circumstances in which they were brought up, living for a time with their mother, father, their father's girlfriend and her five children – four of whom were fathered by Mr Philpott - the children were content.
He said there was no evidence "any of these children were in any sort of danger or peril prior to that night (of the fire) whatsoever."
But again the judge challenged the suggestion they would have come to no harm if the plan to rescue them from the flames had been successfully executed.
"If the plan had been successful the effect on the children would have been this, would it not - they would have been awoken in their beds with their house on fire and their father coming in to rescue them? A terrifying experience."," the judge said.
Mr Smith said his client – who had spent 12 of her 32 years with Mr Philpott - had "visible" and "palpable" symptoms of grief.
"The entirety of the evidence in this case is that Mairead Philpott was an extremely good mother to all 11 children," he said. : "They were well looked-after. They were well nourished. They were happy children," he said.
Mrs Philpott was "filled her with more grief than one can imagine". The barrister argued that she would forever be known forever as a "child killer" and had been dominated by her husband. "She would do whatever he said, whatever he wanted," he said.