Police accused as domestic violence cases fall, but allegations by victims increase
'That means one in five people are now getting away with it,' says shadow Home Secretary, Yvette Cooper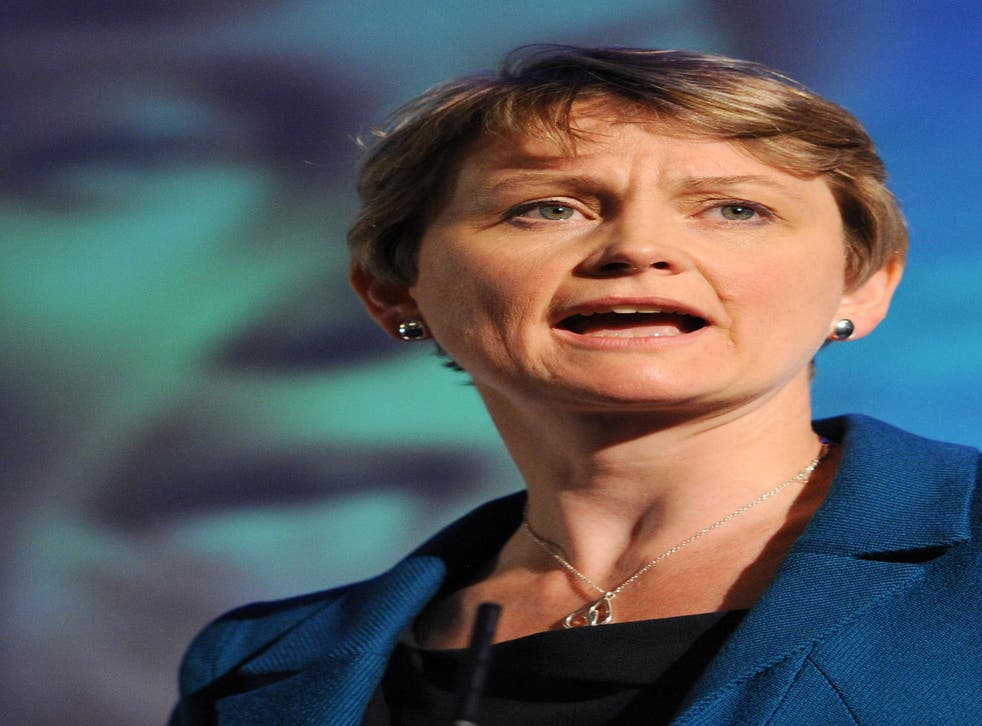 The police are referring fewer allegations of domestic violence to the Crown Prosecution Service (CPS) even though the number of allegations by victims is increasing.
Figures obtained under the Freedom of Information Act by the Labour Party suggest a 13 per cent fall since 2010 in the number of cases sent to the CPS in England and Wales. The number rose by 23 per cent between 2007-2010 and, although figures vary among police forces, Labour claims the drop is due to the Coalition's 20 per cut in police budgets.
The statistics also suggest that the number of successful prosecutions peaked in 2010-11 but fell by 1.6 per cent the following year and was 11.1 per cent down on the peak year in 2012-13.
Yvette Cooper, the shadow Home Secretary, described the figures as "shocking and disturbing." She said: "Domestic violence cases reported to the police have increased by nearly 10 per cent. Yet at the same time the vast majority of police forces have cut the number of cases they refer for prosecution by 20 per cent. That means one in five perpetrators who would previously have been charged are now getting away with it."
Ms Cooper added: "The Home Secretary has cut policing by 20 per cent and now we are seeing the consequences. She has failed to set out a strategy to make sure action on domestic violence isn't cut as a result. The Home Secretary is hollowing out the police service and victims of crime are suffering as a result. We need a step change in dealing with domestic abuse, with new national standards for police training, support for victims and action to pursue offenders, and we need to start addressing young people's attitudes to relationships, including zero-tolerance of abuse."
Stella Creasy, a Labour home affairs spokeswoman, added: "Victims and survivors need to be equally confident in the criminal justice system regardless of where they live, but these figures suggest a postcode lottery could be developing when it comes to domestic violence. We need a radical rethink in how we address this crime and its costs and consequences to society."
Ms Creasy said the 13 per cent drop in referrals masked a bigger fall in some areas, such as a 29 per cent drop in Manchester and a 38 per cent reduction in Norfolk. In contrast, forces like Gwent and Essex have seen year-on-year increases from 2007 onwards. "With no monitoring of why this is the case and no evidence to suggest domestic violence is declining, the Home Secretary should urgently be asking police forces to explain such dramatic changes in cases being investigated under her watch," she said.
The Home Office said: "This Government has driven forward significant progress in tackling violence against women and girls. We have ring-fenced nearly £40 million for specialist local domestic and sexual violence support services, strengthened the protection in place for victims through the pilot of Clare's law and our national advertising campaign is helping youngsters spot the early signs of abuse.
"Domestic violence, rape and sexual offence prosecutions have reached their highest ever conviction rate for the second year running - so the systems in place to protect women are working, despite the necessary cuts to police budgets. But there is still much to do. We are actively pursuing ways in which we can prevent domestic and sexual violence happening in the first place, encourage more victims to come forward and improve the police response. We won't stop until we have eradicated these appalling crimes for good."