Police not investigating 40% of crimes reported in Manchester 'because of budget cuts'
Chief constable says officers are 'screening out' crimes where there is no prospect of conviction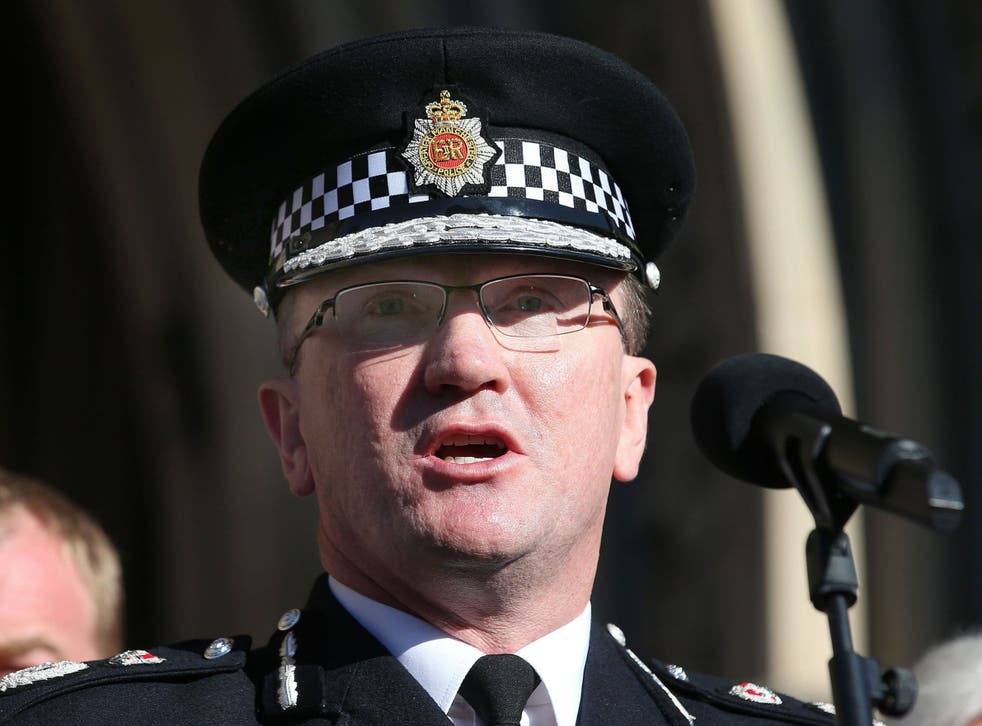 Almost half of crimes reported in Greater Manchester are not being investigated because of government budget cuts, a police chief has said.
Chief Constable Ian Hopkins said more than 40 per cent of reports were being "screened out" as part of prioritisation techniques being used by forces across the UK.
He told BBC Radio Manchester: "If you are a victim of serious crime we are really good at dealing with that still, and we are still rated as outstanding by Her Majesty's Inspectorate of Constabulary.
"But, in the middle, if your shed's broken into, your bike's stolen, your vehicle's broken into and there's no witnesses and there's no CCTV and there's no opportunity for forensics we will be screening that out really quickly."
Mr Hopkins said although there had been a rise in police funding from council tax, 80 per cent of the force's budget was made up of government grants, which have been cut.
The teenagers murdered in London in 2018

Show all 21
He added: "Either people have to accept that a modern police service has to really prioritise against those things that cause the most harm and threat and risk in our community, or there has to be more investment."
Mr Hopkins said Greater Manchester Police (GMP) receives around 1,600 emergency and 2,500 non-emergency calls every day, and record around 1,000 of those as crimes.
An "initial assessment" is then made about whether people are at risk, and if there are witnesses, forensic or CCTV evidence that could lead to a conviction.
"If these aren't available to us, we work closely with the victims of crime to provide them with support, as well as an explanation for the decision," the chief constable added.
His comments came after the head of the Police Federation told The Independent that police were "failing the public" because of budget cuts.
A 2018 report by HM Inspectorate of Constabulary revealed that some forces were unable to answer 999 calls for days because of "overwhelming" demand.
The Metropolitan Police is among the forces with a "crime assessment policy", which gives officers new guidelines on when to stop investigations.
Details released in 2017 suggested that incidents involving a loss of under £50 would not be investigated, as well as offences where there is not a "realistic chance officers will be able to solve it".
Cressida Dick contradicts Theresa May over police cuts
Scotland Yard said the measures were needed to "balance the books" following years of government cuts.
Diane Abbott, Labour's shadow home secretary, said the figures from Manchester would "not be a shock" to police.
"The Tories have axed 21,000 officers – and now serious violent crime is rising while arrest rates are falling," she added.
"Ministers are in denial that their cuts are a major reason for this crisis. But they are increasingly isolated, as the police and the public simply don't believe them. Cuts have consequences and you can't have safety and security on the cheap."
The National Police Chiefs' Council (NPCC) said all forces that prioritise what crime they respond to assess both the threat of harm and possible lines of inquiry.
"Police may choose not to investigate further where there isn't a prospect of a criminal justice outcome and the time spent on the investigation would not be proportionate," a spokesperson added. "We think the public want us to use our time productively and focus our resources where there is greatest harm and where we can secure a positive outcome.
"In cases where there is no further investigation, intelligence is captured and made available to local policing teams, and cases can be reopened if new information or evidence comes to light."
The NPCC said rule changes in 2015, following a scandal over "no-criming", mean that police now record more crimes with little prospect of a suspect being found.
"There have also been significant increases in the public reporting crimes, particularly sexual and violent crimes, as well as real increases in some crimes," a statement added.
"With more crimes and fewer officers on patrol, it is taking longer to respond to incidents and there is increasing evidence that these delays hinder evidence collection, making it less likely that crimes will be solved.
"Police chiefs have expressed their concern about the impact on proactive policing that prevents crime, solves problems and helps people feel safe. We are working closely with the Home Office to make the case for further investment in policing."
The home secretary has pledged to address police funding in a government-wide spending review, after securing an annual rise of £970m mainly through council tax increases.
A Home Office spokesperson said: "We are committed to ensuring police forces have the resources they need to carry out their vital work, and have reviewed the changing and increasingly complex demands on them.
"Greater Manchester Police's funding will be £591.8m in 2019-20, an increase of £35.8m.
"Pressures on police forces will always be different in different parts of the country, which is why it is important that chief officers and elected police and crime commissioners are able to set priorities which reflect the concerns of the people they serve."
The government also published a 13-point action plan to improve police forensics on Tuesday, following a scandal over data manipulation at one laboratory and warnings that budget cuts could cause miscarriages of justice.