Police marksman may face trial over botched shooting of suspected gangster Azelle Rodney
Dead man's mother demands apology after damning report into botched  police operation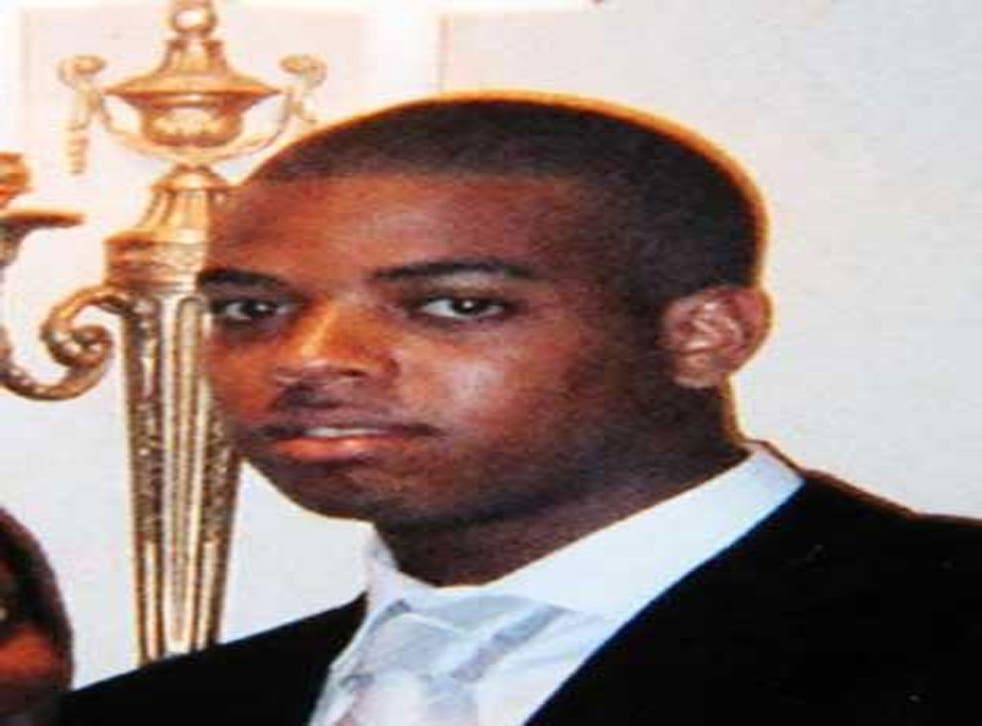 Scotland Yard was plunged into a damaging new controversy yesterday with a decorated marksman facing a possible criminal trial for killing a suspected gangster during a botched police operation.
Seven years after prosecutors found he had no case to answer, the retired policeman – named only as E7 – faced fresh scrutiny after a damning report into the death of Azelle Rodney criticised police planning and tactics before the shooting outside a busy pub in north London in 2005.
Mr Rodney, 24, was killed after undercover police teams rammed the car that was carrying him and two other men to a meeting with a group of Colombian drug dealers, whom they planned to rob at gunpoint.
Sir Christopher Holland found that E7 had changed his story over the shooting and disputed his claim that Mr Rodney, a backseat passenger, had bent down to pick up a gun in the split second before he opened fire.
The inquiry found that he fired two rapid bursts in little more than two seconds without getting out of his car, which had braked to a halt alongside.
"I have to find that there was no lawful justification of shooting Azelle Rodney so as to kill him," said Sir Christopher in his report. "I am wholly satisfied that firing so as to kill him… was disproportionate and therefore unreasonable and unlawful."
Sir Christopher's report – which highlights a litany of police failings during the operation – raises serious questions for the police watchdog, the Independent Police Complaints Commission (IPCC), which originally found nothing to criticise in the operation. It is also the first time a public inquiry has found that an officer used excessive force in shooting a civilian.
E7 was supposed to provide cover for his colleagues, but Sir Christopher found that six of his eight shots hit Mr Rodney, including a military-style "double tap" with two shots aimed at his right ear that "could only result in a fatality and did so". Three guns were later found inside Mr Rodney's car and the two other men were later jailed for firearms offences.
Mr Rodney's family demanded an immediate apology from Metropolitan Police Commissioner Sir Bernard Hogan-Howe and the IPCC after the inquiry's findings.
"When I gave evidence… I said that it seemed to me that Azelle was executed," said Susan Alexander, the dead man's mother. "I do not seek to justify what Azelle was doing on the day he died. But he was entitled to be apprehended. The fact that he was strongly suspected in being involved in crime does not justify him or anyone else being summarily killed."
The Metropolitan Police declined to apologise, citing potential criminal action against E7. Senior officers also expressed concern at the impact it would have on firearms teams who were thrust into the most dangerous situations. More than 120 officers refused to carry guns following the suspension of two of their colleagues in 2004 for the shooting of Harry Stanley, who was killed when officers mistook a table leg he was carrying for a shotgun.
Sir Bernard said: "I want to express my personal sympathy to Mr Rodney's family. The Metropolitan Police Service deeply regrets his death and I recognise how distressing the inquiry must have been for them."
The report highlighted the inadequacies of investigations into fatal police shootings and the time taken before families were able to get answers about what happened. E7 was interviewed by the IPCC for possible offences of murder and manslaughter but the CPs decided in 2006 there was insufficient evidence to prosecute.
Conflicting stories given by E7 about the shooting only emerged when he was questioned at the 11-week public inquiry. When he was interviewed by the police watchdog in 2005, he declined to comment and provided statements about his role.
The family had accused E7 of being "trigger happy" after it emerged that he had shot four people previously, including two fatally, in an operation for which he was not criticised. He also received a bravery award for tackling an armed man earlier in his 33-year career.
Deborah Glass, the deputy chairwoman of the IPCC, confirmed it had asked prosecutors to review the case and said it was committed to obtaining further evidence if required.
"We welcome the fact that Azelle Rodney's family have finally seen and heard the evidence in this case as a result of this public inquiry," she said. "We understand their anger and frustration about how long this has all taken."
E7's legal team has written to the inquiry to dispute the finding of the report as "irrational" and may launch a judicial review of its findings.
"We are disappointed with the findings in the report in so far as they criticise E7's actions," said his solicitor Scott Ingram. "As a result we are considering our options. Neither myself nor my client have any further comments at this time."
Mr Rodney was one of nine people killed by Scotland Yard firearms officers between 2005 and 2011 and his case highlighted a "systemic failure of communication" between the firearms team and senior officers running the operation.
Experts at the public inquiry had said that police could have moved earlier before the "hard stop" involving four cars outside a busy pub in Mill Hill, north London. The stop itself was botched with officers failing to wear caps identifying themselves as police, not shouting warnings, and the deliberate ramming of the car, which was not supposed to happen.
The report also found that the senior co-ordinator of the operation was not told about aerial surveillance of the pursuit from a police helicopter which could have changed the way they handled the operation. It also said that no threat assessment had been made.
A CPS spokesperson said: "Following the publication of the report into Mr Rodney's death, the IPCC has written to the Director of Public Prosecutions to ask that we review the case in light of new evidence provided to the public inquiry. This review will be completed as soon as practicable."
Profile: An aspiring footballer who turned to crime
Azelle Rodney was a "mid-level" career criminal who was wanted for the stabbing of two people at the time he was killed in the police operation in north London. The 24-year-old, who never had a legitimate job, was adept at "avoiding identification and arrest," according to the inquiry, and had only three criminal convictions dating back to 2002.
The inquiry heard that Mr Rodney worked for a man named only as "the Principal" who ripped off other drug gangs at gunpoint. Mr Rodney was on the way to rob a group of Colombian drug dealers when he was killed.
Known as "Speedy" as a childhood footballer, he played for Ealing Whistlers, but apparently drifted into crime after a hip injury at the age of 15 ended hopes of a job in sports education.
Mr Rodney had eluded police for five months by the time of his death after he was identified as the prime suspect in the stabbing in Ealing, west London, in July 2004. His girlfriend, Monique, was eight months pregnant with their first child when he died.