Poppi Worthington: Full extent of Cumbria Police failings revealed in judge's review
Exclusive: Evidence at scene of 13-month-old's death was ignored, and there was 14-month delay in forensic report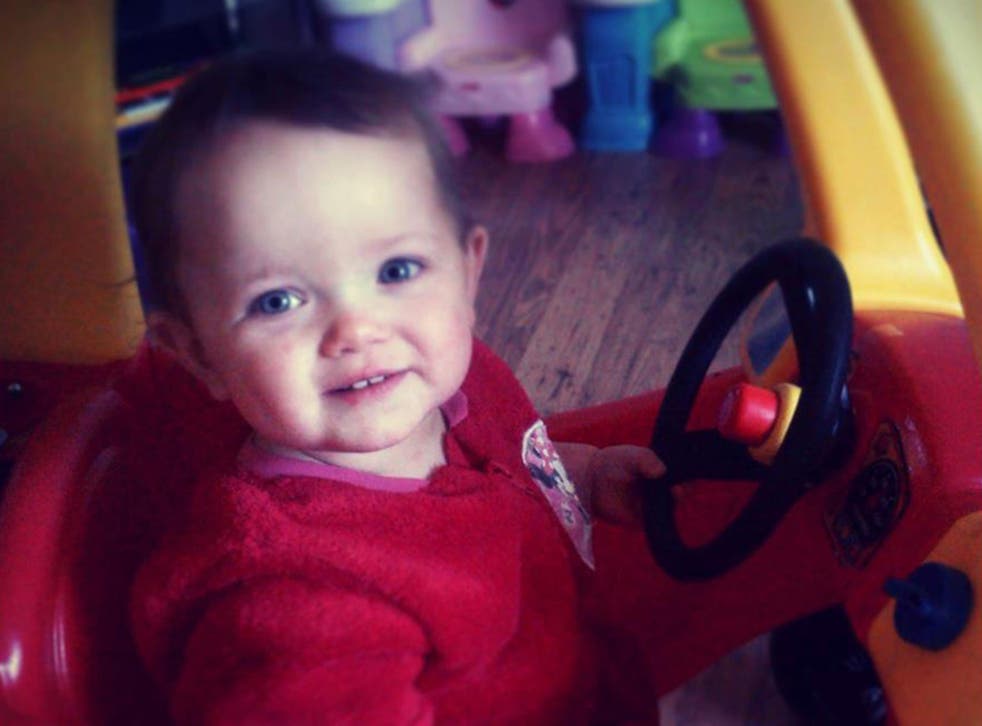 The full extent of Cumbria Police's failure to investigate Poppi Worthington's death can be revealed following publication of a High Court judge's review of the case last week.
Mr Justice Peter Jackson concluded on the balance of probabilities – the civil standard of proof – that the 13-month-old was sexually assaulted by her father, Paul Worthington, at their home in Barrow, Cumbria, shortly before her death in December 2012.
Mr Justice Jackson's fact-finding judgement of the case showed that the force did not retrieve what was believed to be the last nappy she wore – despite evidence that an officer witnessed Poppi's aunt remove it from the floor of the house and place it in the bin outside.
It took 14 months for a forensic specialist to report the results of tests carried out on one of five nappies retrieved from the bin. "No blood was found in the nappy, which contained significant amounts of DNA from [Poppi] and a male other than the father, but no evidence of the father's DNA," the judgement said.
A Cumbria Police spokesman said: "There is reason to doubt this nappy was Poppi's."
The Independent on Sunday has established that the nappy belonged to one of her brothers, raising yet more questions in a tragedy that has arguably become the most notorious child death case in the UK after a catalogue of blunders from the police, the local council and health professionals.
Had a nappy retrieved from the family home been identified as Poppi's and sent for testing, it could have provided crucial evidence in securing a conviction. Instead, Barrow and Furness MP John Woodcock is calling for a second police inquiry, to "salvage some prospect of justice for [Poppi's] life".
He told the House of Commons on Wednesday that the failures of several agencies in relation to Poppi's death were as serious as those that contributed to the deaths of Victoria Climbié and Peter Connelly, also known as Baby P.
Following reports of death threats, and the Crown Prosecution Service's announcement that it will re-examine its decision not to prosecute Mr Worthington, 48, who was the last person to see Poppi alive and has gone into hiding. He has always denied assaulting his daughter.
Dr Alison Armour, the pathologist who carried out the post-mortem five days after Poppi's death, called the investigating officer, DI Amanda Sadler, twice – on 18 and 24 December 2012 – and told her she thought Poppi's death was not due to natural causes but because of an unlawful act, and that the anal injuries were due to "insertion or penetration".
DI Sadler and her colleagues, including DCI Mike Forrester, thought Dr Armour had "jumped to conclusions". The doctor herself was criticised by Mr Justice Jackson for not filing an interim report in early 2013; her final version was submitted in June that year.
Mr Justice Jackson said the "extreme delay" led to no "real" investigation into [Poppi's] death taking place for nine months. The judge also outlined 12 major failings by police, including failing to take swabs from Mr Worthington until many hours after Poppi's death in December 2012, which were not sent for analysis until 2 August 2013.
That same month, Mr Worthington and Poppi's mother were questioned over their daughter's death, but released without charge. In October the following year, local coroner Ian Smith held an inquest and took just seven minutes to declare Poppi's death as "unexplained".
Cumbria police announced in March last year no charges will be brought against anyone in relation to Poppi's death. A spokesman told The IoS it would be inappropriate to comment further with the CPS review under way.
It also emerged last week that Cumbria police defied recommendations by the Independent Police Complaints Commission to bring gross misconduct charges against several officers. A report into the affair, handed to the force in May last year but not made available to the public, said there should be a full inquiry into DI Sadler, DCI Forrester and other officers.
DCI Forrester has been allowed to retire without going before a public hearing, and DI Sadler now faces a lesser charge involving a "performance meeting", which can be carried out in secret. She may be dismissed if gross incompetence is proved.
The IPCC is reviewing Cumbria Police's investigation. The watchdog said it will consider publishing its report "once all relevant proceedings have concluded".
David Roberts, the senior coroner for Cumbria, said he would decide next month whether to hold a new inquest.