Prisons watchdog demands action after 500 self-harm incidents in six months at young offenders' institution
Inspectors find 'dreadful' increase caused by some inmates only being allowed out of their cells for 45 minutes each day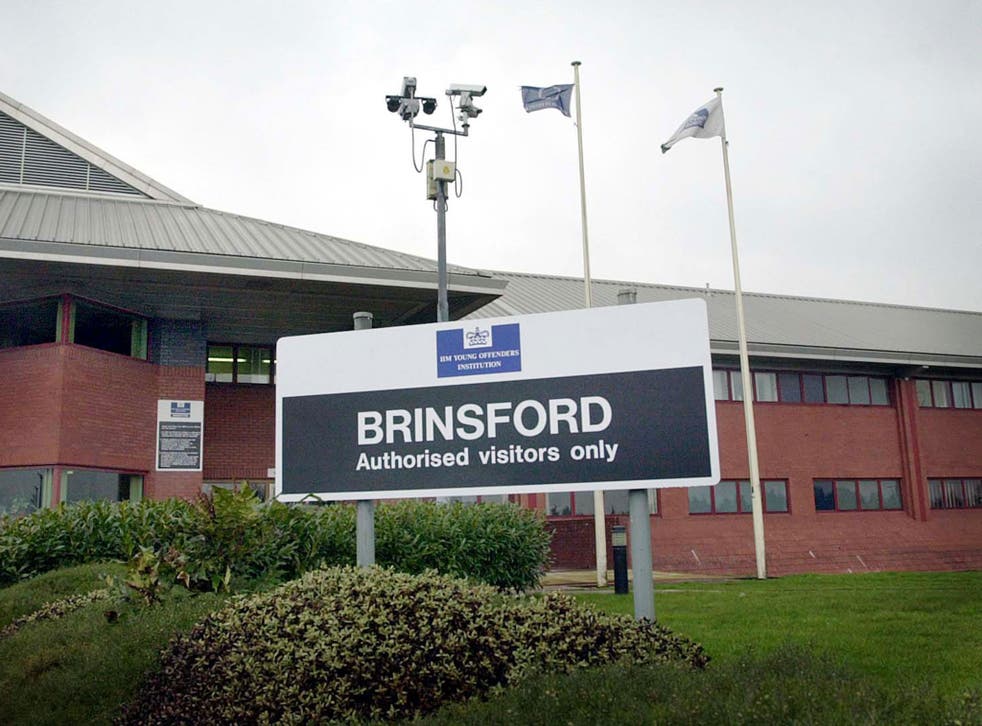 Prison inspectors have demanded urgent action at a young offenders' institution that saw more than 500 incidents of self-harm in just six months.
HMYOI Brinsford was found to be letting some inmates out of their cells for just 45 minutes a day to shower, exercise, contact their families and attend appointments.
Staff failed to notice that a new prisoner had not left his cell to take a shower or take part in activities for over four days.
HM Chief Inspector of Prisons, Peter Clarke, warned that "boredom and frustration" was driving the disturbing increase in violence.
"To understand the dreadful increase in self-harm, it is impossible to ignore the potential impact of the regime at Brinsford, which was particularly poor for a population consisting mainly of young adults," he said.
"For the prison to make meaningful progress in many other areas, these unacceptable figures must be improved."
Inmates supposedly in full-time employment were allowed out of their cells for five-and-a-half hours a day on average, while those unemployed were permitted an hour or less.
HMYOI Brinsford houses many "vulnerable" prisoners among its cohort of 18 to 21-year-olds, with a small number accounting for 554 incidents of self-harm recorded between May and October last year.
The jail, near Wolverhampton, had its safety assessment downgraded because of the dramatic increase.
David Gauke describes shocking videos emerging from UK prisons
One prisoner has killed himself in the past two years and levels of violence against both staff and prisoners was high.
A quarter of inmates interviewed said they felt unsafe, amid 106 fights and 116 attacks over six months.
Inspectors previously surrounded the alarm in 2013, when it was rated as "poor" in all areas, but the situation improved by 2015 following a significant cash injection.
But Mr Clarke said Brinsford had "felt the impact of reduced resources, and the improvements proved to be fragile", seeing new facilities decline.
He concluded that the current leadership has credible plans to improve conditions for its 473 prisoners and was working hard on durable changes.
Peter Dawson, director of the Prison Reform Trust, said keeping teenagers cooped up for 23 hours a day was "a recipe for trouble" and damaged prospects for reoffending.
"The Chief Inspector says all of these young men should be out of their cell for at least 10 hours a day," he added. "He's right, and only ministers can deliver the resources to make that possible."
Andrew Neilson, director of campaigns at the Howard League for Penal Reform, told The Independent Brinsford was a "familiar story" repeated in prisons across England and Wales, where violence has hit record levels.
"Self-harm is a very clear trend that has been dramatically increasing among men," he added.
"These are young men at the beginning of their adult lives, in an age group that needs a much more specific focus and service than they're currently getting."
UK news in pictures

Show all 50
Mr Clarke said 18 to 21-year-olds "fall through the gaps" by losing the extra funding awarded to youth offenders when they may still be as vulnerable.
He described a "toxic cocktail" of a rising prison population, overcrowding, staffing reductions and budget cuts leaving the entire service overstretched.
"There needs to be a long-term strategy for the prison system, to reduce numbers and pressure," he added.
"At the moment it is failing the people inside, failing the staff and failing the public because prisons breeding more crime and not cutting crime."
Mr Neilson raised concerns that Government proposals to increase sentences for some offences, including knife and acid possession, were created with "very little thought as to what that will mean for the prison system".
Despite worsening conditions inside jails, judges have been using alternative community centres less after losing confidence in private Community Rehabilitation Companies (CRC).
They took over part of the probation estate in 2014 in what MPs said is becoming a "contracting disaster", putting public safety and funds at risk.
Michael Spurr, chief executive of HM Prison and Probation Service, said: "As the Chief Inspector acknowledges, the Governor has robust plans in place to improve performance and safety at Brinsford.
"Constructive activity has increased since the inspection and prisoners have more time out of cells. Systems to support the most vulnerable and to reduce self-harm have been strengthened.
"Staff and managers are determined to achieve the sustained improvements required and progress will be closely monitored over the coming months."