On the rap sheet: 'looter' who pocketed £1, and a suspect caught with an empty box
As those arrested appear in court for their moment of shame, Matt Blake highlights the cases that redefine petty crime
Sunday 23 October 2011 08:40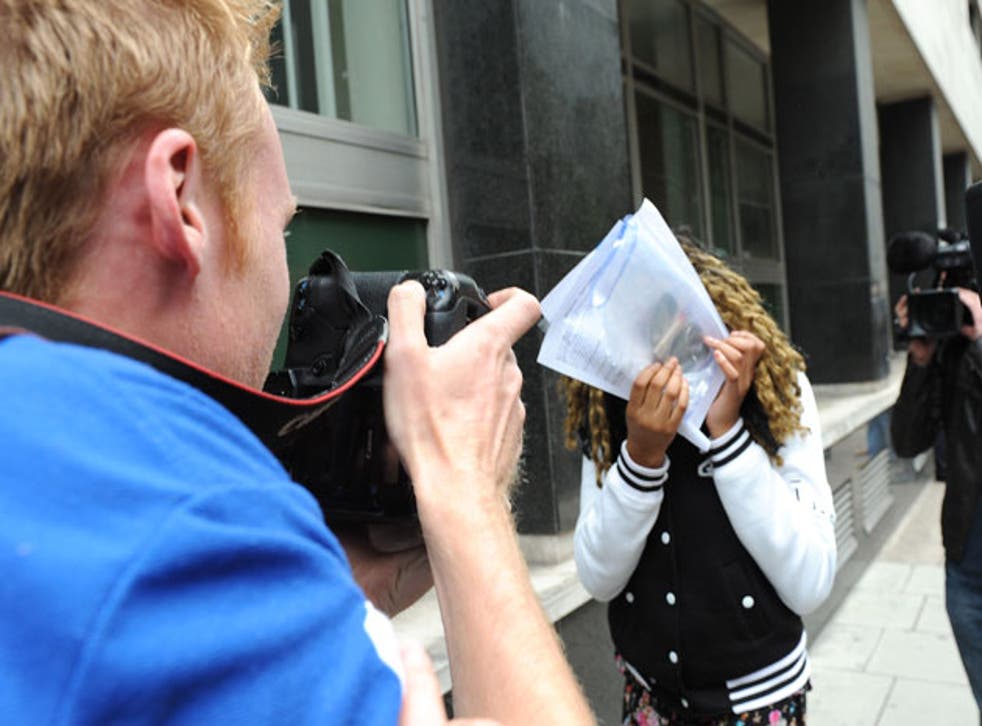 The man accused of stealing loot worth £1
Steven Keith, 43, of Longsight, Manchester was remanded to jail accused of stealing items worth £1 after allegedly burgling M1 News.
He was said to be among rioters who tore through central Manchester on Tuesday night. He was charged with burglary and a judge at Manchester magistrates' court remanded him in custody until next week.
The model jailed after a chewing gum raid
Shonola Smith, a model, was jailed for six months after she admitted storming an Argos store in Croydon during riots on Monday night.
The 22-year-old was also caught with 10 packets of chewing gum that she allegedly stole from a Kwik Stop convenience store. She was arrested when police raided the Argos building. She admitted theft and was jailed for six months. She sobbed as she was led from court. The judge told her: "The tragedy is that you are of previous good character, well educated."
The 'curious journalist'
Saffron Armstrong, 22, an accountancy and finance student from Mitcham, Surrey, told officers he had gone into a looted PC World because he was curious – and a freelance journalist. He was with two other men when they entered the store in Colliers Wood, south London, 24 hours after it had been looted and torched. The three men were arrested when police found them among debris. Armstrong was remorseful and admitted his intentions had "not been for the best". He was remanded in custody before the judge told him he faced a prison sentence.
The schoolgirl who ran away from home
A judge told a 14-year-old riot defendant, accused of stealing a haul of goods last weekend, that she was lucky her mother was coming to collect her as most "don't seem to care".
The girl, who cannot be named for legal reasons, was accused of stealing clothes from H&M, perfume and make-up from Boots and four music CDs worth £32 from HMV. She pleaded guilty to all counts and was bailed to a later date. The court heard she had run away from home two weeks ago and had not been seen by her parents, who had reported her missing, since.Judge Elizabeth Roscoe told her: "You should be grateful your mother is coming. For many other people there's no one to get them."
The 2012 ambassador shopped by her mother
Chelsea Ives, 18, an Olympic ambassador, was arrested after her mother spotted her picture on television and called police. She was alleged to have been filmed by the BBC throwing bricks at a £60,000 police car during the riots in Enfield on Sunday night.
Westminster magistrates' court heard that the 18-year-old said she had "the best day ever" after the alleged rampage. She denied two counts of burglary, violent disorder and attacking a police car. She was also described by her solicitor as a "talented sportswoman".
She was remanded in custody until a date in August.
The would-be restaurateur
David O'Neill, an unemployed chef, was charged with affray and racially aggravated abuse during riots in Sutton, in Surrey, on Wednesday. But the 22-year-old, who, the court heard, was due to meet representatives from the Prince's Trust in his bid to win a grant to open a restaurant, claimed he needed to return to his council flat to fix his broken fridge for fear he would otherwise be evicted.
He was also accused of wrapping a scarf around his head and throwing a brick at officers as up to 70 youths clashed with police in Sutton on Monday night. He was released on condition he lives at home, wears an electronic tag, observes a curfew, reports daily to Sutton police station and does not wear headgear.
The hairdresser who tried to hide
Jack Onslow, a trainee hairdresser accused of storming Zee & Co, a clothing shop in Hackney, was left behind by rioters who looted the shop and was found hiding under a cabinet in the store during Monday night's riots. Riot police discovered the 18-year-old at around 2.30 in the morning. He was warned he would go to jail after breaching a previous suspended sentence for a racist public order offence and was committed to Crown Court.
The one that didn't even try to get away
Emeka Ogbonna, 25, was caught in Comet, in Enfield, hiding from police on the store's mezzanine landing. The court heard he had not managed to loot anything. Highbury magistrates' court heard how Ogbonna, who moved to the UK from Nigeria aged two, had applied to join the Army and was due to take a medical test last Thursday. It also heard he had a string of drug offences as well as a disabled mother and partially blind sister. He was bailed to Crown Court and made to undergo a curfew and wear an electronic tag.
The man accused of stealing an empty box
Denzel Zivangwe, 20, from Enfield, was accused of stealing an empty jewellery box from a looted jeweller in Enfield on Saturday night. He had allegedly met with friends at nearby Waltham Cross but was forced off a bus in Enfield after trouble in the street caused the bus to abandon its route. His defence council told the court, "He acted in a moment of foolishness and stole an empty jewellery box. He reached in through the broken window to take the box but didn't cause any damage."
The long-distance wine 'thief'
David Colling, 18, travelled nearly 30 miles from his home in Ashton, in Middlesex, to allegedly steal eight bottles of alcohol and 50 packets of chewing gum. He was allegedly among looters who struck a newsagent in Enfield. After loading his pockets with booty he was caught fleeing the shop on Sunday night, the court was told. "Mr Colling was probably not going to run very far," Terry Lavell, prosecuting, said, "because of all the bottles concealed in his trousers."
Appearing in a police-issue white tracksuit, Colling appeared unperturbed by his bail conditions that meant he would have to return to his brother's home every evening between 7pm and 7am. The court heard how he was hoping to start an NVQ qualification in September.
The aspiring violinist
When Stefan Hoyle, 19, was caught clutching a stolen violin as he was arrested in the aftermath of the looting in Manchester, he told police he "had always wanted" to learn the fiddle.
He was sentenced to four months in a young offender's institution for theft by a Manchester judge. His parents wept as the judge said it was an "absolute tragedy" he had thrown away his life in such a way. The unemployed teenager had never before been in trouble with the police.
The 'charity box raider'
Daniel Bell, 30, from Stockport, dropped a Macmillan cancer charity box – which contained £50 – when police approached a ransacked Maplins store on Oxford Road in Manchester on Tuesday. Judge Alan Berg branded the theft an "act of breathtaking wickedness." He added: "Of all the crimes I have dealt with today, yours is the most contemptible and despicable." The court also heard his fingerprints were all over a Blu-ray player inside the shop. Bell admitted burglary, awaits sentence, and was remanded in custody.
The one who stopped to try on the shoes
Twenty-two-year-old Shereka Leigh was said to have been caught on CCTV calmly inspecting and then brazenly trying on looted footwear in broad daylight.
Scotland Yard swooped on her address in Tottenham on Thursday after her identity was revealed by a national newspaper.
The mother of one is thought to have been part of a group of people who raided thousands of pounds of goods from a retail park near her home last Sunday morning. Officers took empty laptop boxes, shoe boxes and a box of hair straighteners which they found in a storage bin by the side of her flat.
The thirsty 'rioter'
Nicholas Robinson, 23, was jailed for six months for looting a £3.50 case of water from Lidl. The college student was walking back from his girlfriend's house in Brixton in the early hours of Monday morning when he saw the superstore on Acre Lane being looted. He took the opportunity to go in and help himself to a case of water because he was "thirsty".
His solicitor told Camberwell magistrates' court he had "got caught up in the moment" and was "incredibly ashamed". But Judge Alan Baldwin said the background of serious public disorder was an aggravating feature.
The man with the 'stolen' cigarettes
Sallah Osman, 32, of Hulme in Greater Manchester, has been charged with receiving a stolen packet of cigarettes worth £6, and entering a Maplin Store in Oxford Street. He was remanded in custody by magistrates and is due to appear back in court.