Slaves on our Streets: UK needs to wake up to horrors of modern-day slavery, says Theresa May
'The key thing is for victims to feel they have the confidence to come forward and be given the support they need,' PM says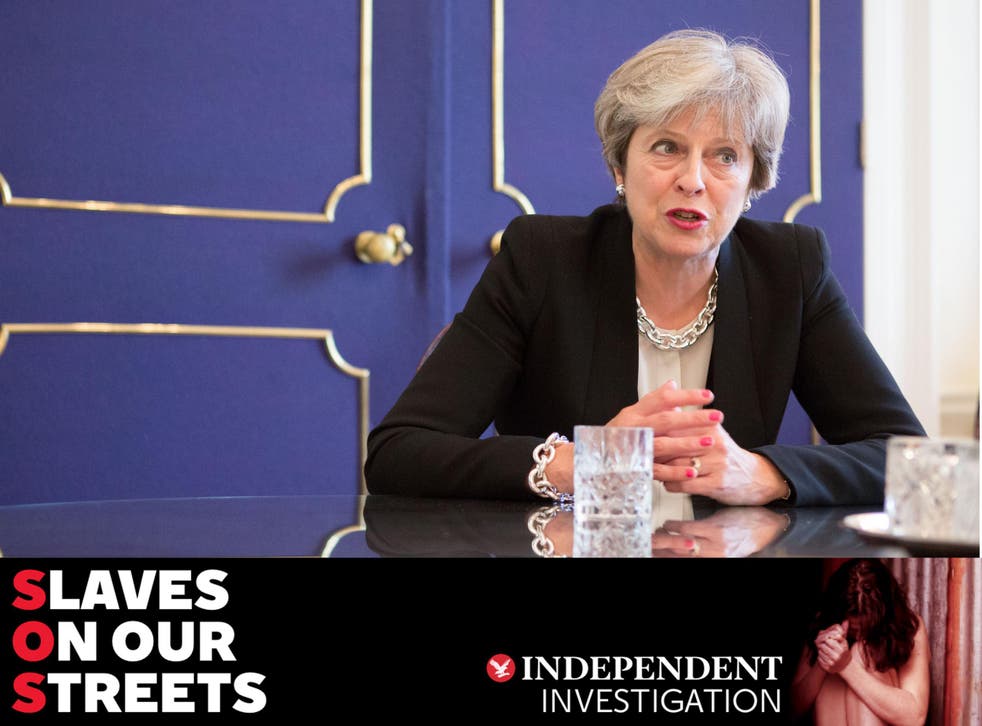 Modern slavery will only be defeated by making more people aware of the horrific abuses going on in their own communities, Theresa May says today.
"It's great that The Independent and London Evening Standard have shone a light on this issue," she said in an exclusive interview. "A vital part of the answer to this problem is to raise awareness of it.
"People sometimes think, 'slavery? That finished centuries ago. It isn't today's world.'
"They look around London and see all the positives of a dynamic, prosperous city.
"But hidden underneath are a lot of people who are suffering because slavery, sadly, is never very far from us."
The Prime Minister was pleased when The Independent launched its in-depth investigation into the scandal a week ago, highlighting the experiences of former slaves like Abigail and Thanh.
Even after years of listening to victims first hand, Ms May feels the same burning outrage at such horrifying accounts.
"My reaction is, 'how can anybody treat another human being like that?'" she said.
"How can anybody think that they can put another human being through all of that pain and suffering, and use them just as an object?"
Unlike most readers, the Prime Minister has the power to do something. Two years ago as Home Secretary she brought in the most up-to-date laws in the world to crack down on modern slave drivers.
And today in New York, she aims to secure a global commitment at the United Nations to acknowledge the scandal and unite with tough action against the perpetrators.
International action is vital, she explains, because most – though not all – of the crimes involve people far from home and family. One of the most harrowing stories was told to her by a woman taken as a child from Uganda and enslaved to a family in London who abused her horribly.
"As a young child somebody came into her village and promised to her mother that she could offer her a better life," Ms May said.
"The girl had never left her village before but she was taken off into the city, put on a plane, brought here to the UK.
"Here she was taken into domestic servitude, but also sexually exploited. She was raped by the man of the house and also by his friends when they came round.
"Then, after several years of this, the family moved away and just left her – left her on the streets of London."
At the UN, she will urge leaders "to work collaboratively and internationally". But she will also ask them "to look at their own situation".
Initially, said Ms May, some foreign dignitaries refused to believe such crimes existed in their countries, telling her "surely this is not something happening here".
Even our own police had been on a steep learning curve. Thames Valley force cracked a gang of Fagin-like criminals who were behind a spate of petty crimes carried out by vulnerable young men. "The police had been treating these young men as individual offenders," said Ms May, "but suddenly they saw a different picture altogether. At the heart there were modern slave masters forcing them to commit crimes."
The Prime Minister urged Independent readers to look around with fresh eyes for signs of slavery in their communities.
"If somebody uses a nail bar, for example, they should ask themselves about the people working there. Do they always cover their faces? Do they appear to be nervous?
"Somebody told me how she attended a talk on modern slavery and afterwards thought to herself, 'there's a parade of shops near where I live, and I've always wondered about the flat above a particular shop'.
"She mentioned her concern to the local police who investigated and, yes, there were people there who were slaves into sexual exploitation."
May's Modern Slavery Act 2015 has been applauded for bringing in up to life imprisonment for slave masters and powers to curb the travel of traffickers.
But critics say the Government was too soft in one area, when it refused to abolish "tied visas" used for 17,000 domestic staff of mainly wealthy Middle East families when they visit the UK. Opponents say a tied visa traps servants with employers who treat them badly.
Did ministers decide to turn a blind eye to the domestic servants of very wealthy visitors?
"The law will deal with those individuals as any other," insisted Ms May.
The Government last year rejected a recommendation to scrap tied visas. But Ms May insisted that what matters is giving help to people who want to escape abusive masters: "The key thing is for victims to feel they have the confidence to come forward and be given the support they need," she said.
Gradually the world is waking up to the problem. A few hours before this interview, Ms May had phone conversations with Australian Prime Minister Malcolm Turnbull, who is bringing in similar laws to those in the UK, and from US Secretary of State Rex Tillerson.
Another challenge is getting businesses to check for slave sweatshops in their supply chains. "We have to really say to British companies, be thinking about this: you have a social responsibility to think about the circumstances of those people," the Prime Minister says.
Ms May says her Christian faith keeps her motivated. "I think my faith always informs what I do, and it is part of what drives me in a number of areas, including fighting social injustice."
She welcomed Cardinal Vincent Nichols, the Archbishop of Westminster, as chair of The Independent and Evening Standard's special panel of leading figures from business, law, philanthropy and the media, which will make recommendations over the next few months.
"I've talked regularly to Cardinal Vincent Nichols and also the Archbishop of Canterbury about this. The churches have huge networks in countries where people fall victim to slavery that can be used to support victims."
She wants the message to reach victims that help is there for them. Reaching out, Ms May appealed: "If this is the situation you are in, you should not be, this is not right.
"We want you to have confidence that you can come forward, be identified as a victim. Support will be there – and there is now tough legislation to deal with the perpetrators."
Ms May said she believed "millions" around the world are slaves. But with awareness being raised, including by the Independent's investigation, the world is at last coming together.
"The more it is talked about, the more people are becoming more aware of it," she said. "And then they become committed to doing something."