Stabbing mars peaceful day at Carnival
Stabbing mars peaceful day at Carnival

Show all 15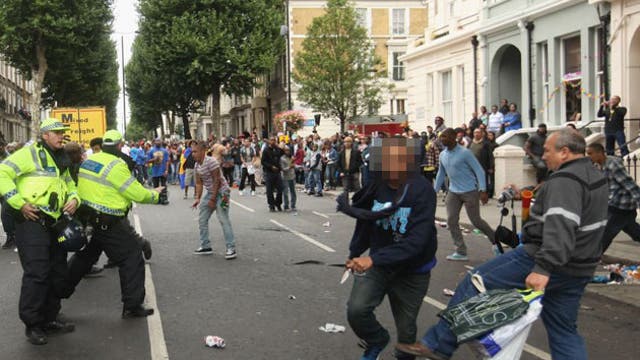 A man with a bloodied knife flees moments after a reveller is stabbed at the Notting Hill Carnival.
In an extraordinary picture, the young man, left of centre, wearing faded jeans and a red and white stripey top, looks astonished as he realises he has been stabbed in the abdomen and hand.
As a policemen moves to help him, a member of the public tries unsuccessfully to kick away the leg of the running man with the knife. The stab victim was later reported to be seriously ill in hospital and police said three men had been arrested on suspicion of GBH in connection with the attack.
The injury marred a largely peaceful and typically colourful and lively carnival enjoyed by hundreds of thousands of visitors who crowded into the streets of Notting Hill to watch and listen to the costumes, parade and music.
By 9pm the carnival clean-up operation had begun, with an army of road sweepers hard at work.