Alleged terror plotter watched porn after Isis videos and aspired to be 'like Alan Titchmarsh'
Man denies planning attack and says although he watched Isis videos, he was 'watching porn 10 minutes later'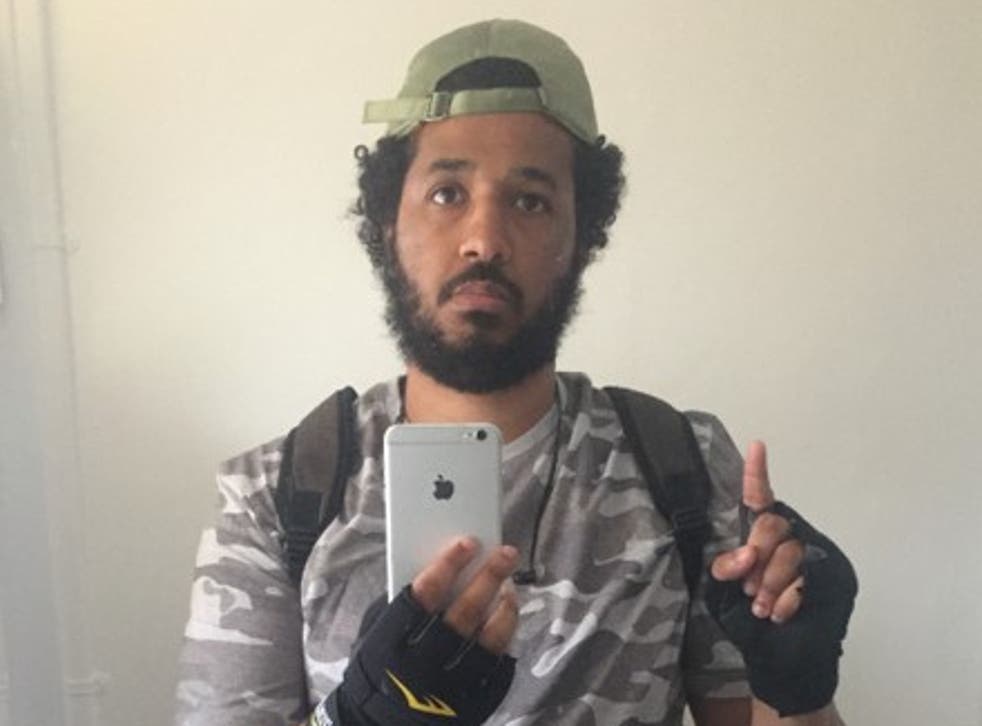 A man accused of planning a terror attack in Britain has told a court he wanted to become a farmer and aspired to be "like Alan Titchmarsh".
Sahayb Abu, 27, denied planning an atrocity and told the Old Bailey his efforts were focused on starting up a charity that would grow crops for developing countries.
"Honest to God this is what I had planned for my life, I swear to you," he told jurors while giving evidence on Tuesday. "I'm no Alan Titchmarsh but I was trying to get there."
Abu said he watched videos of the veteran gardener and broadcaster "growing stuff, snipping this and snipping that", adding: "I wanted to learn how to do this thing."
The court heard that Abu had searched for information on drip irrigation systems, set up a fundraising page, and wanted to generate food for Somalia and Yemen.
"I was going to grow crops, corn, tomatoes, aubergines, you name it," he said, telling jurors he hoped to learn from older people on allotments near his home in east London.
The defendant denied supporting Isis and said he "wasn't even getting radicalised" by watching the group's propaganda videos.
"Sometimes you say I was watching these Islamic State videos, but I was watching porn 10 minutes later," Abu told jurors, after admitting he was "sexually frustrated" and had tried using dating apps.
When asked about evidence of numerous online searches for Isis and its graphic propaganda videos, Abu said he was trying to find information on two of his half-brothers.
The court heard that Wail and Suleyman Aweys are believed to have died after joining Isis in Syria in 2015.
Abu said he was shocked by their departure, and that it had left a "dark cloud" on his family, bringing shame on them in their community.
He is accused of planning a terror attack in the UK after being released from prison for an unrelated offence in March 2020, after buying a sword, knife, combat vest and gloves online.
Abu denied mounting a terror plot, telling the jury it was "impossible" and adding: "I wasn't going to attack no one, I don't know how to kill, I don't know why to kill. I don't see myself taking a life, I see myself growing and doing good things."
Abu said he had not purchased the weapons for an attack, but as props for videos.
He told the court that he had an "epiphany" while in prison that he could make money by creating online parodies of drill rappers.
Abu said he intended to use the resulting money and fame to fund his farming charity and raise awareness.
"This character would be on TikTok and Instagram and be famous," he added.
"I was trying to get famous first with my music, comedy and parody then link that to my charity and be like 'give money to my charity', then it was going to go to noble causes."
The defendant said his rapping name was the Masked Menace and he took it "very seriously", adding: "I've got a lot of songs in my head that I've written down and they're so catchy and so good. I'm trying to put my talent to good use."
Jurors were previously played some of the raps that Abu sent to two of his brothers, including one where he called himself a "straight Isis supporter" and ended with the words: "My shank [knife] penetrate ya, got my suicide vest - one click, boom, and I'll see you later."
Alleged terror plotter raps about being a 'straight Isis supporter'
The defendant said he worked stacking shelves in Poundstretcher before getting a job for Network Rail in 2016.
He was working on the railways in early 2017 when he heard news that his half-brothers were dead.
In June 2018, the defendant was convicted of a commercial burglary and served his sentence at Wandsworth and High Down jails, alongside terrorism and non-terrorism inmates.
Abu said inmates in the prison community would mingle and included various "rappers from the ends".
Jurors were told how the defendant was released from prison on 20 March last year, less than four months before his arrest.
Sahayb, of South Norwood in London, denies preparing an act of terrorism. His brother, Muhamed Abu, of Dagenham, denies failing to disclose information about acts of terrorism. The trial continues.