Tough times trigger shoplifting epidemic as organised gangs steal valuable goods to order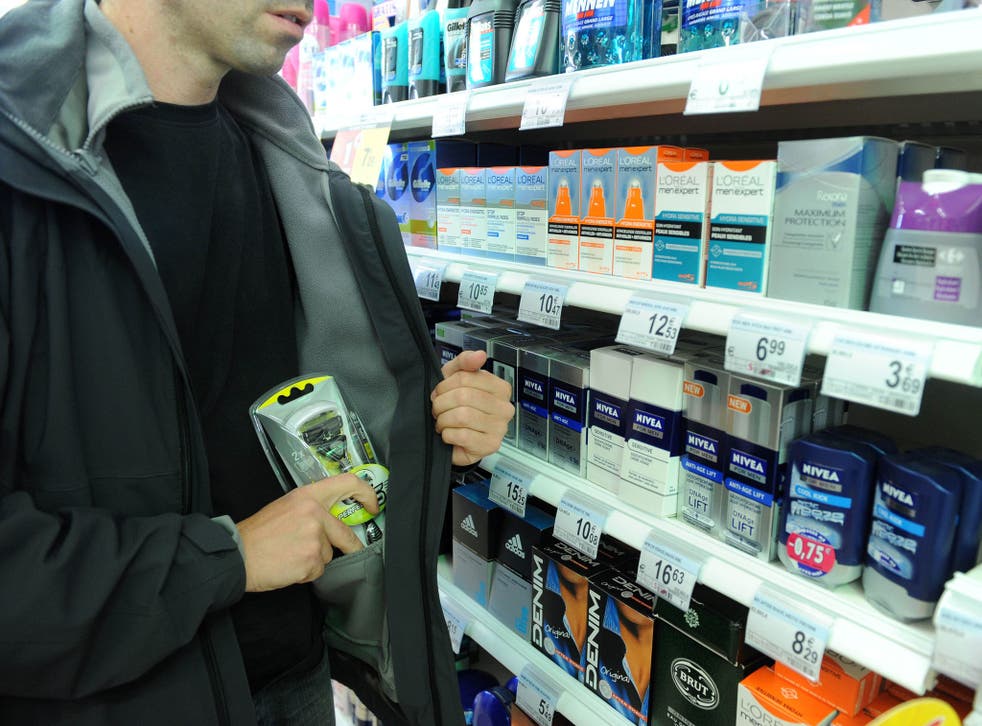 Britain's retailers are experiencing an epidemic of shoplifting, fuelled by the economic downturn and organised crime gangs stealing valuable merchandise to order by travelling large distances to major shopping centres.
Theft from shops climbed to a nine-year high last year and the value of goods taken in each incident increased by nearly two thirds as retailers face a £511 million annual bill for criminality targeting their businesses, including rising online fraud and robbery.
The British Retail Consortium's annual crime survey also exposes a lack of confidence in police to tackle theft from shops with more than 90 per cent of all shoplifting offences going unreported by store and prosecution rates of fraudsters considered "woeful".
The sharp increase in theft by customers, which accounts for 82 per cent of all crime against stores, coincides with evidence of an increase in so-called "poverty crime" with food and alcohol being stolen in areas of high deprivation.
The Derbyshire Police and Crime Commissioner, Alan Charles, said there was a clear link between unemployment and benefit cuts and acquisitive crime such as shoplifting. He told The Independent: "There is increasingly strong evidence that acquisitive crime of this nature is rising in deprived areas. The indication is that people are stealing lower value items or that these items, such as food or nappies, are being stolen because there is a market out there. I am worried that people are having to turn to crime as a way of looking after themselves."
According to the BRC study, retail crime spiked sharply after the banking crisis of 2008, rising from around £200m a year to a peak of £541m in 2011-12. It remains some 166 per cent higher than six years ago, with more than 630,000 shoplifting offences per annum.
Retailers said a key element of the upward trend in shop theft was the role played by organised crime gangs who are systematically targeting high value items, ranging from designer clothes to power tools, and often stealing to order on behalf of acquaintances or selling via the internet.
The industry body said that bulk theft of designer goods was increasing and gangs were willing to travel long distances to shopping hubs in big towns and studies to target items including branded electrical goods, handbags and cosmetics
As a result the value of items taken in each incident has risen to £177 - a 62 per cent increase on 2012 and well above the seven-year average of £102.
A spokesman for the BRC said: "We are seeing a rise in thefts to order - people will ask for something to be stolen and it will be taken in return for a fee to the gang. Larger gangs are selling goods on via other means, whether via the internet or more informally."
No data is published on where offences take place or the geographical origin of the thieves but police records show offences are committed by both British and foreign criminals.
A spate of thefts in Suffolk last year was attributed to Romanian and Lithuanian gangs travelling from London to supermarkets. A "decoy" shopper is used to buy an item with a security tag which is then used set off security barriers and allow accomplices to come through with trollies of stolen goods while the alarm sounds.
A Scottish shoplifting gang, described by police as one of the most prolific in Europe and led by a serial thief, was jailed last year after a thieving spree in London stores including Harrods.
Retailers said that despite the crime wave, businesses were reluctant to report crimes to police because action was rarely taken to track down shoplifters or fraudsters. Just 46 per cent of fraud was reported and nine per cent of theft from shops - a drop from 12 per cent in 2012.
The report said: "The most significant reason preventing [retailers] from reporting crime was because they had no confidence in the police response. This is a worrying indication that they do not believe the criminal justice system serves them well."
The retailers said they wanted to see tailored business crime strategies put in place by police and crime commissioners as well as a nationwide definition of offences against business to obtain a detailed picture of the problem in Government crime statistics.
Tony Lloyd, chairman of the Association of Police and Crime Commissioners (APCC) and Greater Manchester PCC, said: "Local shop owners should receive proper support from the police. We must do all we can to tackle theft, robbery and the rise of e-crime which is a constant worry for the sector."
The Association of Chief Police Officers (ACPO) insisted police were working closely with business and said there were numerous factors behind the shoplifting increase, including a readiness to report losses because of pressure to explain sales figures.
Nottinghamshire Deputy Chief Constable Sue Fish, who leads on business crime for ACPO, said: "Businesses have increased pressure to show profitability so report more losses. We are seeing people choosing to shoplift to maintain their previous lifestyle on diminishing budgets and police forces are proactively targeting shoplifters."