Two decades have passed, but the hate goes on in Eltham
Racial tensions are still raw on the streets where Stephen Lawrence was stabbed to death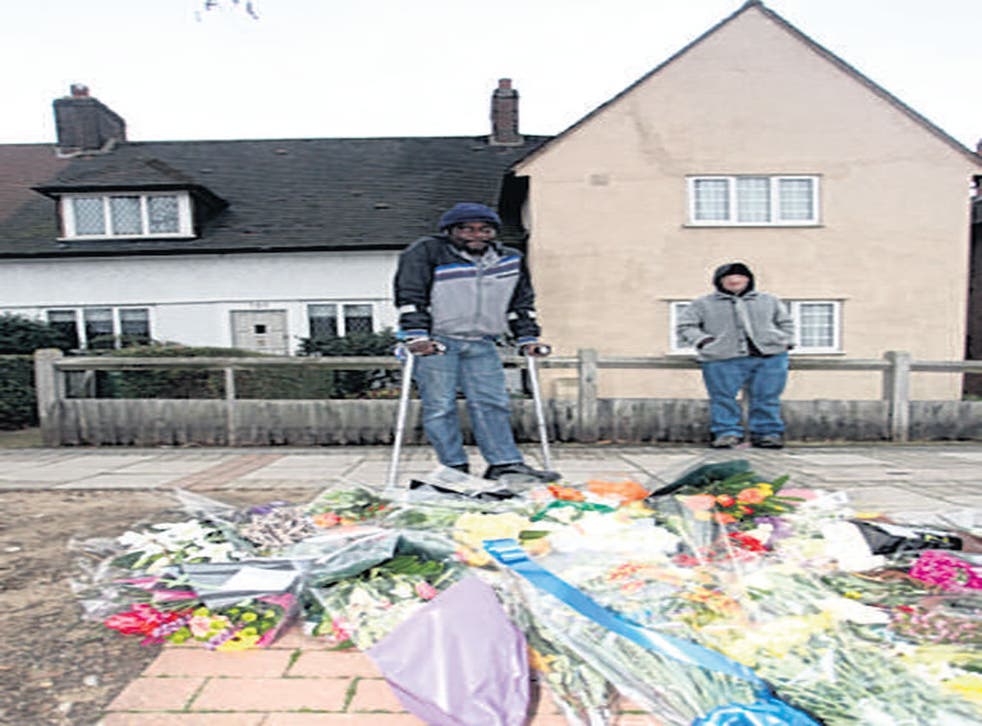 Edmond Cole shuddered as he leant down to place flowers on the granite plaque that marks the spot in Eltham where Stephen Lawrence fell terrified and mortally wounded nearly 19 years ago. The 52-year-old, who was a family friend of the Lawrences and knew Stephen as a young boy, said: "I've been coming here for years. I wanted to say happy New Year to Stephen today and tell him the good news, tell him that two of the guys that did him are finally paying for what they did.
"But you know, the hate goes on. It still goes on in this neighbourhood. I've been stood on this spot in recent months and years and a car has come past with the window down, a white guy hanging out, shouting 'Oi, nigger, fuck off back home'. They drive off laughing.
"Things have changed but, every now and again, the racism that killed Stephen comes back to the surface."
Mr Cole, who has three children and has lived in Eltham for most of his adult life, was among the procession of people who came with tributes to the simple memorial to the black teenager on Well Hall Road yesterday.
Some had known the Lawrence family, others had been acquainted with – and repulsed by – the two men now serving a combined 29-year prison term for the murder. All said they had come because they felt a need to show they still cared deeply about what happened on 22 April 1993.
Whether they like it or not, the 78,000 people who call Eltham home – it is an unpretty south-east London suburb of council estates and trunk roads – live in a place that has become synonymous with racism ever since that night when a gang of five or six white men crossed Well Hall Road shouting "What – what nigger?" and inflicted two wounds up to 13cm deep into Stephen's upper torso.
Eltham, like Britain, has changed since. Most markedly, what was once a bastion of the white working class has become every bit as racially diverse as the rest of the capital. In 1991, just 6.3 per cent of its population was black or from an ethnic minority. Today, that figure is 34 per cent – compared with 31 per cent for London as a whole.
But the result is far from a multi-cultural nirvana. When England's cities were convulsed by rioting this summer, the far-right English Defence League chose Eltham to try to set up a "vigilante" protest designed, according to organisers, to protect the streets from the wreckers. During the protest, a mob attacked a bus after young black men on it gestured towards them.
According to an anti-racism charity, Equa-Ed, there were 94 reported racist incidents – ranging from verbal abuse to violence – across the borough of Greenwich between May and the end of December; 11 of them were in the SE9 post code that covers Eltham. Mr Cole, speaking in front of a mobile police CCTV van sent to deter any attempt to deface the Lawrence memorial, said: "The casual, in-your-face racism you got 20 years ago has largely gone. But there is still an undertone. It is not relaxed. I am black, my partner is Vietnamese and I tell our children they have to be aware all the time if they get approached by another group, that it might be the start of something based on the colour of their skin."
Certainly, one legacy of the Lawrence murder in Eltham is a heightened awareness of race that is based on fear – but also a determination to root it out. A few hundred yards from the memorial, graffiti carrying slogans like "White Power" and the initials of the National Front was once common. Such sinister daubings are now gone and in their stead is a sense of resolve that the area should not fall back into the mire of disrepute.
Among those leaving flowers, at about the same time an Old Bailey judge was sentencing former residents Gary Dobson and David Norris to 15 and 14 years' imprisonment respectively, was Margaret Holland, 70, Dobson's former English teacher at Eltham's Crown Woods secondary school.
She said: "Gary Dobson was not a pleasant young man. He was weak and easily led and part of a group of boys where racist language was common. As teachers, we stamped on it and stamped on it hard, but you were dealing with an ingrained culture."
Unsurprisingly, many of the cards left with flowers referred to the fact some of the killers are still free. One message said: "Two down, three to go."
Another read: "Dear Stephen, some justice at last. You will never be forgotten by all the decent people of Eltham."