UK's drugs aid puts Britons at risk of execution
The Government is backing counter-narcotics raids in countries that have the death penalty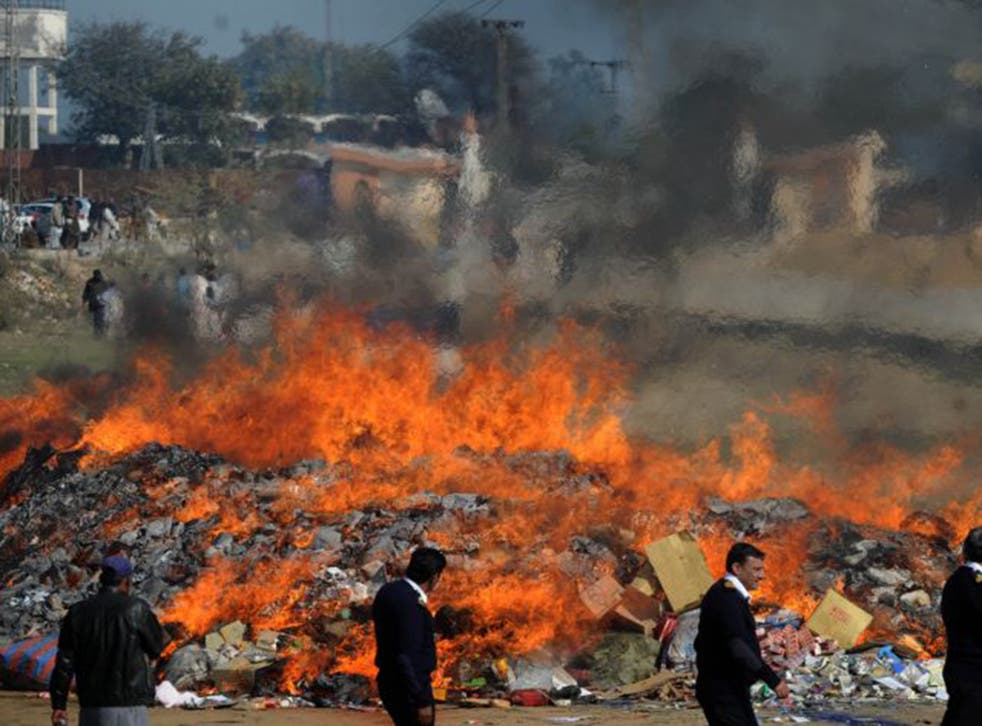 British citizens could be executed as a result of the Government's overseas funding for operations against drug-smuggling in counties where capital punishment is used.
The Home Office policy is "in effect helping to send large numbers of people, including British nationals, to the hangman's noose", according to the human rights group Reprieve. Britain has provided at least £12m to 22 counter-narcotics projects in Pakistan – where six British nationals are on death row for drugs offences – with the aim of increasing the number of drug arrests and prosecutions, which can result in death sentences.
The UK is also a major funder of Pakistan's anti-narcotics force, which has a 92 per cent conviction rate and actively promotes on its website the number of death sentences it has secured for drug offences.
About 8,000 people are on death row in Pakistan, more than any other country in the world. A moratorium on the death penalty was lifted in December in the wake of the Peshawar school massacre, in which Taliban gunmen murdered 141 children and teachers. Since then, 24 people have been executed; another 500 are due to be killed in the coming months.
Although the Pakistani authorities stated that only those charged with terrorism offences would be executed, two murderers have since been hanged. Reprieve, which campaigns against the death penalty, says it is "highly likely" that similar punishments could soon be carried out on those convicted of drugs offences.
Maya Foa, the head of Reprieve's death penalty team, said: "Pakistan has the largest death row in the world, and is now actively executing prisoners – placing a number of Brits at risk. The UK government has given a series of flaccid excuses for continuing to support anti-drug raids in Pakistan, which very often see drug offenders sentenced to death."
There appears to be confusion within the Government over which department bears ultimate responsibility for the funding of counter-narcotics projects overseas. The Home Office has previously directed queries on the issue to the Foreign and Commonwealth Office (FCO), but earlier this month, Home Office minister Lynne Featherstone confirmed in a written parliamentary answer that her department was responsible.
"Now that the Pakistani authorities are once again carrying out executions, the lives of these people and many others are in grave danger," Ms Foa said. "If the UK is committed to ending the death penalty worldwide, why is British anti-narcotics aid supporting these drug convictions?"
More than 20 Britons are at risk of execution in Pakistan, according to figures published by the FCO earlier this month. Overall, a drugs-related offence is the most likely crime after murder to result in a British citizen facing the death penalty overseas.
The figures, released in response to a Freedom of Information request, also highlighted that up to 15 Britons are at risk of execution abroad due to drug-related prosecutions. Twenty-five are facing the death penalty for murder, with others being prosecuted for offences ranging from blasphemy to terrorism.
The Government has previously given money to similar counter-narcotics projects in Iran – but in 2013, Deputy Prime Minister Nick Clegg said the funding had been withdrawn because of "concerns around Iran's use of the death penalty for drug offences". The Home Office must now take similar action in Pakistan, Reprieve said.
An FCO spokesman said: "It remains our long-standing policy to oppose the death penalty in all circumstances as a matter of principle. The British Government is not aware of any case in Pakistan where UK counter-narcotics co-operation has led to a death penalty sentence. We continue to review the situation as we have always done."