Dmitry Firtash: Ukrainian energy magnate with close links to senior Tories arrested in Austria after FBI investigation
John Whittingdale and Lord Risby on board of organisation with strong ties to Dmitry Firtash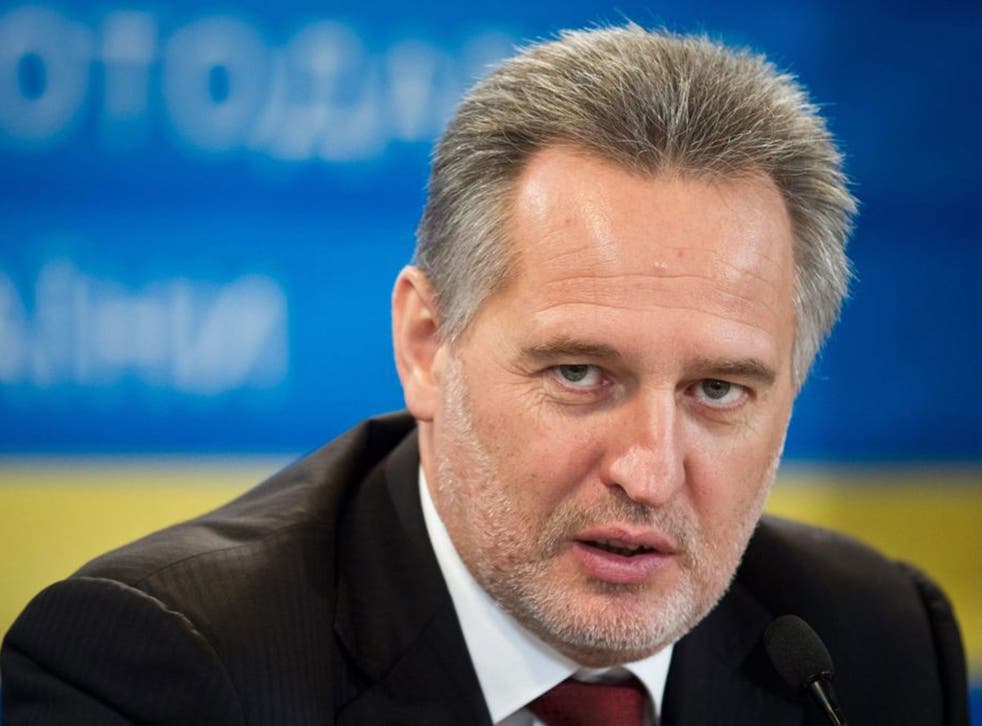 A pro-Russian Ukrainian energy magnate with connections to senior British parliamentarians has been arrested in Vienna at the request of the United States following an FBI investigation.
The Independent revealed last week the links between gas billionaire Dmitry Firtash and senior Conservatives John Whittingdale, the chair of the powerful Commons media select committee, and Lord Risby, a former vice-chairman of the Conservative Party and shadow minister for Financial Services.
Both Parliamentarians are on the board of the British Ukrainian Society (BUS), an organisation with strong ties to Mr Firtash, who was one of Ukraine's most powerful figures under the country's deposed President Viktor Yanukovych.
And in a development described by experts as "seismic" Mr Firtash, 48, was arrested yesterday by the organised crime unit of the Austrian police. The energy magnate is alleged to have paid bribes and formed a criminal organisation, according to the warrant which was issued after the FBI began investigating him in 2006, according to the Austrian Interior Ministry.
Firtash has a fortune estimated by Forbes at $673m, with other estimates placing his wealth at $5 billion. Timothy Ash, chief economist at Standard Bank plc, described the event as "an absolutely seismic development on so many different levels". He said: "Firtash is probably in the top two of Ukrainian oligarchs in terms of wealth/influence across borders."
The fantastically wealthy Mr Firtash is a former meat trader and second-hand car dealer who made his fortune supplying goods to energy-rich Turkmenistan in exchange for gas that was sold to Ukraine. In 2006 he emerged as one of the figures behind RosUkrEnergo, a Swiss-registered company that controls Russian company Gazprom's gas supplies through Ukraine to Europe.
The Independent has learned that Mr Firtash owns a luxurious house on a discreet side street near Harrods. Land Registry records show he bought the vast property in late 2012 and it was completely rebuilt with modifications including an underground swimming pool.
Other BUS directors include Robert Shetler-Jones, former CEO of Group DF and now a member of Group DF's Group Supervisory Council and Lord Oxford, a former British diplomat in Kiev and another member of Group DF's Supervisory Council.
Mr Shetler-Jones has donated tens of thousands of pounds to the Conservatives through a company called Scythian. BUS director Anthony Fisher is a former director of the Firtash Foundation. Another BUS director is Vladimir Granovski, a political spin doctor who worked on an election campaign for President Yanukovych and is a board member of Mr Firtash's television business.
In the register of members' interests, Mr Whittingdale, who is chairman of the British-Ukraine All Party Parliamentary Group, lists a succession of trips he has made to Ukraine at the BUS's expense. He went on a £2,800 trip to Kiev in 2010, "to meet members of the Government of Ukraine and Opposition". He returned to Ukraine in 2011 as a guest of the Society and in his capacity as the group's chair. That trip cost £1,700 and was to "meet members of the Government of Ukraine". A four-day visit in 2012 to attend a conference in Yalta, Ukraine cost £2,520. He visited the same conference for a £2,680 week-long trip in September last year.
Mr Firtash visited the Foreign Office in London on 24 February to meet officials and appeal for financial support for Ukraine and its businesses in the wake of the recent upheaval.
The energy magnate has faced allegations of media censorship in Ukraine and prompted angry demonstrations in the City of London by British-based Ukrainians when he was allowed to open the London Stock Exchange in October after funding a lavish "Days of Ukraine" cultural event beside the Thames. Promotional material for the London event boasted: "The Days of Ukraine in the UK received support at the highest level, including the patronage of the President of Ukraine, Viktor Yanukovych."
Days of Ukraine was sponsored by Mr Firtash's Group DF. Lord Risby and Mr Whittingdale were among the members of the organising committee for the event, which was chaired by Mr Firtash's wife Lada. Boris Krasnyansky, CEO of Group DF, was also on the committee. Days of Ukraine was launched in the Houses of Parliament and attended by House of Commons speaker John Bercow and the Vice Prime Minister of Ukraine, Konstyantyn Gryshchenko.
Last week in Parliament, Labour MP Helen Goodman, the shadow Culture minister, challenged William Hague, the Foreign Secretary, over whether the Tories had taken money from supporters of the Yanukovych regime. Mr Hague described her suggestion as "ridiculous".
Ms Goodman told The Independent: "At a time of crisis in Ukraine it is vital that the British Foreign Secretary can negotiate in the knowledge that there are no conflicts of interest."
Mr Firtash is owner of Inter TV, Ukraine's most popular television outlet, which has been criticised over its coverage of recent events in Kiev. Activists from the Maidan Square protests called for a national boycott of Mr Firtash's channel. Journalists at the station signed a petition complaining about alleged censorship and pro-Yanukovych propaganda in the run up to the recent disturbances in the Ukrainian capital.
Mr Firtash, who has in recent days also been linked to Opposition leader Vitali Klitschko, states in his biography on the DF Group website that he "is not a member of any political party or movement".
Mr Whittingdale said his work sponsored by the BUS was intended "to promote closer relationships between Britain and Ukraine" and the Society's funding of his trips enabled him to "meet people in Kiev and Yalta of different political parties", including Mr Klitschko.
"They have never given me a line or influenced me. They pay travel costs and accommodation for me to attend the Yalta summit but on each occasion I have met with people from every party. It has been very helpful for me and given me those opportunities," he said. "I understand Mr Firtash has funded the British Ukrainian Society, as well as Cambridge University and many other good projects. In my view he is funding good work."
Lord Risby said that the BUS did a "good job" and worked closely with the Foreign Office. "I have never ever had any instruction from Firtash or had anyone ask me to take any political viewpoint," he said. "I made it clear that we would make a judgement about who we would see and that we would not be subject to any pressure."
The Firtash Foundation said it has no relationship with the BUS "beyond occasional discussions relating to culture projects in London" It confirmed that the Foundation was "the organiser" of the Days of Ukraine festival and said "the project was financially supported by Group DF".
Mr Shetler-Jones said Mr Firtash, who he has worked with for ten years, was "working hard to do whatever he can to support the interim administration in Ukraine in the current crisis" and categorically said "Mr Firtash has not provided financial support for the BUS".
Mr Shetler-Jones said Scythian was providing support to the BUS. But he said that his donations to the Tories had not been at Mr Firtash's behest or with his knowledge and also rejected the idea that Mr Firtash was indirectly influencing British politics through the BUS. "The BUS is independent and not party political," he said. "The BUS board worked very closely with John Grogan, the Labour MP, who was the former Chairman of the All-Party Parliamentary Group for Ukraine before John Whittingdale."