Victoria's Secret worker Naomi Oni 'poured acid on her face after becoming obsessed with Katie Piper attack'
Miss Oni denies claims by defence that she inflicted injuries on herself to emulate model's success story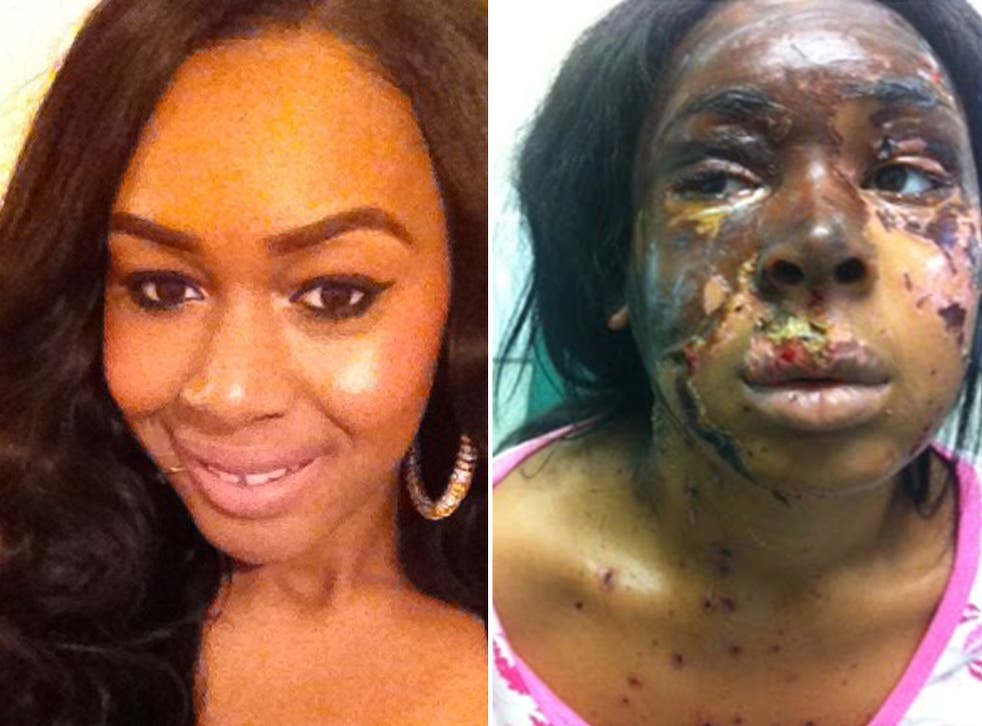 A Victoria's Secret shop worker yesterday denied pouring acid over herself to achieve fame and fortune.
Naomi Oni, 21, was disfigured after acid was thrown in her face as she was making her way home from the lingerie store at Westfield Stratford where she worked.
The retail assistant's friend, university student Mary Konye, 21, is accused of disguising herself in a niqab and carrying out the attack on 30 December 2012.
On her second day in the witness box Ms Oni insisted she was not 'obsessed' with plastic surgery or the story of fellow acid attack victim Katie Piper.
Sally O'Neill QC, defending, today put it to Miss Oni that she poured the sulphuric acid herself and enlisted Konye to follow her in an Islamic veil so it would appear to be a "random attack".
Ms O'Neill said: "You had, I suggest, for a couple of months started speaking to Mary Konye about the possibility of having the same sort of attack as Katie Piper had had?"
Miss Oni replied: "No".
Ms O'Neill went on: "Your view that if something similar happened to you that wouldn't be the end of the world because Katie Piper had probably had a career boost ironically because of what had happened to her?"
Miss Oni again replied "no" and refuted Ms O'Neill's claims that she had persuaded Konye to take part in the elaborate plot because she wanted "media attention" and hoped to obtain enough money to realise her dream of opening a make-up shop.
Miss Oni said: "I'm not such a desperate person. I wouldn't do such a thing. I'm not crazy."
Snaresbrook Crown Court heard that in the months before the incident Miss Oni had carried out internet searches for before and after pictures of Ms Piper, a model who was left permanently disfigured after a sulphuric acid attack in 2008.
Ms Oni said she was not obsessed with the Piper case but had been "moved" by her story and had read up on it after seeing a TV documentary.
The court earlier heard that Konye told her alleged victim "don't worry you won't look like that forever" after scarring her for life.
The pair were said to have exchanged numerous text messages in the days after the attack on Miss Oni who was unaware her friend was allegedly responsible.
In a text read out to the court Miss Oni wrote to Konye: "I even wish I was ugly. I'd prefer that to looking like this."
Konye replied: "KMT (Kiss my teeth). Allow. Don't worry. You're not going to look like that forever."
Miss Oni responded: "I can't even wish this on my enemy."
The court also heard Miss Oni's aunt contacted the Evening Standard after she became frustrated the police were not doing enough to catch the attacker.
Asked what she hoped to achieve by going to the press by Gareth Patterson, prosecuting, Miss Oni said: "I was hoping whoever did this would get caught and raise awareness so this person wouldn't do it again to anyone else."
Konye has admitted being the figure in a Muslim veil seen on CCTV following Miss Oni from work but denies the attack. She claims Miss Oni threw the acid herself. Jurors were told on Tuesday that Konye, had known Miss Oni since they were around 11 years-old, but the pair had a "rocky relationship".
They fell out over text messages Konye sent to Miss Oni's then boyfriend but patched things up.
Konye denies throwing or casting a corrosive fluid with intent to burn, maim, disfigure, disable or do grievous bodily harm.
The trial continues.