Video shows 'dangerous driver' hit RAC patrol man as he repairs broken down vehicle
Lorry driver Terence Poolman was sentenced to eight months in jail and banned from driving for two years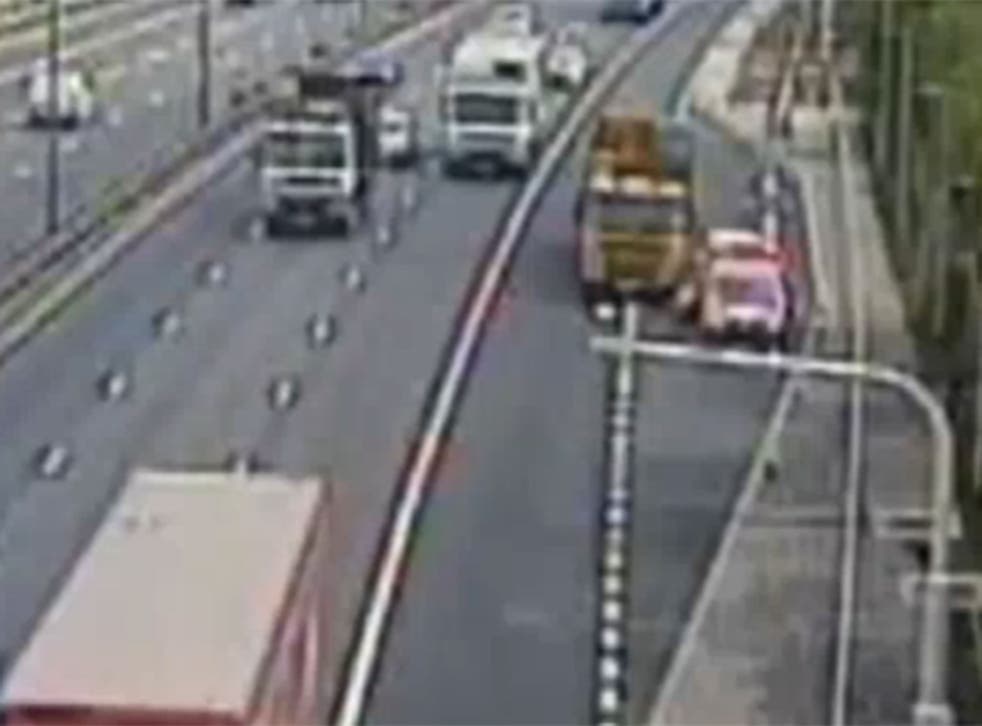 This video shows the moment a roadside recovery worker narrowly avoided death when he was hit by a "dangerous" lorry driver as he tried to repair a broken down car.
Video released by West Midlands Police yesterday, shows lorry driver Terence Poolman, 69, swerve onto the hard shoulder and hit RAC patrol man Mark Wooton as he attempted to attach safety lights to a vehicle that had broken down on the M6 near Birmingham on 28 April last year.
Wooton, 40, suffered two fractured vertebrae as a result of the incident and has been unable to return to work since.
Poolman admitted three charges last week, including causing serious injury by dangerous driving at the trial in Birmingham's Crown Court.
He was sentenced to eight months in jail and was banned from driving for two years.
CCTV shows Poolman drive off after the incident and it was not until another lorry driver saw Wooton in agony that an ambulance was called.
CCTV was initially unable to capture the vehicle's registration number, and police were only able to identify the driver as Poolman after another motorist who had taken a note of the number was tracked down.
PC David Gaunt said: "The recovery driver is extremely lucky to be alive and the consequences of Poolman's complete lack of attention that day could have been a lot worse.
"The victim remains in a lot of pain and has been unable to work since the crash.
"The impact of his injuries will stay with him for the rest of his life and he worries about what kind of work he will be able to do in the future."